DISCLOSURE: AS AN AMAZON ASSOCIATE I EARN FROM QUALIFYING PURCHASES.
THIS POST MAY CONTAIN AFFILIATE LINKS, MEANING, AT NO ADDITIONAL COST TO YOU, I EARN FROM QUALIFYING PURCHASES. AFFILIATE LINKS ARE MARKED WITH #ad. "I" IN THIS CASE MEANS THE OWNER OF FILMDAFT.COM. PLEASE READ THE FULL DISCLOSURE FOR MORE INFO.
Ever since I was a kid, I've been a big fan of Disney cartoons and comic books. The same is true for the Star Wars movies and the Marvel universe.
I'm still waiting for a spin-off film with the ultimate showdown when Darth Vader, Thanos, and Phantom Blot team up to crush Luke Skywalker, Captain Marvel, and Mickey Mouse.
Now that Disney owns all of those franchises – and more, it made me think.
How many companies does Disney actually own???
The short answer? A lot! In fact, it seems easier to answer the question What Companies Does Disney NOT Own!
Let's break down this massive media empire into more detail below.
An Infographic of the Entire Disney Conglomerate
First, let's start with this immense infographic by TitleMax to give us a sense of exactly how big Disney actually is: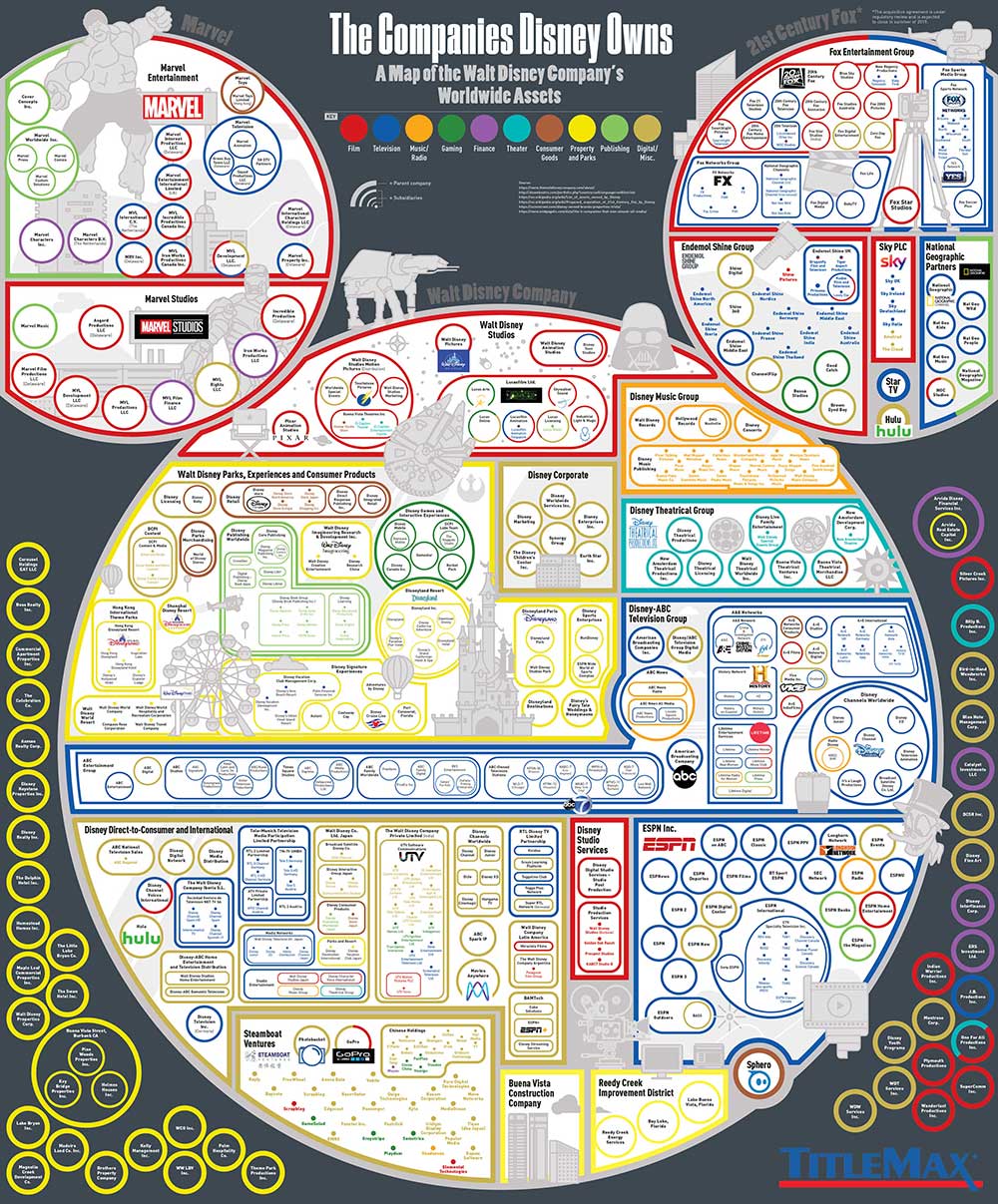 As you can see Disney is MASSIVE!
The infographic shows, that Disney owns a lot of movie companies, production companies, television networks, music studios, theatre productions, and streaming services (including their own Disney Plus).
But you can also get a sense of what other companies Disney owns – from theme parks, hotels, construction companies, financial services, to ownership parts in GoPro, Photobucket, and a lot more.
As FilmDaft is about films, movies, and television, I'm going to break down the companies owned by Disney that are related to these cultural phenomena into some lists.
Studios Owned by Disney
Here's an aggregated list of studios working with movie production owned by Disney:
Walt Disney Pictures (Live Action Movies)
Walt Disney Animation Studios
Walt Disney Studios Motion Pictures (including Buena Vista International, and more)
Pixar
20th Century Studios (including Fox Family, and 80% share in New Regency Productions)
Lucasfilm (including Industrial Light & Magic, Skywalker Sound, and more)
Disney Digital Studio Services (Post-production)
Disney Nature (Disney nature documentaries)
Searchlight Pictures
We can break these down further into studios working with animation.
Animation Studios Owned by Disney
Here's an aggregated list of animation studios owned by Disney:
Walt Disney Animation Studios
Pixar Animation Studios
20th Century Fox Animation (including Blue Sky Studios)
Marvel Animation Studios
Lucasfilm Animation
Besides these Disney also owns several entertainment networks that produce all kinds of shows for television.
Entertainment Networks owned by Disney
Here's an aggregated list of entertainment networks owned by Disney:
Walt Disney Television Studios

ABC Entertainment
ABC NEWS
20th Century Fox Television
Hulu Scripted Originals
FX Networks
Disney Channels Worldwide (Disney Channel, Disney XD, and more)
National Geographic Global Networks (73% in the US).

ESPN Inc. (80% stake)

Various ESPN channels
X Games

A&E Networks (50% equity holding with Hearst Corporation)

Various A+E channels (including A+E Films, A+E IndieFilms, and more)
A+E Ventures (including Vice Media, Inc (36% stake), and more)
Lifetime Entertainment Service (including Lifetime Movies)
History Network (including "History" formerly known as The History Channel)
Streaming Services owned by Disney
Disney seemed late to the streaming party with major players such as Netflix, Hulu, and Amazon Prime being dominant.
However, they have begun to invest more and more into this area as an alternative to their massive portfolio within traditional film and flow-tv.
Here's an aggregated list of streaming services owned by Disney:
Disney+
Disney Digital Network
ESPN+
Hulu (Disney owns 67% with NBCUniversal as a silent partner)
Brands owned by Disney
And then there are all the brands associated with these huge catalogs of popular culture. I can't even begin to fathom the insane value these alone are worth in terms of merchandise and licensing.
Here's an aggregated list of some of the brands owned by Disney (source: TitleMax):
Star Wars (Darth Vader, Luke Skywalker, X-wings, and Tie Fighters, Ewoks – yup all of them – as live-action and animated movies.)
The Muppets (Kermit the Frog, Miss Piggy, and all the other lovely creatures brought to life by Jim Henson).
The Marvel Cinematic Universe (minus the X-Men – but with Iron Man, Hulk, Thor, Captain America, Scarlet Which, you name it)
Disney Fairytales (Frozen, Aladdin, The Lion King, Cinderella, Beauty and the Beast, and much more)
The Chronicles of Narnia Franchise (witches, children, lions, and wardrobes)
The Pirates of the Caribbean Franchise (Johnny Depp on rum and steroids)
Pixar (Toy Story, Finding Nemo, Ratatouille, Cars, and more)
The Winnie the Pooh Franchise (Winnie the Pooh, Pigglet, Tigger, and a bit of philosophy).
The Indiana Jones Franchise (Indiana Jones I-III – are there more?)
ABC Shows (Grey's Anatomy, Modern Family, General Hospital, and more).
How Much is Disney Worth?
With all these companies and brands under their wing, how much is Disney worth?
According to the website Gobankingrates, Disney is worth approximately $130 billion!!
And according to Investopedia, as of September 1, 2019, Disney has a market cap of $244.94 billion.
Who owns Disney?
So who is in charge of this gigantic cultural conglomerate? In other words, who owns Disney?
Also according to Investopedia, as per September 1, 2019, there are five major shareholders in Disney. They are:
Executive Chairman and former CEO Robert "Bob" Iger with 1.078 million shares
Senior Executive Vice President and CFO Christine McCarthy with 131,139 shares
Senior Executive Vice President, General Counsel, and Secretary Alan Braverman who holds 98,922 shares
Director Aylwin B. Lewis with 86,140 shares
Robert W. Matschullat who holds 71,360 shares
As per February 2020, the new CEO of Disney is Bob Chapek. Bob Iger will serve as Executive Chairman until December 31st, 2021.
What does the Future hold?
Disney has been a major influence on the cultural landscape for as long as I can remember.
And the acquisitions of key assets such as Pixar, Marvel, Lucasfilm, and 21st Century Fox in recent years have only cemented their position.
What does this mean for the cultural output in terms of live-action movies, animated movies, and television in the future? And what does it mean for all the brands and franchises we've come to love?
Will everything be packaged and sold as disneyfied family-friendly and watered-down versions of the gritty comic-book originals? Or is there still room to explore the darker sides of these beloved universes under the new umbrella?
I guess only time will tell.
What do you think?
---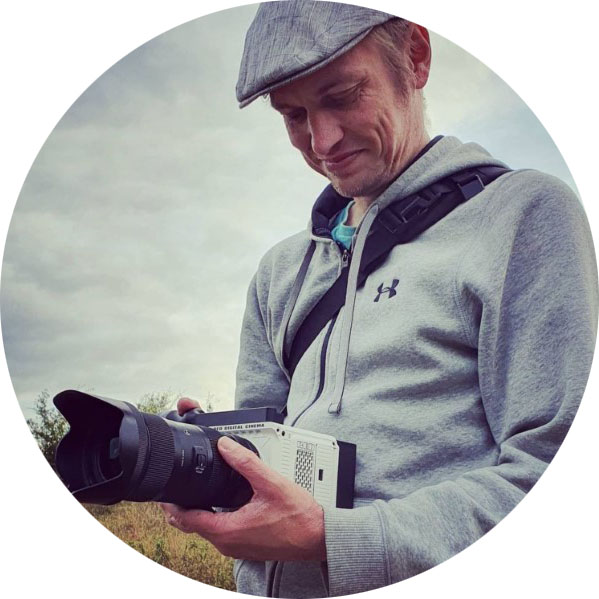 About the author:
Jan Sørup is a videographer and photographer from Denmark. He's the owner of filmdaft.com and of the Danish company Apertura, which produces video content for big companies in Denmark and Scandinavia. Jan has a background in music, has drawn webcomics, and is a former lecturer at the University of Copenhagen.