DISCLOSURE: AS AN AMAZON ASSOCIATE I EARN FROM QUALIFYING PURCHASES.
THIS POST MAY CONTAIN AFFILIATE LINKS, MEANING, AT NO ADDITIONAL COST TO YOU, I EARN FROM QUALIFYING PURCHASES. AFFILIATE LINKS ARE MARKED WITH #ad. "I" IN THIS CASE MEANS THE OWNER OF FILMDAFT.COM. PLEASE READ THE FULL DISCLOSURE FOR MORE INFO.
Updated June 11th 2020
Editors choice:
If you're in a hurry then here are my Top 3 affordable external monitors and recorders.
There are cheaper ones and more expensive ones out there.
But in my opinion, these three offers the most value and bang-for-the-buck while still upholding a high build-quality and all the professional features, you'll need.
Best affordable 5″ External Monitor: SmallHD Focus.
Light-weight, high build quality, excellent touch screen, all the tools you need (histogram, waveform, false-color, LUT monitoring, and much more).
Best affordable 5″ External Recorder: Atomos Ninja V. Compact (not much bulkier than 5″ monitors), high build quality, excellent codecs (ProRes HQ 422, DNxHR), feature-rich, records and plays back DCI 4K and UHD 4K, records to SSDs and mini SSDs.
Best affordable 7″ External monitor: SmallHD 702 Touch. High build quality, excellent and bright (1500 nits) touch screen that is great for outdoor use, both SDI and HDMI inputs/outputs, all the tools you need (histogram, waveform, false-color, LUT monitoring, and much more)
You can skip the following guide and jump directly to the comparison of the monitors by clicking here.
Introduction
Most prosumer video cameras come with a screen for viewing what's in your frame. However the standard DSLR, mirrorless, and camcorder screen aren't very big.
Also, the screen which comes with your camera might not be able to flip and turn, so that you view your frame if you're standing in front of the camera, which is not very good for vlogging or if you're setting up lights.
And lastly, it might not be powerful enough to show you your picture, if you're filming outside in the field under the bright midday sun.
External monitors offer a better resolution and it helps you see finer details when filming. They can be more powerful than your normal screen, and more suitable for a sun hood, so you can actually see what you're shooting if you're filming outside.
External monitors can also display a range of tools and scopes such as zebra patterning, histograms, focus peaking, waveforms, and true colors, which might not be available in your video camera. And more expensive options even have their own SSD-storage and codecs (such as ProRes and RAW) installed.
Some external monitors like the Atomos Ninja V also function as a recorder and give you more storage space and sometimes even better codecs than what is available in-camera.
But if you're new to external monitors, all the features and options might seem overwhelming.
So we've created this guide for you, which explains what you should look for when you're buying your first external monitor.
After the guide, you'll find a detailed comparison of 10 budget-friendly external monitors that offer a great bang for the buck.
You can skip the guide and jump directly to the comparison of the monitors by clicking here.
External Monitor For Your Video Camera – Buying Guide
All external monitors come with different types of specifications and features and at varying price points.
Here's a breakdown of the most important features, you need to know about when buying an external monitor for video production.
Display
The quality of the display is the most important aspect you need to pay attention to. After all, when it comes down to it, an external monitor only has one job: to represent what you're capturing in the best possible way.
When it comes to monitors, here are some specific things to look out for.
Display size
Monitor displays come in different sizes, ranging from about 5 inches to 7 or even more.
As a general rule of thumb, the larger the display, the more details you can see on the screen while filming. Moreover, a larger display will also let you access the functions of your monitor easier, especially if you have "fat thumbs".
That being said, if you're going to mount the monitor on your DSLR or camcorder, it doesn't make sense to buy a 19" external monitor. Those beasts mostly used for studio work or larger-scale productions.
Also keep in mind, that if you're going to mount your monitor on your camera the size and weight of the monitor really matters. For example, if you're shooting handheld, a larger 7" monitor will not only make your rig heavier, it can also make more difficult to balance compared to a 5" screen.
Display resolution
Another important aspect related to the display is its resolution.
Higher display resolutions let you see your video in higher resolutions. And many high-quality monitors come with a full HD resolution (1920 x 1080 pixels a.k.a. 1080p).
4K displays are still really rare, and you don't need a monitor with a 4K resolution to play back 4K footage. And there's a good chance, that your camera will provide a downscaled 1080p version through HDMI as well.
As long as your monitor is able to scale the footage, you can watch it. You just won't be able to see all the fine details.
Scaling the footage, however, can introduce some artifacts which may become obvious when you're playing back the footage on your monitor. Luckily, a lot of on-camera monitors provide a 1:1 pixel mode, which will let you zoom in, and view part of the frame at full resolution.
Display technology
The display technology of external monitors varies. Some monitors feature an IPS display, while others use an LCD, LED (or a combination of both!), or an OLED.
There are pros and cons to each technology, but IPS, a combination of LCD/LED or OLED is a good thing to look out for.
The above technologies let you enjoy broader viewing angles without altering the image quality. The also offers better contrast and deeper blacks than, let's say, a monitor using a simple LCD-screen.
Contrast ratio
The contrast is a measurement of the ratio of the luminance of the brightest white and the deepest, darkest black that the monitor can produce. It is often written as e.g. 1,000:1.
Don't get fooled by the sometimes outrageous claims made by the manufacturers of monitors when it comes to contrast.
There are basically two different ways to measure contrast: static and dynamic.
Static contrast ratio is a measurement of the distance between the darkest blacks and the brightest whites the monitor is able to produce at a given brightness.
For example, if you're shooting indoors, you might have turned your brightness down to 50%, but when you shoot outside in the bright sun, you have the brightness set up to 100%.
The static contrast ratio will most likely be different at each brightness level.
Dynamic contrast ratio, however, is measured as the darkest blacks and brightest whites at different brightness levels. So in essence, the manufacturer can set the monitor brightness level to 1% where everything is dark, and measure the blacks. And then turn the brightness level all the way up to 100% to measure the whites.
Naturally, this will give a much higher ratio, but it will not be what you will be able to actually see on your screen at any given time.
But because of this, manufacturers often use the dynamic contrast ratio in their marketing material, because it sounds much more impressive to claim that a monitor has a contrast ratio of 1,000,000:1 than 1,000:1.
In short, you should always take the dynamic contrast ratio with a grain of salt. It isn't a standardized number.
If possible, compare the static contrast ratio of one monitor with the static contrast ratio of another at a specific brightness level. That is – IF you can find the number.
Display brightness
Lastly, each display also has some numbers related to the brightness of the monitor.
For example, a monitor can have a brightness of 1000cd/m2, which is excellent for filming outdoors. A higher number means a brighter display and vice versa.
OLED displays offer much more brightness compared to an LCD, but they are also way more expensive.
Monitors with a brightness of 500cd/m2 and below might need a sunshade if you're shooting outside in bright sunlight. There are plenty of excellent monitors out there, with such 500cd/m2 and below, which are totally useable in a number of situations. Just throw on the sun hood (which is sometimes included) if you're shooting in daylight.
Touchscreen or not
Some on-camera monitors feature a touchscreen.
But with a touchscreen, the price also increases. This shows in our list where the SmallHD Focus 5 is the only monitor with a touchscreen – but it is also the most expensive.
There are pros and cons to having a touchscreen. If it is a good one that is fast and responsive it can definitely make the whole user experience more efficient and intuitive. If it is a bad one, you're going to hate that it doesn't respond well to your touches.
Touchscreens are also prone to greasy fingers. So it's really up to you, what you prefer.
Power Options
The external monitor can be powered by different types of batteries.
In some cases, the battery might be designed by the manufacturer and sold together with the monitor. In the package, you'll find the rechargeable battery and a compatible AC adapter for recharging it.
At the same time, some monitors require a different type of battery, usually made by Sony (L-Series Battery Mount for NP-F550 batteries) or Canon (LP-E6 Battery Plate for e.g. LP-E6 batteries)).
In some cases, you might need to buy the battery separately.
However, the good thing is that those batteries are designed to last for hours, allowing you to continuously record video footage indoors or outdoors.
You can even get a dummy battery kit, which allows you to power both your monitor and your camera from a single battery. The nice trick about this is, that the batteries for monitors usually last much longer because of their bigger size than the batteries that go in your camera.
Mounting Options
When it comes to mounting options, there are numerous ways you can attach the display to your camera.
For example, most external monitors come with a cold shoe mounting bracket that fits most DSLR and mirrorless cameras. This means that the monitor will sit on top of the camera and you can adjust its inclination, viewing angle and height.
For more sophisticated external monitors, you might find an adjustable arm in the package. This device is also known as a magic arm and it gives you even more freedom when it comes to mounting the display.
For example, you can position the monitor at an angle, rotate it at 360 degrees, change the viewing angle as well as the height of the arm, etc.
Cables and Connections
Each external monitor can be connected to your camera through various cables.
The most popular one for DSLR and mirrorless camera is the HDMI cable. Some monitors come with a standard HDMI port, others use a mini HDMI port.
If you move on to professional standards an SDI port is the most common.
When it comes to connectivity options, there are numerous ports you can use. For example, most external monitors come with a USB upgrade port, an Audio/Video port, the HDMI input and output ports, a 3.5mm jack for your headphones as well as the DC port.
Some monitors also feature an SD-card slot for loading LUTS. That way you can test out different color grading as you shoot your footage.
In some cases, you can even record – or "burn-in" the LOT to the footage as you record. This can help you get much closer to your finished result – even when you're still in production. Burning in the LUT is usually only available at higher-end monitors, and should be used with great care.
In some cases, the display will also come with a 1/4 -20 thread hole which basically lets you attach this device to a tripod or stand.
Accessories
It's important to also check out the accessories included in the package by the manufacturer, to know exactly what you're spending your hard-earned money on.
For example, the HDMI cable and/or AV cable, shouldn't be left out from the box. Most manufacturers also include a carrying bag for your external monitor as well as a warranty policy for one or more years.
In some cases, you'll find a wrench in the package and this will help you with the mounting process, so you can easily attach the monitor to a tripod or your DSLR camera.
The package might also contain the sunshade which attaches on top of the monitor so you can see what's on the screen without being obstructed by very bright sunlight. However, sometimes this is something you have to buy separately.
The box should also contain the rechargeable battery and the AC adapter. In some cases, the battery and charger is something you need to buy separately. Read the small print before you buy.
These are the basics when it comes to buying an external monitor for your video camera. Now it's time to inspire you with a few excellent examples of monitors, so keep reading.
External Recorders vs External Monitors
External Recorders comes with additional features that aren't found on external monitors.
One major reason people choose external recorders is that they come with extra storage space.
External can come with extra card slots and even the possibility to install an SSD-disk, so you can record hours of footage with high-quality codecs.
Speaking of codecs, that's the other major advantage of having an external recorder. They offer high-quality codecs and frame rates that are not possible to achieve in-camera. This is especially true for a lot of mirrorless hybrid cameras.
The Atomos Ninja V, for instance, offers 4K capture at 60 fps and can record in ProRes HQ 4:2:2 or DNxHR. You can also record in 10-bit color space and capture log-footage.
However, external recorders are often bulkier, heavier, and more expensive. So if your camera already has good codecs and a good storage solution such as dual slots for SD-cards, then an external monitor can be the better solution for you.
So let's have a look at the 10 best affordable camera monitors and external recorders on the market right now.
10 best budget-friendly on-camera monitors
We hope the guide has helped you get a sense of what to look out for in an on-camera monitor.
One set of features might be perfect for one filmmaker, while another set of features is perfect for another. Only you know what you want from your monitor.
Below you'll find a description of ten of the best budget-friendly on-camera monitors on the market right now.
1. Portkeys BM5.2″ 2200 nits Touchscreen Monitor
The first on-camera monitor in our list comes from Portkey and packs a bunch of nice features.
The Portkeys BMP5 a budget-friendly 5.2″-inch display with a Full HD display resolution, which has a brightness of 2200 nits. That makes this monitor very bright and an excellent choice for shooting in bright sunlight.
The monitor features both HDMI and SDI inputs and SDI output port and it's compatible with a lot of different cameras – from BMPCC4K to GH5 and is the only monitor that allows you to control the Zcam E2.
The BM5 is also compatible with the Tilta Nucleus Follow Focus for easy focus pulling.
Although this screen is relatively small, it can show a wide range of details to improve your visual experience while filming. There are numerous tools available you can use such as vector scope, RGB waveform, brightness waveform, RGB histogram, and brightness histogram.
The Portkeys BM5 can also send power to your camera via a dummy battery (not included) via the Aviation Power Port on the back for extended shooting.
This monitor is made from aluminum alloy and toughened glass for good build quality.
When it comes to weight, this device weighs just 350 grams thanks to its small display size, so your hand won't get tired that easily when filming.
We found this great deal for the Portkeys BM5 at Adorama.
2. Feelworld FW279 7-inch 4k HDMI Ultra-Bright 2200nit Daylight Viewable Field Monitor
If you're looking for a larger but equally sophisticated display, check out the Feelworld FW279 on-camera monitor.
The monitor supports 4K input and comes with a 1920×1200 resolution.
The aspect ratio is 16:10, the 323 pixels-per-inch (PPI), and the brightness level is 2200 nits which makes this screen sharp and bright and suitable for outdoor filming.
The monitor comes with HDMI in/out and you can connect 4K HDMI cameras and DSLRs. It even has a 3.5mm stereo headphone jack and a built-in speaker for easy sound monitoring.
The screen isn't a touchscreen. Instead, you can set two manual button shortcuts for features such as focus assist, histogram, false colors, exposure, aspect ratio (it even has anamorphic modes), zoom, safe area, etc.
When it comes to power options, again you'll have to buy the battery separately. The monitor works with an F970 Series Battery, but you can choose other battery plate options as well.
Check the current price on Adorama.
3. Feelworld F570 5.7″ IPS Full HD On Camera Monitor
Our list continues with another excellent monitor from Feelworld.
The Feelworld F570 comes with a 5.7-inch display that accepts 4K input and has a Full HD resolution of 1920×1080 pixels.
This means that you'll see crystal-clear and vivid images whether you film indoors or outdoors. The panel is an IPS one that allows 170-degree viewing which is impressive.
The panel has a contrast ratio of 1400:1 and a maximum brightness of 460cd/m2. For shooting in bright daylight a sunshade is included.
Speaking of impressive things, we really like that this monitor comes with numerous image features and options such as histogram, image freeze, peaking filter, checking filter, image flip and more. You can adjust your image in so many ways and significantly improve your filmmaking experience.
The hot shoe mount and 1/4″ mount allows you to safely attach this monitor to DLSR cameras, handheld stabilizers, or tripods and stands. The battery system is flexible, allowing you to use different types of rechargeable batteries such as LP-E6 and U60. However, you can also run this unit on the 12V DC input port and don't have to worry about batteries.
On top of that, this monitor is less than 2 centimeters thick, so it's easy to manipulate and doesn't weigh a lot. This is why so many filmmakers love to work with this device because it's not cumbersome to use – even when shooting handheld.
We found this great deal for the Feelworld F570 on Adorama.
4. Feelworld FW760 7 Inch On-Camera Field Video Monitor
We want to present to you yet another excellent device from Feelworld. The Feelworld FW760 is a 7-inch monitor.
It features an IPS LCD panel with an impressive 323 pixels-per-inc that provides a broad viewing angle and a resolution of 1920×1200 pixels.
The slim design of only 17mm and low weight of only 270 grams makes this a monitor you can easily mount on top of your DSLR or mirrorless camera without tiring.
The 16:10 display is not the brightest with only 450 nits, but at this price point, it is to be expected.
It comes with an impressive amount of tools for monitoring your image like focus peaking, histogram, false colors, zebras, and even anamorphic modes.
The FW760 comes with an HDMI port and even an old-school AV port for composite type inputs and 3.5mm headphone output for audio monitoring.
It also has a speaker output, but if you want to use this, you should turn the volume down so you won't get a feedback loop screaming at you.
Another great advantage is the OSD controller option that lets you control the monitor from a distance.
Under the display, you'll find a plethora of small buttons that control the main functions of this external monitor.
We found this nice deal for the Feelworld FW760 on Adorama.
5. Lilliput A7S 7″ 1920×1200 IPS Screen Camera Field Monitor
If you're looking for a high-quality external monitor designed to withstand a lot of wear and tear then the Lilleput A75 is ideal for you.
This field monitor comes with a rubber case that offers additional protection against dust, shocks, vibration, dirt, and water drops. In the package, you'll also find a sunshade which makes it easier for you to film outdoors.
The 7-inch display has an impressive full HD resolution which captures all the details in front of you. 1000:1 contrast ratio is also excellent and the brightness level of 500cd/m2 makes this monitor ideal for filming in bright sunlight (when using the sun hood).
When it comes to connectivity, you get an HDMI input port and one HDMI output port. There is also a 3.5mm port for your headphones and a built-in speaker. The package contains a cold shoe bracket that allows you to mount this unit on your DSLR camera.
Although this monitor from Lilliput is rather heavy at around 320 grams (thanks to the protective case), it's an ideal companion for both beginner and experienced video makers who plan to shoot a lot outside.
You'll have to buy compatible Sony or Canon batteries separately, but you can also run this monitor on a 12V DC power connection if necessary.
Check the current price for the Lilleput A7S here on Adorama where its available in both red and black.
6. Aputure VS-2 FineHD Kit LCD Screen
Another affordable external monitor for your video camera is the Aputure VS-2 FineHD.
This monitor comes with a lot of goodies in the package and it features a 7-inch IPS panel with an excellent viewing angle and bright colors.
The 1920×1200 resolution is impressive and 1200:1 contrast ratio delivers crisp, clear and colorful pictures all the time.
The package contains multiple accessories such as a small cloth for cleaning the screen, a carrying pouch, the instructions manual, AV cables, HDMI cables, and an articulating arm.
The arm allows you to mount the monitor on DSLR cameras or other filming equipment and incline/rotate it according to your preferences and needs.
You can also plug your headphones in this monitor as it comes with a 3.5mm jack or uses the built-in speaker system to listen to the audio while recording. Best of all, this model comes with a battery and charger, so you don't have to buy them separately!
When it comes to controls, there are a few buttons installed just under the panel. They allow you to select the image mode as well as accessing the main functions of the monitor. You can even power off the display by pressing just a single button.
You can check the current price for the Aputure VS-2 FineHD here on Adorama.
7. SmallHD Focus 5″ On-Camera IPS Touchscreen Monitor
The next monitor is the extremely popular SmallHD Focus 5" on-camera monitor. Despite its small size lightweight, the monitor packs and an incredible amount of features.
The 5-inch display has a 1280×720 resolution, but will easily play 4K video.
The monitor features an excellent touchscreen and user interface, which makes navigating all the menus a breeze.
It's an IPS panel, so you'll enjoy excellent viewing angles while filming, and it has a brightness of 800 cd/m2, which is viewable outside even in the sun. If you're going to shoot outside in bright sunlight, you still need a sunshade, which you need to purchase separately.
Although this monitor looks compact and lightweight, it's extremely powerful when it comes to image tools. For example, you have access to different features such as Pixel Zoom, Focus Assist (e.g. pixel peaking), False Colors, vectorscope (for checking skin tones), waveform (great for shooting LOG-footage), histograms and more.
The monitors also have an SD-card slot, which lets you upload 3D LUTs for real-time color grade viewing while you record.
The monitor attaches to a DSLR or mirrorless camera using the cold shoe mounting bracket and it supports HDMI connectivity.
In the package, you'll also find a tilting arm which basically lets you incline, rotate or twist the monitor in various ways during the filmmaking process.
There is also a 3.5mm headphone jack for listening to audio while filming as well a Sony-compatible battery plate.
This model works with Sony L Series batteries which have to be bought separately, but you can get several bundles, where you also get a dummy battery (e.g. for Blackmagic Pocket, Sony, Canon, or Panasonic cameras) which can power both the monitor and cameras.
The SmallHD focus is also available with an OLED display and a version with SDI instead of HDMI. It is truly a versatile monitor.
Go check the current price for the SmallHD Focus 5″ on-camera monitor here on Adorama.
8. Atomos Ninja V 5″ Touchscreen Recording Monitor
Our first external recorder on this list is the Atomos Ninja V, which is an awesome little monitor.
It has a great 16:9 touch screen with 427 pixels-per-inch (PPI), and a brightness of 1000 nits, which is good enough for most outdoor recording except for very bright sunlight. If you're going to the desert or something, you'll need a sun hood like this inexpensive one from SmallRig.
The Ninja V can record up to 4Kp60 10-bit HDR video direct from your camera's sensor over HDMI 2.0. In other words, it will bypass your cameras internal compression codecs and record time limits (if any).
It comes with good codecs such as ProRes HQ 4:2:2 and DNxHR HQX.
You can record to both normal SSD drives and mini-SSDs, and 1TB will give you approximately 150 minutes of 4K footage.
Of course, the Ninja V comes with all the tools you need for monitoring your image like luma waveform, RGB parade, vectorscope, focus peaking, zebras, false color, et.c
And you can import LUTs and monitor your audio as well.
And it supports a plethora of different log formats (e.g. Slog, Arri Log, Clog, Vlog, and Red Logfilm), HDR Monitoring formats (gamma & gamut) from Sony, Arri, Panasonic, etc.
You can even record your video games in 4Kp60 or HDp240 if you want. So if you run a YouTube gaming channel this is also a great choice.
It has HDMI in/out, and line in, mic in and headphone out for audio.
I particularly like the Ninja V because it is a high-quality external recorder but isn't big and bulky. The 1″ body is made from aluminum and weighs in at just 11oz (320g) and attaches to any camera rig easily.
I also like that you can edit directly from the SSD. You don't have to first transfer your files from your SD-cards to your computer. Because you're recording to a SSD in the first place, you can read from that and start editing right away.
For the most compact and light-weight option, you'd want to use the AtomX SSDminis. Adorama has a great offer that includes 1TB SSD mini, and two batteries.
Check the current price on Adorama.
9. SmallHD 702 Touch 7″ On-Camera LCD Touchscreen Monitor
The SmallHD 702 Touch is a 7″ monitor with a brightness of 1500nits which is plenty for most filming outside (except for the most extreme circumstances).
The highly responsive 16:10 touchscreen has a resolution of 1920×1080 and a full DCI-P3 color gamut for accurate color rendition.
Like other SmallHD monitors is a high-quality built monitor. It is made from a solid block of aircraft-grade aluminum and the screen from hardened glass and a screen protector that reduces glare.
It comes with all the professional tools you need for video production like false color, focus peaking, pixel-to-pixel zoom, RGB Parade, waveform, and even anamorphic de-squeeze.
It comes with one SDI input, one SDI input/output, one HDMI input, and one HDMI output. It also supports HDMI/SDI cross-conversion.
And it also has an SD card slot, a headphone output, and a micro-USB slot.
It can be powered by 6 to 16.8 VDC or batteries and has a interchangeable mount, if you don't prefer the Sony L-series mount it comes with as standard.
Despite being a 7″ inch monitor, it is still both slim and light-weight. It is only 1.29″ (3.28cm) thick and weighs 18.0 oz (535.81g).
In short, this 7″ monitor offers a lot of bang for the buck.
Check the current price on Adorama.
10. Blackmagic Design Video Assist 12G Portable All-in-One HDR Monitor
The Blackmagic Design Video Assist 7″ 12G Portable All-in-One HDR Monitor is a high-end external recorder that comes at a reasonable price.
Because it's an HDR monitor it supports 10-bit 4:2:2 color and can record in high-quality ProRes HQ or DNxHR formats.
The responsive touchscreen is extremely bright with 2500nits and usable outdoors even in intense sunlight.
It comes with dual UHS-II SD card slots, but you can also record external SSDs if you prefer. And if you use an SSD, you can – like with the Atomos Ninja V above – edit directly from the monitor, which is great – especially if you're traveling a lot with a laptop.
The monitor supports both SDI and HDMI and will record in HD, 2K, 4K UHD, and even 4K DCI. You even get two mini XLR connections with 48V phantom power for high-quality audio recording, which is really nice!
And, of course, it has all the professional scopes you need for monitoring like waveform, RGB parade, vector scope, and histogram.
You can use an external 12V power supply, but it is also compatible with Sony NP-F style batteries (not included).
Check the current price on Adorama.
Which One Caught Your Attention?
I tried to create a simple selection of multiple external monitors and recorders for different purposes and budgets.
They all offer an incredible bang for the buck but offer different features that suit different needs.
I hope you found this guide helpful. If you got any questions please share in the comment section below.
---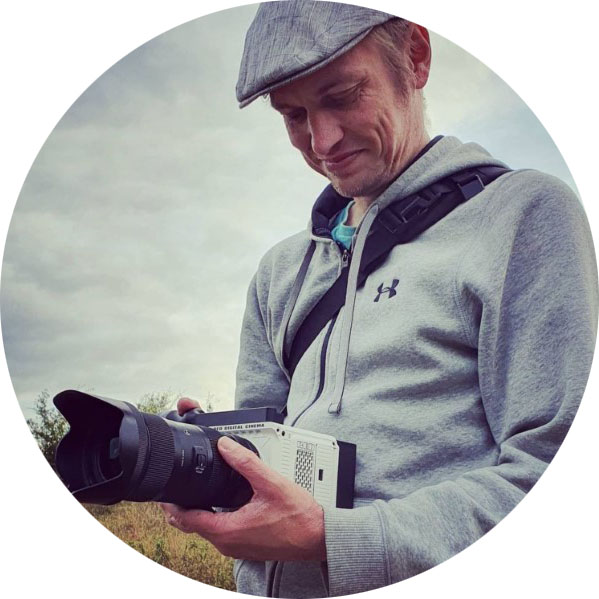 About the author:
Jan Sørup is a videographer and photographer from Denmark. He's the owner of filmdaft.com and of the Danish company Apertura, which produces video content for big companies in Denmark and Scandinavia. Jan has a background in music, has drawn webcomics, and is a former lecturer at the University of Copenhagen.