DISCLOSURE: AS AN AMAZON ASSOCIATE I EARN FROM QUALIFYING PURCHASES.
THIS POST MAY CONTAIN AFFILIATE LINKS, MEANING, AT NO ADDITIONAL COST TO YOU, I EARN FROM QUALIFYING PURCHASES. AFFILIATE LINKS ARE MARKED WITH #ad. "I" IN THIS CASE MEANS THE OWNER OF FILMDAFT.COM. PLEASE READ THE FULL DISCLOSURE FOR MORE INFO.
A couple of weeks ago the folks from Moment send me a set of their new variable ND filters to test.
For a while, they've just been sitting at my desk because I've simply not had the time to test them out properly because of all the crazy stuff going on in the world at the moment. And I wanted to do a proper and thorough hands-on test for this review.
Finally, I got the chance to do it. And let me start by saying, that despite some minor caveats, so far I've been very satisfied with the results I've seen.
So let's dive into this in more detail.
Two Filters – Two Ranges in Stops
Moment has decided to make two different filters that each covers a particular range in stops.
Each filter is available with a diameter of 67mm, 77mm, and 82mm. For this test, I used the 77mm filters.
The first filter has a range of 2 to 5 stops. That's an optical density of 0.6 to 1.5 and the equivalent filter factor range of ND4 to ND32.
The second filter has a range of 6 to 9 stops. That means it has an optical density of 1.8 to 2.7 – or a filter factor between ND64 and ND512.
Those ranges are perfect for covering most situations where you want to follow the 180-degree rule – even when you're working outside in bright sunlight.
Following the 180-degree rule (shooting with a shutter speed double that of your frame rate) is paramount if you want to avoid jittery, unnatural looking footage.
With a maximum density of 9 stops, this set of filters is not enough if you're a photographer who enjoys shooting those extreme long exposures. e.g., if you want to create silky looking clouds during daytime – in which case you might want to go with an ND1000 or above.
But that doesn't matter, because variable NDs are generally not built with the photographer in mind. If you want to shoot a long exposure timelapse or similar, you would normally just slap on a regular ND anyway.
Where variable ND filters really shine are in video production – and especially in run-and-gun situations like shooting documentaries, travel vlogs, outside B-roll and more.
And for that purpose, this set of filters from Moment are perfect!
Hard Stops and Zero Cross-Polarization
Each filter has hard stops at each end of the stop range, which, in my opinion, is the way all variable ND should be built.
First, because hard stops make it much easier to quickly dial in the lowest and highest settings.
Second, because hard stops make it less likely you'll experience cross-polarization because the manufacturer – if the manufacturer has done a good job – will have limited the filter to a usable range without any cross-polarization.
In this case, Moment has chosen wisely when limiting the filters to an ND-range of 2-5 and 6-9, because I haven't seen any cross-polarization whatsoever during my testing.
Color Shift, Vignetting and Sharpness
The glass is Schott B270 Pro Cinema Glass that delivers optical quality crisp images
And speaking of sharpness, I don't see any noticeable impact – even on the Sigma 18-35 which is a very sharp lens.
I also don't see any color shift with neither the Moment ND4-ND32 nor the Moment ND64-ND512.
In fact, it's pretty impressive how these filters perform throughout the range – even the filter between 6-9 stops (ND64 to ND512).
However, I do see a bit of vignetting – most noticable on the densest filter at ND512 – whereas it's hardly noticable on the ND4-ND32.
Flaring
As you can see in the video above with the test footage, the filters flare very nicely.
Moment writes that the conical geometry of the glass acts like a micro lens hood that cuts unwanted glare and reflections.
I wouldn't go as far as calling it a lens hood, but I think the filters did an outstanding job of flaring even when I shot directly into the sun and moved the camera toward the surface of the reflective water.
Build-Quality And Usability
The filter frame is built from aerospace-grade aluminum lightweight. No doubt the filters are high-quality and rugged.
The edges on the filter frames have a knurled grip texture for more control and easy removal that works fine.
I would have preferred a lever though because I find it easier to work with. But that's a matter of taste. Plus levers have a tendency to break during transport if you aren't careful.
On the side of the frames, you find laser-etched graphics that should allow you to see which stop you're shooting from behind the viewfinder.
However, I had trouble getting the stops to show on top of my lens. The worse filter was the ND4-ND32 where the engravings ended up at the bottom of my lens.
The ND64-ND512 filter engravings sat somewhere between the right side of and near the top of the lens – and that was using the exact same lens and step-up ring.
I tried readjusting my step-up ring and the filter multiple times but I just couldn't get the filter to sit right.
I also tried loosening both a bit, but I couldn't get it to work because that only meant that I would turn the step-up ring instead of the filters.
It's possible that a different lens and/or step-up ring would yield a different result, but it's wierd that the engravings on both of these filters don't end up in the same place when I used the same step-up ring and lens.
It's not a big deal since I always dial in the exposure by eye while using the exposure tools on my cameras, but it's something to be aware of if you plan on using the engravings on the side.
No Filter Lens Cap Included
The filters also work with standard center pinch lens caps, but I would have liked this lens cap to be included with the filter because I own no lens of 77mm.
Again, in comparison, my SLR Magic variable ND-filter comes with a pinch lens cap included.
Rugged Protective Casing – but Difficult to Open
The filters come in some really nice foam-lined, metal carrying tins for protection on the go that gives you a sense of exclusivity.
There's no doubt that the filters are well protected during traveling when using these.
However, I found one of the tins difficult to open at first since the surface is very smooth.
And since these tins are made from metal, I would be wary if I were to bring them along for a humid, warm or cold climate. Or, for example, if I were to take them from a warm hut onto a cold ski slope.
I could also imagine that they could also be a problem to open if they've had a dent or a bit of sand have been caught in the very fine milled grooves.
I'm guessing here, because I haven't used them in any of these situations, but my experience tells me that might pose a problem. In comparison, my SLR Magic variable ND filter comes in a much less sexy plastic case, but I'm sure that I can always get to the filter quickly whenever I need it.
The Verdict
Moment has made a set of very good variable ND filters that I have no trouble recommending to anyone.
Check the current price on Adorama
Check the current price on the Moment official store
They are up there with the SLR Magic Variable ND Filter mkII, the PolarPro VariableND Peter McKinnon Edition, and similar filters in that price range for sure.
Moment has made the wise decision to make two filters with hard stops – each within a limited range of stops – instead of trying to make a single filter to cover the whole range from ND4-ND512.
This decision has made two filters that are sharp, no cross-patterning from polarization, no noticeable color shift, a very nice flare, and minimum vignetting.
The filters are well-built from high-quality materials and glass and with a nice focus on usability.
I could not get the laser engraved stops to sit where they were supposed to with my lens and step-up ring though.
I would also have liked a (detachable) lever and a center pinch lens cap to be included with each filter.
And I'm not so sure about the protective casing. Even though it looks and feels very rugged and exclusive, I think it might pose trouble under some climate conditions or from sand getting caught in the milled grooves.
All-in-all, the image and build quality you get from these filters are outstanding for the price, and I'll definitely use these a lot more in the future when I can get back to filming for clients again.
Plus, you get lifetime warranty!
Check the current price on Adorama
Check the current price on the Moment official store
---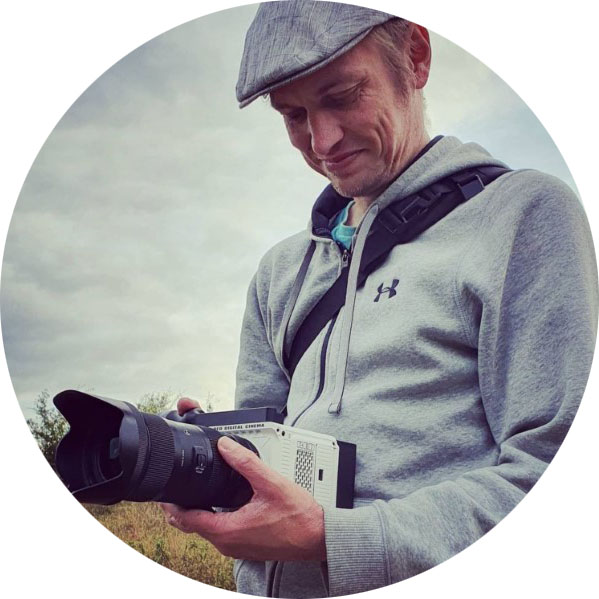 About the author:
Jan Sørup is a videographer and photographer from Denmark. He owns filmdaft.com and the Danish company Apertura, which produces video content for big companies in Denmark and Scandinavia. Jan has a background in music, has drawn webcomics, and is a former lecturer at the University of Copenhagen.