DISCLOSURE: AS AN AMAZON ASSOCIATE I EARN FROM QUALIFYING PURCHASES.
THIS POST MAY CONTAIN AFFILIATE LINKS, MEANING, AT NO ADDITIONAL COST TO YOU, I EARN FROM QUALIFYING PURCHASES. AFFILIATE LINKS ARE MARKED WITH #ad. "I" IN THIS CASE MEANS THE OWNER OF FILMDAFT.COM. PLEASE READ THE FULL DISCLOSURE FOR MORE INFO.
If you own a micro-four-thirds system camera and you're in the market for a wide-angle or portrait-length zoom lens, then you've probably heard people talking about the Panasonic Lumix 12-35mm f/2.8 II and the Sigma 18-35mm f/1.8 Art lenses.
I often see comments where people ask advice on one or the other e.g., which one to buy.
And I can understand why because the lenses are in many ways comparable: the lenses cover approximately the same focal length, and both have a constant aperture with "only" 1⅓ of difference in light.
So why would you need one over the other?
Well, I own and have used both extensively for client work and personal projects for a couple of years now. In the process, I have gotten to know the strengths and weaknesses of both of these lenses.
And let me start by saying that the similarities end here.
Each lens has its own strengths and weaknesses. For some type of jobs, I've come to depend on one and for other types of jobs, I prefer the other.
So let's go over each of these lenses and their pros and cons. And I'll get into when I use what lens.
Hopefully, by the end of this article, you'll be one step closer to making a buying decision yourself.
Panasonic Lumix G X Vario 12-35mm f/2.8 ii ASPH. Power O.I.S.
Let's start talking a bit about the Panasonic 12-35mm f/2.8 ii.
I love this lens because it is a great all-around lens for run-and-gun video and photography jobs.
The lens covers a convenient focal length range of 12-35mm in micro-four-thirds terms, which is the equivalent of 24-70mm in full-frame (FF) a.k.a. 35mm cameras when it comes to the field-of-view (FoV).
If you're not already familiar with the micro-fourth (aka MFT or m43) system, you have to double the focal length range because of the crop factor when you compare the lens to a 35mm full-frame system, which is the standard for comparison.
The 24-70mm range is extremely versatile and popular focal length range in Full Frame systems. But all the full-frame lenses, which covers this range are big and heavy. Enter the 12-35mm for MFT!
Image quality
The Lumix 12-35mm is capable of producing some very sharp images through the whole focal range.
It is not as sharp as the Sigma. But it is still so sharp, that I prefer to dial the sharpness of my GH5 down to minus 5 whenever I'm shooting video. And even then, I think the image is still too sharp for some things.
Small size
I think, that the 12-35mm from Panasonic really embodies all of the advantages of the m43 system. It is small (2.66 x 2.91″/ 67.6 x 73.8mm) and extremely light-weight (only 10.8 oz /305 g).
It has a constant aperture of f/2.8 through the whole zoom range (maximum is f/22) which is pretty impressive in such a small form factor.
But even though it is small compared to its FF-rivals, it is by no means fiddly to use, and I think it rest nicely in the palm of my hand when I shoot handheld.
The Lens Is Great For Interviews – If The Look You're Going For Doesn't Require A Lot Of Bokeh
Now, f/2.8 isn't going to give you a great bokeh unless you get really close to your subject at 35mm.
So this lens isn't ideal for portraits and interviews if you're looking for a really blurry background. Not unless your subject won't mind having your camera up really close!
But for those interviews which require a medium close-up to a full shot (or long shot) this lens is perfect.
The look of the bokeh itself is okay – but nothing special – and is produced by the rounded seven-blade diaphragm in the lens.
Focusing And Focusing Speed
The Lumix 12-35mm isn't a cinema lens, so it doesn't come with follow focus gears.
The focusing system is focus-by-wire as is the case with the other MFT-lenses from Panasonic.
The focusing ring has a nice feel to it, and I find it easy to use when I'm manually focusing.
Since I'm not doing any precision work with this lens (like I sometimes have to with e.g. an f/1.2 lens), I haven't felt the need for a bigger focus ring.
In fact, I think the lens has just the right amount of resistance for a fast manual focusing experience. And a good manual focus ring is important to me since I never use continuous autofocus when I'm shooting video.
When I do use autofocus, I use back-button focus for both videos and photos.
For video, I mostly do this when I'm shooting interviews where the subject is sitting or standing still. But I also use it to shoot B-roll when I need to react fast to catch something.
In those situations, the back-button focus on my GH5 offers a quick way to nail the focus and start recording. And I think the lens focuses fast and doesn't hunt 95 percent of the time.
The same is true when I'm out taking photos for a client.
The Lumix 12-35 has a switch, which enables you to switch between manual and autofocus.
In short, I wouldn't use this lens where any manual focus pulling is needed. For that, I would use a manual lens with follow focus gears.
But as a workhorse for client work like interviews and B-roll where time is of the essence, the autofocus system of the Lumix 12-35 has performed flawlessly and continues to do so.
Image stabilization
The Lumix 12-35mm mark II has Optical Image Stabilization (O.I.S.) which works in tandem (dual IS) with the in-body sensor stabilization (IBIS) if you own e.g. a Panasonic GH5, G9 or G85 for true 5-axis stabilization.
Please note, that if you're buying a used version of this lens, and you want to take advantage of the dual IS2, you have to get the newer version, because the first iteration of this lens can't be upgraded to dual IS2 via firmware due to hardware limitations.
The first iteration of the 12-35mm will still be able to work with dual IS v1 though, and the difference between the two is only half a stop. In other words, you probably won't notice the difference if you're only doing video work.
With the Panasonic 5-axis stabilization, I can shoot handheld with my Panasonic GH5 even at slow shutter speeds of around one second. The 5-axis dual IS in the GH5 is still not as good as the Panasonic G9 or Olympus E-M1 Mark II, but it is more than enough for me. And the dual IS is excellent for video.
If I put the Lumix 12-35 on my GH4 or GH5s, which don't have a stabilized sensor, the internal O.I.S. still does an excellent job at minimizing small shakes and jitters, but also larger shakes.
Actually, I find the O.I.S. is better suited to combat bigger shakes than the sensor stabilization in my GH5 alone. I think this is because larger shakes will make the IBIS run out of correction range because there's only so much room for the sensor can move to combat shakes.
The lens has a switch which lets you switch off the O.I.S. Though, why you would want this, I don't know, because in short, the O.I.S. of this lens is excellent.
Weather sealed
Another thing I love about this lens is that it is weather sealed.
I've pulled this thing out in the rain, snow and frost, and dry dusty environments, and it has always performed flawlessly.
Summary Of The Lumix 12-35mm f/2.8 ii
The Panasonic Lumix 12-35mm f/2.8 II is a beast of a workhorse for run-and-gun video and photography.
It is my goto lens for interviews where I need to film the whole or the upper body of the interviewee (full shots to medium shots) e.g. while they are standing or sitting in a chair.
If I need more bokeh, I mostly go with a lens with a longer focal length and/or wider aperture. And if I'm going to film in situations with little light, I'll choose the Sigma instead.
The lens is well-built, lightweight and small, yet still covers a convenient focal length range of 24-70mm in 35mm equivalent.
The O.I.S. is excellent in itself. So you can easily use it with other cameras within the MFT-system (like the Panasonic GH5/s, Sony a6500, or Olympus OM-D E-M1 II) and still get great results only with O.I.S.
Combined with the IBIS of my GH5, it is possible to shoot handheld at low shutter speeds. I've used this lens on boats and while filming in busses for a client with great results.
And also, the weather sealing works wonders. I've come to trust the GH5 + 12-35mm combination in all kinds of weather.
I bought the lens when it first hit the market at full price, but already you can find it for quite a bit less.
I won't recommend you buy this as a grey marked item (I think it is too expensive to not have covered under warranty). Also, you want to make sure you get the 2017 version in order to be able to use the dual IS, so here's a link to the non-grey market version of Lumix G Vario 12-35mm f/2.8 II on Amazon.
Sigma 18-35mm f/1.8 DC HSM Art Lens for Canon EF
So let's move on to the Sigma 18-35mm f/1.8 Art-
This lens is designed for APC-S sized sensors, which are bigger than MFT. It is also not designed for MFT-mounts, so you need some kind of converter.
The version I have comes with a Canon EF mount. I've chosen to combine it with the Metabones Speed Booster Ultra 0.71x focal reducer.
I prefer the Metabones adapter since I've never had problems with them. They have a tight fit with no play. Make sure to get the Metabones 0.71x version and not the 0.64x version since the latter will cause vignetting.
Here's a link to the Metabones Speedbooster Ultra 0.71x version on Amazon.
The popular combination makes the Sigma 18-35mm have a field-of-view of approximately 25-50mm when compared to a full-frame equivalent.
Not only that but it also ads one stop of light to the Sigma, so the aperture becomes f/1.2!!
With the Metabones this lens is a beast in low light.
This lens lives on my GH5s. I think the last time I had it off, was to make some astrophotography timelapse with my GH5s in the South of Spain in the summer of 2018.
Image Quality
The 18-35mm is part of the 'Art' series from Sigma, which offers top-of-the-line image quality across the line.
And the image quality of the Sigma is nothing short of spectacular. I've used it for photos and video extensively, and I just love how it renders colors.
It is extremely sharp. I think the only lens I own, which is sharper, is the 75mm from Olympus.
If I was to go for a soft organic film look, this would not be my go-to lens.
But for crisp clear footage, this lens really shines.
The 9 rounded aperture blades render a nice bokeh. We're not talking perfectly round bokeh balls, nor silky smooth blur, like you, can get with lenses with e.g. 16 blades.
Personally, I prefer bokeh like it is on the Sigma. I don't like the "perfect" bokeh because I feel it lacks character. Heck, I even love the jagged uneven bokeh on my old Canon 50mm FD.
Build Quality
The build quality of this lens is excellent.
The barrel is made from Thermally Stable Composite (TSC). I have no idea what that means, but it feels hard and sturdy. And the brass bayonet seems well built.
In short, I have no worries when I throw it in my backpack.
The lens is big (3.07 x 4.76″ / 78 x 121 mm) and heavy (1.78 lb / 810 g) compared to native MFT-lenses, and some would argue that using a lens such as the Sigma goes against the whole idea of the MFT-system.
I love it though. I like the weight of it when I shoot it handheld. The weight helps give me some extra stability.
And the big focusing ring makes dialing in manual focus a breeze.
Speaking of focusing…
Autofocus
As I wrote earlier, I never use continuous autofocus on my GH5 or GH5s. This has more to do with the poor performance of the autofocus in the cameras than in the lenses though.
To be honest, I haven't seen a continuous autofocus system, I would really trust anyway. Not even from Canon or Sony. From what I've seen they all seem to breath or hunt for focus when the subject is moving.
So like I do with the Lumix 12-35mm, I only use back-button focus to quickly dial in focus in situations, where my subject is fairly still.
I do find that the Sigma 18-35mm hunts a bit more for focus than the Lumix 12-35mm, which is especially true for apertures larger than 1.8.
It is to be expected though since nailing the focus with a shallow depth-of-field becomes more difficult.
That is another reason why I like the large focus ring.
Like the 12-35mm from Panasonic, the Sigma also has a switch for switching between manual and autofocus.
The Sigma 18-35mm is a mechanical focus lens, and if you've got the cash, it is also available in a cine version with cine focus gears and T-stops.
I plan to purchase the cine version sometime in the future. I just need to find that pot of gold at the end of the rainbow.
No Weather Sealing
The Sigma doesn't have any weather sealing. So if it is raining, snowing or very dusty, I wouldn't recommend this lens.
For those times, I always go for the Lumix when I need this focal range.
No Image Stabilization
The Sigma 18-35mm doesn't come with optical image stabilization.
I've used it with my GH5 and used the IBIS in that with great results for both photo and video.
But even though it doesn't have O.I.S., I actually prefer to have it on my GH5s, which doesn't have IBIS.
I use it either on a tripod for interview work. In those cases, it doesn't matter that neither the camera nor the lens isn't stabilized.
And if I shoot handheld, I usually put it in a cage with a handle. It provides some shaky footage, but with the handle, I'm able to utilize this for a dramatic and dynamic effect. I think it works great!
Summary Of The Sigma 18-35mm f/1.8 Art
The Sigma 18-35mm f/1.8 is an amazing lens. The image quality is on par with some of the best glass out there, and it's as sharp as most primes.
The Sigma is bigger than most native lenses for the MFT-system, but personally, I don't mind. I actually like the extra weight and bulk as it ads more stability when shooting handheld.
Like the Lumix 12-35 mm I use this lens for full shots to medium shots, but I've also used it for extreme close-ups of e.g. the eyes of my subject.
And also like the Lumix, if I need more bokeh, I mostly go with a lens with a longer focal length and/or wider aperture.
If I'm shooting in low light, I mostly use the Sigma instead, because of the f/1.2 aperture I get when couple with my Metabones Speed Booster.
The lens is extremely well-built and feels less plasticky than the Lumix.
The lens doesn't have O.I.S. or weather sealing. So if these are important to you, you should choose the Lumix instead.
However, you can use it together with a camera with IBIS like the Panasonic GH5 or Olympus OM-D E-M1 II.
I found this great kit with the Sigma 18-35mm f/1.8 Art which not only includes the lens, but also the USB dock you use for calibrating the lens and updating the firmware, a backpack, a 72mm filter kit, cleaning kit and more on Amazon.
Also, check out the deals available on Adorama. They also have different packages available with different accessories, different mounts (Pentax, Nikon, and Canon) and you can even get a kit that includes both the Sigma 18-35mm, the Sigma 50-100mm f/1.8 plus accessories.
Notes on the Sigma 18-35mm for Nikon mounts
Here's a tip for you: if you don't own any other lenses with the Canon EF mount or already own a lot of Nikon glass, you can go for the Sigma 18-35 with a Nikon mount instead. Here's a great deal on the Nikon version of the Sigma 18-35mm f/1.8 Art similar to the Canon kit mentioned above.
Then you need to buy a Metabones Speedbooster for Nikon mounts also. Here, you can check the current price for the Metabones Speed Booster Ultra for Nikon on Amazon.
The Nikon combo is sometimes cheaper than the Canon combo. So if you aren't invested in either Canon or Nikon glass it is always a good idea to check the current prices, and see what combo gives you the best deal.
However, you should know, that if you do buy the Nikon version of the Sigma 18-35mm, you'll have to manually enter the focal length each time you attach the Sigma to your camera again. If you don't, the IBIS won't be able to work properly with the lens. This doesn't apply to the Canon version, which communicates focal length electronically.
Notes on alternatives to Metabones: focal reducers from Viltrox
The Metabones Speedbooster is excellent, but also expensive. If you're after a cheaper alternative, you should check out the equally popular focal reducers from Viltrox instead.
Here you can check the current price for the VILTROX EF-M2 0.71x for Canon on Amazon.
And here you can check the current price for the VILTROX NF-M43X 0.71x for Nikon – also on Amazon.
You can save a lot of money by going with Viltrox and Nikon mount instead of Metabones and Canon mount.
You can read about more alternatives to the Metabones Speedbooster in this article: Best Affordable Alternatives To The Metabones Speedbooster.
But there is the lack of electronic communication between the camera and the lens, you have to live with.
And also, I've read a lot of reviews of the Viltrox adapters, and there seem to be a lot of bad ones out there.
My guess is they don't go through the same rigorous quality-testing routine as the Metabones. And maybe the components aren't as good. So it's kind of a hit or miss if you get a good one. That's is why I ended up buying one from Metabones.
Conclusion
I love both the Panasonic Lumix 12-35mm f/2.8 II and the Sigma 18-35mm f/1.8 with the Speed Booster from Metabones.
The Panasonic is definitely the most versatile of the two. It is smaller, more light-weight, has excellent O.I.S. and is weather sealed, and I've come to rely on this lens in many situations.
If I knew I was going to shoot a lot of run-n-gun footage outside in changing weather conditions, and I could only pick one of the two lenses the Lumix 12-35 would be the one.
The Lumix 12-35 is a workhorse, and it gets the job done.
However, I'm more in love with the Sigma 18-35mm. It's my go-to lens whenever I want that bit of extra character and quality.
It doesn't have weather sealing, and it isn't even stabilized, but for some reason, I just love these images and the footage I get from this lens more.
It's really hard to pinpoint what it is. Because both lenses are incredibly sharp (though the Sigma is the sharpest of the two), and both offer great image quality.
But the Sigma just offers that bit of extra "something", which I really love.
In conclusion, even though both lenses cover approximately the same focus range they are totally different beasts, and I don't regret buying both.
The Lumix 12-35mm is the bread-and-butter workhorse when I need to move fast and get the job done. It handles rain, snow, and dust and focuses fast.
The Sigma 18-35mm is the diva, which needs a bit of extra love. And it doesn't like to get wet. But if you treat it right, it will perform for you and you'll love what it has to offer.
Do you own one or the other? Or maybe both? Which one is your favorite?
---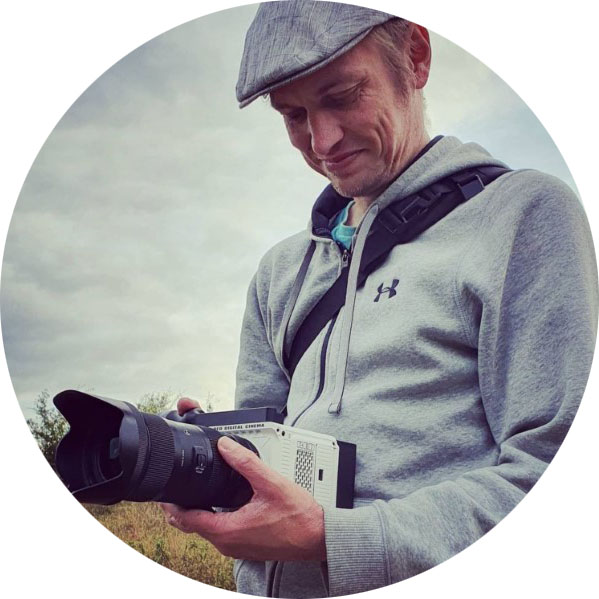 About the author:
Jan Sørup is a videographer and photographer from Denmark. He owns filmdaft.com and the Danish company Apertura, which produces video content for big companies in Denmark and Scandinavia. Jan has a background in music, has drawn webcomics, and is a former lecturer at the University of Copenhagen.