DISCLOSURE: AS AN AMAZON ASSOCIATE I EARN FROM QUALIFYING PURCHASES.
THIS POST MAY CONTAIN AFFILIATE LINKS, MEANING, AT NO ADDITIONAL COST TO YOU, I EARN FROM QUALIFYING PURCHASES. AFFILIATE LINKS ARE MARKED WITH #ad. "I" IN THIS CASE MEANS THE OWNER OF FILMDAFT.COM. PLEASE READ THE FULL DISCLOSURE FOR MORE INFO.
It's an amazing time to be a filmmaker!
Digital cameras have become abundant and cheap. So has LED-lights and microphones for light and high-quality audio.
Advances in computers and editing software have made editing cheap and available to everyone. And the internet has removed a lot of the traditional gatekeepers and made world-wide distribution available to everyone.
But you still have to learn the craft. Of course, you could go to film school, but these days, you don't have to. There are plenty of available and free tools and knowledge available online on websites such as this, and on YouTube.
But even though you can learn a lot from YouTube, you'll there's a limit to the kind of talent you find there.
That's where a site such as MasterClass.com comes in.
What is MasterClass.com?
MasterClass.com is a paid service, which offers video masterclasses online covering a lot of different fields and topics.
While you can find similar services (paid and free) online, the sheer amount of big-name industry talent the creators of this site have managed to collect is just incredible.
For filmmakers, directors, screenwriters, actors, and film score composers, Masterclass.com is a treasure trove without compare.
You can either pay for a single masterclass, or you can sign up for an all-access yearly subscription. I find the latter to offer the most value for the money.
Everything is neatly broken down into short classes so that you can learn new skills in just 10-12 minutes a day and contemplate all the information at your own pace.
With some classes, you also get a downloadable workbook with lesson recaps, assignments and supplemental materials.
You can watch on your smartphone (there's an app for iOS, Android, and on Amazon Appstore), desktop or Apple TV – whatever you prefer.
Below, I've compiled a list of some of the best masterclasses relevant to filmmakers and screenwriters.
Masterclasses for Filmmakers and Directors
MasterClass.com has a lot of amazing directors, which happily share their secrets, and they do so with a lot of wit and enthusiasm.
Here are some of the amazing directors you can learn from.
David Lynch Teaches Creativity and Film
Number of lessons: 13
Director and actor David Lynch (Eraserhead, Dune, Blue Velvet, Twin Peaks, Lost Highway, The Straight Story, Mulholland Drive, and more) talks about following and trusting your idea and how these ideas can come from anywhere:
If you want to make a feature film, all you need to do is get 70 ideas. And you write these scenes on a 3×5 card. And when you have 70 of them, you've got a feature film.

David Lynch – Masterclass.com
Lynch also talks about the importance of finding your own voice and never giving up total creative freedom. In other words, the importance of you having the say on the final cut.
The course is broken down into 13 chapters, which also covers topics on how to work with actors, the pressure of being on set, production design, cinematography, sound design, scoring, breaking the rules, and more.
Take the class here: David Lynch Teaches Creativity and Film
Martin Scorsese Teaches Filmmaking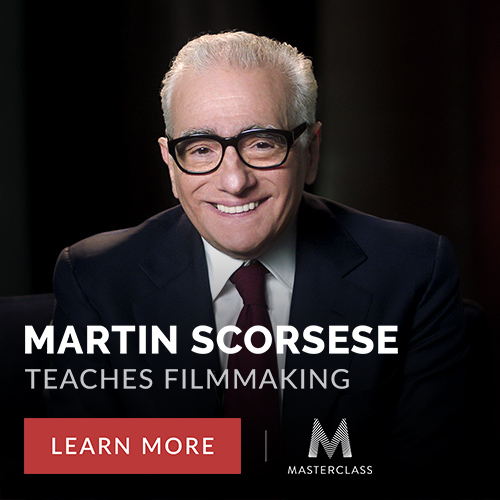 Number of lessons: 30
If you don't get physically ill seeing your first rough-cut, something is wrong!

Martin Scorsese – Masterclass.com
Director, actor, screenwriter, and producer Martin Scorsese (Taxi Driver, Raging Bull, Goodfellas, Cape Fear, Casino, Gangs of New your, The Aviator, The Wolf of Wall Street, The Irishman, and more) talks about his own beginnings as a filmmaker, how it's important to discover your own process, and that you need to have the bravery (and ignorance) of wanting to get something done.
In his masterclass, Scorsese also addresses how technology can both help you, but also become a hindrance, and how you need to be aware of this in your filmmaking process.
He also talks about the importance of finding and seeing themes and stories in your everyday life and being aware of which ones of these you're drawn towards.
Scorsese also talks about "working with the script" and the importance of keeping developing your script in rehearsal.
He also shares knowledge on how to cast and direct actors, on scouting for locations, on sound design, music, and promoting your film.
Some of the lessons are dedicated to Scorsese analyzing scenes from famous movies such as Alfred Hitchcock's Vertigo and Federico Fellini's 8½.
In the last masterclass, Scorsese encourages you to find your own way and nurturing the creative spark that inspires you in your work.
Take the class here: Martin Scorsese Teaches Filmmaking
Ken Burns Teaches Documentary Filmmaking
Number of lessons: 26
Award-winning documentary filmmaker Ken Burns (Brooklyn Bridge, The Statue of Liberty, Baseball, The National Parks: America's Best Idea, The Civil War, The Vietnam War, Country Music, and more) talks about how to identify powerful and universal themes that resonate with audiences.
He also talks about how to research multiple angles for a documentary film, make sure they're based on actual facts, and how to take these different points of view and shape a larger narrative structure.
I believe it is the artists' responsibility to lead people into hell. But I also believe it's important to lead the way out.

Ken Burns – Masterclass.com
Ken Burns is well-known for his unique style of using archival footage and photographs in his documentary film (I even have a preset in Premiere Pro dedicated to his name), and in his masterclass, he elaborates on how to navigate and source archival materials.
Burns also talks about the essential interview, how to select subjects, and conducting an interview. And he shares his knowledge on how to navigate a difficult interview.
He also talks about using music, sound design, and recording and using voice-overs in your documentary.
And he talks about the editing process, your responsibility as a documentary filmmaker and artist, and about sharing your film with the world.
Take the class here: Ken Burns Teaches Documentary Filmmaking
Ron Howard Teaches Directing (and Screenwriting)
Number of lessons: 32
In this masterclass, director and actor Ron Howard (Grand Theft Auto, Cocoon, Willow, Apollo 13, EDtv, A Beautiful Mind, The Da Vinci Code, Angels & Demons, Frost/Nixon, Solo: A Star Wars Story, and more) aims to demystify the role of the director:
We all understand stories […] makes us believe that we can all direct. And we probably all can.

Ron Howard – Masterclass.com
Howard takes a very hands-on approach where you get to see him work with the actors and camera crew. He talks about backing up your instincts with craft.
Ron Howard also goes into scriptwriting, and talks about the key components of a great screenplay, and about rewriting, refining, and making sure that your script is ready for production. So if you're a screenwriter/director, this masterclass also has something for you.
He also dedicates some lessons to collaboration and bringing out the best in a creative team.
Howard also gets into cinematography, production design, research, casting, editing, sound design, music, and scoring.
You also get a lot of insights into his movie Frost/Nixon, as he breaks down several key components from rehearsing to Steadicam staging, choreography, and giving yourself more options in editing.
Take the class here: Ron Howard Teaches Directing
Werner Herzog Teaches Filmmaking
Number of lessons: 26
Director, actor, and screenwriter Werner Herzog (Nosferatu the Vampyre, Woyzek, Invincible, Rescue Dawn, Queen of the Desert, Grizzly Man, American Dad!, Jack Reacher, Parks and Recreation, The Mandalorian, and more) talks about how to teach yourself the skills to become a filmmaker.
Werner Herzog is himself a self-taught filmmaker, who has risen to become one the most influential filmmakers of our time, and in this masterclass, he shares his knowledge on how you too can do so yourself:
You spend way to much time in the film school. It costs way too much money. You can learn the essentials of filmmaking on your own within two weeks!

Werner Herzog – Masterclass.com
Werner Herzog talks about watching films and reading novels as a way to teach yourself storytelling.
Herzog also talks about his approach to writing a script as well as financing your first film.
He also talks about leading by example on set, and the importance of being in the moment with your actors.
Then he goes into camera work and the importance of keeping it simple, before talking about painting with light and working with cinematographers.
Herzog also dedicates episodes to topics such as sound, music, and editing.
And you get some amazing insights into his approach to documentary filmmaking, i.e. don't be a fly on the wall!
Take the class here: Werner Herzog Teaches Filmmaking
Conclusion
This is not a complete list of the masterclasses available on MasterClass.com. Other filmmakers include Spike Lee and Jodie Foster to name a few.
Plus there are also masterclasses for screenwriters, actors, composers and more.
But I had to stop somewhere. So those will have to wait for another article.
If you're a filmmaker or director – or hoping to be one – you should go check it out.
It's an amazing insight into a world, which is normally not available to us mere mortal independent filmmakers.
---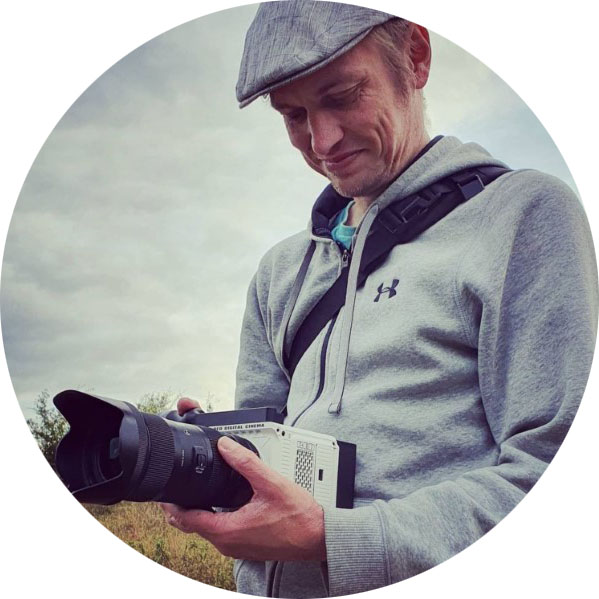 About the author:
Jan Sørup is a videographer and photographer from Denmark. He's the owner of filmdaft.com and of the Danish company Apertura, which produces video content for big companies in Denmark and Scandinavia. Jan has a background in music, has drawn webcomics, and is a former lecturer at the University of Copenhagen.