DISCLOSURE: AS AN AMAZON ASSOCIATE I EARN FROM QUALIFYING PURCHASES.
THIS POST MAY CONTAIN AFFILIATE LINKS, MEANING, AT NO ADDITIONAL COST TO YOU, I EARN FROM QUALIFYING PURCHASES. AFFILIATE LINKS ARE MARKED WITH #ad. "I" IN THIS CASE MEANS THE OWNER OF FILMDAFT.COM. PLEASE READ THE FULL DISCLOSURE FOR MORE INFO.
If you're new to ring lights, I recommend you scroll to the bottom of this article and read the guide to ring lights first.
Good lighting is what separates a good, professional-looking YouTube video from a bad. And it's what separates a good photo from a bad looking one. And a ring light can get you good results fast.
They're easy to set up and fairly inexpensive, especially when you compare them to more elaborate lighting setups, which requires more than one light.
Also, a ring light eliminates the need to get someone else to manage the lighting, which is useful for making YouTube videos on your own.
The most popular YouTubers use ring lights due to their ease of use, value, and ability to light an entire scene. But what ring light do YouTubers use?
Let's take a look…
1. Neewer 18 Inch Ring Light Kit With Mirror Included. Best Budget.
The Neewer 18″ ring light kit comes with everything you need to get you quickly up and running.
The ring light itself has 240 LED bulbs with a CRI of 83+, which means you have to do a bit of color correcting when you edit your videos if you want perfect skin tones (+9x is preferred).
It has a color temperature of 5500K (daylight-balanced) and is dimmable between 1-100%.
The included white filter is used for softening the light a bit for a more flattering look. If you want are warmer look you can get that with the included orange (tungsten 3200K) filter.
The light draws 55W and puts out 4800 Lumen (Neewer doesn't say anywhere at what distance, but my best guess is that it is at a distance of 1m). Anyway, it's more than enough for most vlogging use at home.
The included light stand that extends from 18.9″ to 59.06″ (48 cm to 150 cm).
The included Bluetooth remote lets you control your smartphone at up to 30 feet away.
The included cold shoe brackets at the top and bottom inside the ring light let you attach your smartphone and the included mirror for a quick beauty shot. But you can also unscrew the smartphone holder and the mirror and attach a directional microphone to the light instead for better audio.
The kit also a US/EU plug, and a power adapter.
In conclusion, the Neewer 18″ offers great value for the money. It's easy to set up and comes with everything you need, and more.
Check the current price on Amazon.
2. Westcott Bi-Color 18 Inch Dimmable Ring Light. Best For Beauty Vloggers.
If you are a beauty blogger or vlogger or an aspiring makeup artist and often create videos on make-up and styling, you need a ring light, which has high-quality LEDs, which will give you correct skin tones.
The Westcott 18″ Bi-Color delivers just that – and much more.
The light itself has a high CRI of +97, which means perfect skin tones for photography and video.
The ring has a nice built-in diffusion for a nice soft and pleasing light, which minimizes skin imperfections.
It is bi-color and has a color temperature range that goes between tungsten (3200K) and daylight (5600K) in increments of 25 Kelvin. You can adjust the setting with a dial on the light and see the exact color temperature on the display.
Another nice thing is, that the kit can run on both AC and batteries, which is nice if you want to use it outside in the shade in the summer. Two NP-750 batteries and a charger are included, and so is the AC adapter and power chord.
You also get a Gooseneck arm for easy adjustments and mounts for mobile devices, action cameras, and digital cameras up to 10 lbs (4.5 kg).
The included light stand extends up to 6.5 feet (198 cm), which is really nice if you're a tall person and plan on doing a lot of videos standing.
Everything comes neatly packed in a carry case.
In conclusion, the Westcott is a professional piece of gear meant for the serious vlogger. It offers high color accuracy, built-in diffusion, is bi-colored, can run off batteries and – like other Westcott products – are built with the professional user in mind.
Check the current price on Adorama.

Check the current price on Amazon.
3. Diva 18 Inch Ring Light Super Nova With Stand. Best LED alternative.
If you prefer a high-end alternative to LEDs, you should take a look at the Diva 18″ ring light, which uses a fluorescent bulb instead.
Fluorescent lighting has long been a favorite within video and photography because they're energy-efficient, they run cold, and because of the softness and very pleasing look, you get from the bulb.
So it's no wonder that it's still being used a lot within fashion portraits and product photography today.
"The Diva" comes with a color precise (90 CRI) 5400K fluorescent light bulb, which can be dimmed between 20-100% with the built-in dimmer. The soft bulb is softened further with the included diffusion cloth.
The bulb doesn't generate much heat, and is high-frequency, which eliminates flicker.
The bulb is daylight balanced (5400K) but can be converted to warm white with the included tungsten plate (3200K) that attaches onto the ring. If you prefer, you can change the bulb entirely to a tungsten-balanced instead (not included).
The kit also includes a high-quality stable light stand, a gooseneck for easy adjustment and a z-bracket for easy attachment to a tripod.
Please note, that if you want to attach your smartphone or DSLR or mirrorless camera to the ring light, you need to place the light on a tripod and not the included light stand.
All-in-all the Diva 18″ ring light is a high-end professional beauty light for those who prefer the look of a fluorescent bulb to that of LEDs.
Check the current price on Amazon.
4. Yongnuo YN128 II 11 Inch Portable LED Beauty Ring Light with Integrated Cosmetic Mirror. Best portable tabletop ring light.
The Yongnuo YN128 II Portable LED ring light is a great little portable tabletop ring light for beauty vloggers.
The problem with most tabletop ring lights on the market is that they don't use high-quality LEDs.
Instead, you end up with lights that give your skin a green or magenta tint, which is the last thing you want if you're making videos for YouTube about make-up or skincare products.
The Yongnuo YN128 II has 128 LEDs with a high color precision of +95 CRI and TLCI, which means you get perfect skin tones every time.
This ring light has a color temperature range between 3200K tungsten (warm white) and 5500K daylight (cool white).
The light comes with a mirror, a holder for your smartphone, and gooseneck for easy adjustment and a round foot for secure placement on your table. You also get a camera shoe for placing the YN128 II on top of your DSLR or mirrorless camera.
You can use your smartphone to control light intensity and other parameters.
The Yongnuo YN128 II ring light uses only 7.6W and is powered by your phone charger, a portable power bank or the USB port on your laptop.
In conclusion, this ring light is great if you just need a small ring light, e.g. if you're pressed for space or need a small light for vlogging and YouTube videos while traveling.
Check the current price on Adorama.

Check the current price on Amazon.
5. Fotodiox FlapJack C-318RLS 10″ Bi-Color LED Rod Mounted Ring Light. Best. Best portable for the professional videographer.
Fotodiox is known for producing unique light panels, called flapjacks, which gives a very soft and pleasing light. Instead of sending out a direct light beam, the LEDs are installed around the outer edge of the ring and aimed inward.
From here the light is bounced out through diffusers to give a very soft glow, which makes skin look really nice. And you don't need to carry around an extra softbox, because it's all built into the light.
The Fotodiox FlapJack C-318RLS is made using the same technique, the only difference being that it has a hole in the middle for your camera. The lens opening itself has a diameter of 5.1″ / 129.54mm.
The LEDs are bi-colored and you can dial in color temperature between 3200K Tungsten and 5600K daylight. They have a high color precision of +85 CRI.
The light is fully dimmable from 10-100%, and on the back, you find a small backlit LCD monitor where you can see the exact brightness level, color temperature, and battery life.
The Fotodiox Flapjack Ring Light runs on either AC power or the included NP-F740 rechargeable batteries.
It also comes with an attached bracket for 15mm or 19mm rod systems, but can also easily be mounted to a regular light stand, table stand, or camera mount with the built-in 1/4-20″ mounting points.
In conclusion, the Fotodiox FlapJack LED C-318RLS ring light is built with the professional videographer in mind. The attached bracket for 15mm and 19mm makes it easy to attach it to your rods below your camera and use it handheld or on a tripod (or both if you have a quick-release system).
Check the current price on Adorama.

Check the current price on Amazon.
6. Flashpoint RF-400 Ring Li-On 400ws Ringflash with Battery Pack. Best system independent camera ring flash.
The alternative to using a continuous lighting ring light is to use a ring flash with a built-in continuous lighting option.
A ring flash is especially useful is you're using your DSLR or mirrorless camera for both photos and videos.
The problem with ring flashes is that they're often meant for only one system. For example, you need a Canon ring flash, if you own a Canon camera or a Nikon ring flash if you own a Nikon camera.
Of course, you can get third-party ring flashes too, but most of them are also only compatible with cameras from specific manufacturers.
The Flashpoint RF-400 is a universal ring flash, which can be used with any camera with lenses up to 3.5in / 95mm.
The ring flash gives off a wide pleasing and bright light, which is good for taking photographs or capturing video, e.g. at an event. And when your subject is standing against a wall it gives you that nice shadowy halo you often see in fashion photography.
The flash itself is powerful with 400 W/s RingLight Flash with a GN of 82, with a recycle time of .05 to 2.8 seconds.
The light comes with a 4500mAh Li-Ion battery, which gives you up to 450 full-power flashes on a single charge.
You can choose to remove the diffuser. That way you get to decide whether reflection in the eyes should be a perfect round circle or dotted from the LEDs.
Because it's cordless you can use this flash both on and off-camera and even with an umbrella (you get an umbrella bracket in the box).
The flash can be remote power control via the Wave Commander System and features regular and Intelligent Optical Slave Modes.
The continuous lighting is dimmable in three increments. It would have been nice if the light could be dimmed in even smaller increments, but since this is primarily a flash, this is to be expected.
Check the current price on Adorama.

Check the current price on Amazon.
7. QIAYA Selfie Light Ring. Best clip-on selfie ring light for your phone.
Most of the ring lights I've mentioned above comes with a holder for your phone, and as such can easily be used to take a selfie.
But if you're in a night club or in a cafe with your friends, you probably don't want to pull out a giant light stand for snapping selfies.
The QIAYA selfie ring light is a small ring light you clip on to your phone. And it's a great little alternative to the often harsh and unflattering flash you find on smartphones today.
It has three levels of brightness, and it can be recharged via a USB power bank, your laptop or a wall adapter via the included USB charging cable.
You shouldn't expect perfect skin tones (high CRI LEDs) with this lighting, so it's not for making beauty videos on YouTube. You should treat it as a great little and fun alternative to the in-built flash in your camera, which will give you a more pleasing look.
Check the current price on Amazon.
---
What Is a Ring Light?
A ring light is simply a ring of LED or fluorescent lights. Some ring lights come with a tripod mount and dimmable bulbs. You can even find ring lights that include smartphone holders and other useful features.
Some of the features that YouTubers look for in a ring light include:
The size of the ring
LED or fluorescent bulbs
Lighting modes
Colors and color accuracy
Power options
Accessories
YouTubers use different ring lights for different situations.
In the recommendations below, I've divided ring lights into four types of ring lights:
Beauty Ring Light (big ring light placed on a typical light stand)

for your typical video or fashion shoot

Table Ring Light (smaller ring light placed on a table tripod)

a smaller version of the beauty ring light. Good if you want to place your light in front of you on a table and you're sitting down while recording your video.

Ring Flash (placed on top of your camera or fits around the lens)

great for vlogs where you walk around holding your camera in your hands).

Phone Ring Light (used on smartphones)

great for taking selfies for Instagram or for a quick video on the go.
Ring lights create a beautiful ring-shaped catch light in your eye
Ring lights have long been a fixed tool within fashion photography. They are especially known for the unique circle reflection they give to the eyes of your subject.
Below you can see how the reflection from ring lights compares to conventional lights with softboxes:
But besides the beautiful eye reflection, they also give a very pleasing look to your face without being neither flat nor contrasty.
So if you're into beauty or fashion vlogging you should definitely try out a ring light. But even if the niches aren't your trade, you should still check one out, because they're easy to set up and it's easy to get a good result.
For example, while some prefer a big ring light on a floor stand with lots of power to light up the face and room others might need a smaller one that can sit on a table.
The first detail to consider is the size.
Finding the Right Size Ring Light for YouTube Videos
The sizes range from compact 6-inch rings to large 18-inch rings. You can even get ring lights that fit on your phone.
Larger rings can cover a larger area and blanket a room in soft light. The camera's entire view can be illuminated with a single ring light.
A smaller ring is better suited for headshots when you do not need to illuminate the background.
For example, a 6-inch ring light may only brighten the space within a few feet of the camera. This is the preferred choice for many beauty and makeup YouTubers when shooting close-ups because you can place them on a table in front of you. You can even get ring lights that include a mirror.
A 10-inch ring light provides a good balance between the smaller and larger options. With a quality 10-inch ring light, you can light a small room or get a clear close-up headshot.
Do YouTubers Use LED or Fluorescent Lights?
Most ring lights include LED lights, which provide many advantages over fluorescent bulbs.
Fluorescent bulbs have shorter lifespans and tend to become dimmer or flicker as they age. Fluorescent light is also likely to be portable, as they often require AC power.
Modern LED lights provide adequate lighting for most situations. Some ring lights include over 100 LEDs to shower a room with light. The LEDs last longer and are more energy-efficient.
Lighting Modes and Brightness Settings
Almost all LED ring lights include multiple light modes and brightness levels.
For example, you may be able to switch between white, warm yellow, and warm white lighting without using different filters or bulbs. You can also adjust the brightness to supplement the existing natural lighting to achieve the perfect light balance.
Colors and Color Accuracy
Along with lighting modes and brightness settings, some LED ring lights include multiple colors.
You may be able to switch to red, blue, yellow, or orange lighting to create interesting shots for your YouTube videos.
In terms of color accuracy, it's important to look for lights with a CRI and TLCI of over 90. And if you're a beauty vlogger, you should even consider a CRI and CLRI color accuracy of over 95 to get the best skin tones and colors possible.
Remember to set the correct white balance on your camera to match your light's color temperature.
How Are Ring Lights Powered?
If you purchase a ring light that uses a fluorescent bulb, you are likely going to need to plug the light into an electrical outlet.
However, most LED ring lights are USB powered. You can power the light from a standard USB charger or a portable USB power bank.
USB-powered lights can also be powered from most devices with USB ports, such as laptops and computers. However, USB-powered lights offer less power.
The most powerful LED ring lights include AC adapters for delivering a stronger current. They are less portable but provide more light.
Common Ring Light Accessories
Most ring lights include a tripod stand. The stand is typically a desktop tripod, but some options include full-size tripods. The ring light often mounts to the top of the tripod.
The tripod may also include a smartphone holder. Depending on the design, the holder may position the phone inside the ring or below it.
Another common accessory is a remote shutter button. The shutter button is often compatible with major brands of smartphones, such as Apple and Samsung. It allows you to start, stop, and pause recording remotely. Best Ring Lights for YouTubers
Conclusion
YouTubers and other content creators use ring lights because they are simple and effective. You simply plug it in and start filming.
To choose the right ring light for your YouTube videos, remember to pay attention to the size and power source. If you need a portable option, look for compact USB-powered lights. When you need to wash an entire room in light, look for larger LED ring lights that require AC power.
I hope you find this guide to ring lights useful. Which one has caught your interest? If you got any comments or suggestions, let me know in the comment section below.
---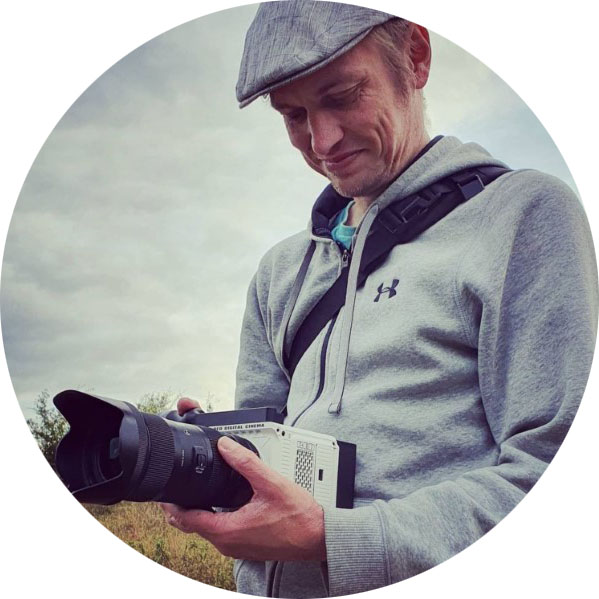 About the author:
Jan Sørup is a videographer and photographer from Denmark. He owns filmdaft.com and the Danish company Apertura, which produces video content for big companies in Denmark and Scandinavia. Jan has a background in music, has drawn webcomics, and is a former lecturer at the University of Copenhagen.