DISCLOSURE: AS AN AMAZON ASSOCIATE I EARN FROM QUALIFYING PURCHASES.
THIS POST MAY CONTAIN AFFILIATE LINKS, MEANING, AT NO ADDITIONAL COST TO YOU, I EARN FROM QUALIFYING PURCHASES. AFFILIATE LINKS ARE MARKED WITH #ad. "I" IN THIS CASE MEANS THE OWNER OF FILMDAFT.COM. PLEASE READ THE FULL DISCLOSURE FOR MORE INFO.
Featured image: Alexander Semenov at work. Photographer: Dmitry Ozerov
A while back, my attention was caught by some amazing underwater footage that looked like it was coming from a different planet.
I got curious, and when I found that the guy behind it used Panasonic cameras like myself, I decided to reach out for an interview. This is definitely something much different from what I usually see from the rest of us landlubbers.
So I'm proud to present an interview with Alexander Semenov who is a marine biologist and head of the diving department at the White Sea Biological Station of Moscow State University as well as a science ambassador, lecturer, author of books and documentaries.
Alexander is also an experienced and talented underwater photographer and videographer, who capture footage that is much different from your usual whale sharks and clownfish.
Let's dive in…
Interview with Alexander Semenov
Jan: Tell me a little about your background. Where are you from, where do you work, and for how long have you been doing this?
Alex: I am 36 years old, born and grown up in Russia, and now I work here, in the north at the marine research station, at the very edge of the Arctic Circle, where I spend 5-10 months a year. The rest of the time I travel for work or just for fun around the globe and world oceans. I've been working here since 2007, and I've been doing underwater photography all that time.
I am a marine biologist by education, specializing in the zoology of invertebrate animals. At the university, I studied squid vestibular systems, and now I'm interested in just about everything that happens underwater. I am especially fascinated by all kinds of animals that cannot be taken from the sea to the surface and studied in an aquarium – too small, too delicate, or, on the contrary, too huge to fit anywhere.
Jan: What does a typical day at work look like for you?
Alex: My main job at the station is to extract animals from under water on request from scientists and teachers, who will then study these animals with the students. I have a small team of experienced divers and young volunteers that I send on missions.
It's like a computer game with little quests: "Dive in there, collect 40 worms of a certain species, collect two bags of red algae, and put 15 more sea spiders with eggs in a separate jar. And the water temperature must be registered."
Almost every day I either join them on dives and swim along with the camera, or I go somewhere to shoot specific footage for a particular project or film. Dives and the whole process before and after take 2-3 hours, as a rule, so that working time is still left for processing photos, watching videos, writing articles and posts to social networks, etc.
I constantly have some projects to plan, organize expeditions, communicate with editors and producers, so the lion's share of work is trivial key hitting behind the computer.
Jan: How did you get started with underwater photography and video?
Alex: I started photographing in the lab first because I didn't have any underwater equipment. I just took beautiful animals out of the water, dragged them to the laboratory, put them in a petri dish, and took pictures with some amateur camera, one of the first DSLRs.
I had been working in 3D for a long time and even made good money with it, but I knew nothing about photography at that moment. Moreover, I had no Internet at my station, so I tried to learn by gut feeling, just poking at different buttons and tweaking the settings.
Today I could take a full photography course in a couple of days on YouTube. Back then in 2007, I got less than 20 relatively good shots in three months, and I was unspeakably happy.
Of course, if you persevere long enough, you get it right, and in a few years of constant practice, I turned into a professional photographer. I started blogging, got great feedback, realized that people were interested in this topic, and started to write stories and give lectures along the way.
After a while, I had acquired a rather unique archive of photographs of cold-water invertebrates that almost no one else had at that time. I wrote to several of the world's leading magazines, and one immediately responded and bought a double-page spread photo from me – at the time it was the sum of two of my monthly salaries.
At that moment I realized that it was not only a cool interesting hobby but also quite a monetizable activity that can be developed.
A few years later I reached my limit in photography and came up with a new pain-in-the-ass underwater video! In fact, I had to learn everything all over again, and I finished my first proper commercial project only recently – 5 years after I started making videos. That's a lot.
Now I'm back to photography again because I really miss it, and I only shoot videos with the team for big paid projects.
Jan: Why did you choose the Panasonic cameras for your underwater photo and video work?
Alex: I started shooting video with a Nikon, but the quality was not so good. I worked with Nikon for several years – they provided me with equipment, but with video, I had to go to Panasonic, which I'm still happy about.
The GH5 at the time was a great camera (and still is) with stabilization and excellent picture quality, with a compactness that allowed travel and, importantly, with full company support. At the time, I didn't have the money to buy complete underwater camera kits from scratch, so the support from the manufacturer came in handy.
Right now I have a mighty set of S1H and Atomos Ninja V (in a Nauticam underwater housing for the external recorder), and all I can say is WOW. The quality of this thing is three heads higher than the GH5, the RAW shooting is fire, and I like this camera a lot.
I really hope Panasonic doesn't fuck up all the polymers and continues this lineup. Although it's a bit difficult to fight with Canon and Sony in the field of hybrid cameras. However, so far we only have one Netflix-approved hybrid camera, and that is the S1H.
Jan: What lenses do you use and why?
Alex: With the GH5 I used 30mm macro, 12-35mm, 15mm, and 8mm fisheye. It was more than enough to shoot anything underwater. I also used the Laowa 2x 60mm macro through adapters.
All in all, it wasn't bad, but at some point, the video quality of the GH5 wasn't enough for me, so I decided to invest in a more powerful camera.
With the S1H I first bought the 24-70mm and then I added the 16-35mm from Panasonic, which turned out to be an almost universal lens underwater. You can shoot very wide scenes and close-up macro shots with it as well.
Jan: What housing do you use and why?
Alex: Subal for photo, Nauticam for video. Alas, the story with underwater housings is complicated. Each camera needs its own housing, interchangeable ports from different systems do not fit each other, and it's all very expensive.
I can safely recommend both systems because they are both cool and professional. The important advice is to never buy plastic housings – they're crap!
Jan: What lights do you use and why?
Alex: I use Russian lamps from AMG, you can crack coconuts with them, they work in freezing water for more than an hour and are absolutely unbreakable. Plus I know a guy who makes them, so I can ask him to make lamps with any LEDs, like ultraviolet or super accurate CRI of 98. In general, there are a lot of good lamps now, so there are many to choose from.
Jan: Do you work with other cameras or are planning on switching to a bigger cinema camera – fx something like the Red Komodo, which is also fairly compact, in the future?
Alex: I'd rather upgrade to something with super-precise autofocus, enormous light sensitivity, and twenty-stop stabilization.
I don't know what camera I would choose right now. In terms of picture quality, I am more than satisfied with the S1H.
Working with large cameras, even with "compact" cinema cameras, is still less convenient than with hybrids.
Just a week ago we got the Blackmagic Pocket Cinema 6K unexpectedly, along with all the underwater stuff, so I'll have a chance to compare.
I am sure that in the near future there will be a decent number of options, so the question of choosing a camera will be more aesthetic and ergonomic than technical.
Jan: Do you have any advice for others who want to start shooting videos or photos underwater?
Alex: Yeah. Don't shoot sharks, whales, and turtles, shoot all kinds of weird shit that no one has ever shot before. There's plenty more of that underwater, and you can do it faster with unique footage than with the clichéd stories that everyone's sick of in every first underwater documentary.
Jan: I read somewhere that you were currently working on an underwater documentary film? Can you share a little bit about what it's going to be about?
Alex: We have two projects of our own now – one about nightlife in the mediterranean sea, the other about the Arctic underwater world, but we are stuck with those a bit – it wasn't much of a success to travel to the Mediterranean with Covid so far, and at the White Sea we have been shooting a story for a couple of months for major well-known companies, and will continue to do so this year.
So I can't say anything specific about the immediate future yet, but we will definitely finish both projects. They're going to be awesome.
Jan: When is it going to be released and where can we watch it?
Alex: Absolutely in this decade!
See more of Alexander Semenov's beautiful work below.
Also, check out the FilmDaft beginner's guide to underwater video by diver and underwater videographer Massimo Franzese.
Links to Alex's projects/websites:
Website: http://coldwater.science
YouTube: https://www.youtube.com/c/aquatilis
Instagram: https://www.instagram.com/aquatilis_expedition/
Facebook: https://www.facebook.com/itscoldunderwater
Twitter: https://twitter.com/Alex_Aquatilis
---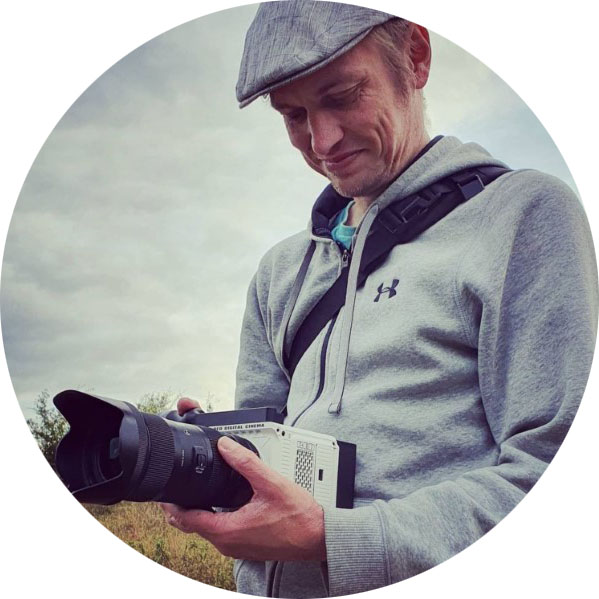 About the author:
Jan Sørup is a videographer and photographer from Denmark. He owns filmdaft.com and the Danish company Apertura, which produces video content for big companies in Denmark and Scandinavia. Jan has a background in music, has drawn webcomics, and is a former lecturer at the University of Copenhagen.