DISCLOSURE: AS AN AMAZON ASSOCIATE I EARN FROM QUALIFYING PURCHASES.
THIS POST MAY CONTAIN AFFILIATE LINKS, MEANING, AT NO ADDITIONAL COST TO YOU, I EARN FROM QUALIFYING PURCHASES. AFFILIATE LINKS ARE MARKED WITH #ad. "I" IN THIS CASE MEANS THE OWNER OF FILMDAFT.COM. PLEASE READ THE FULL DISCLOSURE FOR MORE INFO.
So you've finally finished your short film or first feature? Or maybe you've filmed an event for your workplace, and need to credit everyone involved, and now you need to create some nice rolling end credits?
Ok, you can create them in the software of choice. Professional editors such as Adobe Premiere Pro, After Effects, Apple Final Cut, and even iMovie includes tools that let you create rolling movie credits.
But it can be a nightmare go in and change things, and you need to define everything manually from cast to stunts to catering.
Do you remember all the roles? Do you remember the right order in which they need to appear?
If you don't want the hassle of creating the design you want, then there are some great tools available online, that you use as a short cut to a good looking end result.
So here are some of the best tools for creating closing credits available online.
1. Endcrawl. Free and Paid options.
Endcrawl is a professional tool that makes it easy to collaborate on movie credits.
This is especially useful if you're part of a bigger team with a lot of people involved. That way the different departments can fill in the people involved in making the movie – from preproduction to post.
When you create a project, you get send a Google sheet, with all the roles already defined and you can adjust to fit your project.
That way you already have all the placeholders ready and what you type into the Google sheet document can be viewed instantly in the end credit layout.
After that, you can easily go in and change the design of the end crawl as each group is defined into sections.
You can change everything from typography to column width, text and section alignment, add subheadings, choose if you want a gutter or not, change the aspect ratio of your project, frame rate, and much more.
Endcrawl also includes logos and legal disclaimers for your project.
Pricing
You can get a free demo project for free, that doesn't expire. They are limited to 1K resolution though.
For professional users you'd want to unlock the full potential:
Unlimited 2k uncompressed cost $499 flat, per project at the time of writing.
Unlimited 4k uncompressed cost $999 flat, per project at the time of writing.
You can export in ProRes 422, ProRes LT, DNxHD, and even full resolution DPX image sequence.
And because people ask: yes, that really is unlimited DPX do-overs. For the life of your film.
2. Studiobinder Film Credits Order Template (requires After Effects) and Worksheet. Free.
Studiobinder is an online management software for video, photo, television, and film production teams.
Within Studiobinder you can collaborate and manage everything from call sheets, script breakdowns, shot lists, storyboards, shooting schedules, contact lists, files, and more.
Studio binder offers two free film credit tools for you:
The first is a worksheet for Google docs, Excel, or similar with all the roles already defined and ready for editing. It includes both opening and end credits.
The second is an end credits crawler template for After Effects with all the roles already defined.
You can download both for free here.
3. Biteable. Free and Paid options.
Biteable is a neat template based motion graphics online that lets you create videos and short animated movies easily.
Even though I can animate in Adobe After Effects, I actually still find myself using some of the templates available from time to time when I need to make something in a hurry.
Because Biteable is template based the possibilities are limited. You basically choose the templates you want, add a bit of text, set the timing, choose some music, and export your video project.
But if you know how to work within these extreme limitations, you can achieve some get some great creative results really fast.
You can make projects for free with limitations, but if you want to unlock all the possibilites you can purchase a yearly subscription.
Biteable also has some templates for opening and end credits, and you can find them here. They're not rolling end credits (crawlers), but more in the style of end/opening cards.
Conclusion
The amount of options for making online movie end credits are fairly limited, but you can always create them manually in your video editing software of choice.
That being said, I think the options covered in this article are not only the best, but they also cover a wide variety of users.
If you know of any other good tools for making end crawlers, please share in the comment section below. That way I can add them to the list.
---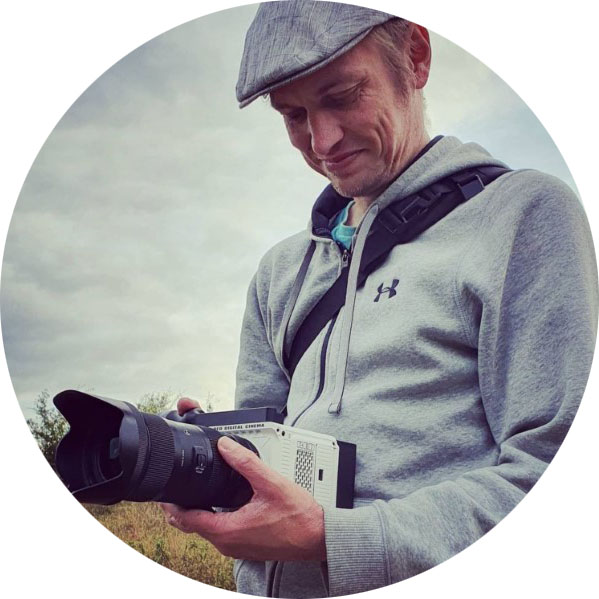 About the author:
Jan Sørup is a videographer and photographer from Denmark. He's the owner of filmdaft.com and of the Danish company Apertura, which produces video content for big companies in Denmark and Scandinavia. Jan has a background in music, has drawn webcomics, and is a former lecturer at the University of Copenhagen.