DISCLOSURE: AS AN AMAZON ASSOCIATE I EARN FROM QUALIFYING PURCHASES.
THIS POST MAY CONTAIN AFFILIATE LINKS, MEANING, AT NO ADDITIONAL COST TO YOU, I EARN FROM QUALIFYING PURCHASES. AFFILIATE LINKS ARE MARKED WITH #ad. "I" IN THIS CASE MEANS THE OWNER OF FILMDAFT.COM. PLEASE READ THE FULL DISCLOSURE FOR MORE INFO.
A few weeks ago I stumbled upon the video "Face Your Mask" by Polish videographer Andrzej Dragan and I was immediately fascinated with his unique style, use of color, special FX and talents he uses in the video.
You can watch the video here:
I then learned that Andrzej had "only" used the Panasonic GH5 to shoot the project. And he still managed to get nominated alongside Ridley Scott, FKA Twigs, Madonna, Nike and others at the Berlin Commercial Festival.
Naturally, I started to explore more of his work on his website and has been mesmerized by his unique cinematic style and vision ever since.
So I reached out to Andrzej for an interview, and luckily for me and you, he agreed to answer some questions.
Here goes…
Interview
JS: Congratulations on your recent win at the London Fashion Film Festival, where you received the price for both Best Artistic Direction and Best Visual & Special Effects for your short film "Face Your Mask".
Could you please tell us a bit more about the project "Face Your Mask"? How did it come about? And how did you come up with the ideas for the film?
AD: Thanks! It was a very modest project, created with the help of a small group of talented friends.
I had to shape it based on what I had available at the time since I had no budget (the whole thing cost me around $800). I shot mostly using available street lights with small aid of tiny LED lamps.
Many ideas were improvised, some of them I kept for a while (like the Mona Lisa in a supermarket), but most of all they were dictated by what I was able to do with what I had.
For that reason, I did all the shooting, editing, and post. And also composed the music together with a friend of mine, Andrzej Smolik (btw, I just learned that we were also nominated in London's festival for the score).
JS: I read somewhere that you shot the whole film on the Panasonic GH5. I forget the lens? Could you fill me in? Why did you choose to use that particular camera and lens for this project?
AD: That's correct, it is all GH5. It wasn't a matter of choice, that was just the camera I owned. I paired it with a 50 years old vintage Japanese anamorphic projector lens. Such a DIY solution allows one to get a taste of high-end cine anamorphic Hollywood lens for less than 1% of the price.
JS: You wrote to me, that you've recently sold the GH5 and upgraded to the Ursa Mini Pro. Why did you choose to go with the UMP instead of the GH5?
AD: I spent a big chunk of my savings to get an old Lomo RF 50mm anamorphic lens and I needed to avoid the GH5's crop factor. UMP was a natural choice. But with all its benefits, the run'n'gun shooting style is very much gone with all the heavy lifting necessary… I miss the GH5's versatility.
JS: At the Berlin Commercial Festival, you were also nominated together with Ridley Scott in the category for best direction and FKA Twigs in the category for best special FX.
That's pretty impressive – especially considering they both probably had much bigger budgets and used a lot more expensive cameras.
Unfortunately, you didn't win, but how did it feel to get nominated together with so prominent names?
AD: It felt a bit surreal. I suspect that Ridley Scott's budget was 4 orders of magnitude larger. And the same for all the other shortlisted videos (Madonna, Adidas, Nike, etc). At some point, the organizers contacted me to submit the video also in other categories, but I already run out of cash.
JS: What did you use in terms of lighting for the video?
AD: I tried to avoid having to use any extra lights, as I only owned two envelope-sized LED lamps.
So I was scouting for night-time locations that had city lights, outdoor monitors and such. Unfortunately, Warsaw is not Hong-Kong, so there was only a handful of spots that were decent enough. And sufficiently bright.
JS: Did you have a big film crew to help you out on the different locations? Or did you do everything yourself?
AD: I had some great support from amazing stylist friends for two of the characters appearing in the video. The remaining eight were dressed based on the content of my own wardrobe.
On the shoot, I worked with just one devoted and extremely helpful assistant or even just the model. Working quietly with just the model has its advantages.
JS: You found some amazing subjects to appear in the video where a lot of different body types are represented. Some look almost distorted or contorted.
Did you use any special FX to get the bodies to look that way, or was it a mix of the bodies of the talent and lighting?
AD: Yes, I made an effort to find great characters and on top of that I did some special effects to reshape two of their faces. Other than that I did not alter much in their appearance.
JS: Going through your work on your website – especially when it comes to your video work, you seem to have a love for the contorted bodily image.
I'm thinking especially about your work "Physics #1. Time dilation" and "Behemoth – The Satanist", but – from my perspective at least – the contorted human body seems to manifest itself in a lot of your video and photography work.
Could you elaborate a bit on this?
AD: In my experience, a captivating portrait is worth more than the best scenography, styling, and cinematography combined. So my only weapon in a duel against big-budget productions for the viewer's attention was to create interesting and captivating characters.
JS: I loved "Physics #1. Time dilation" by the way. Would you care to tell us a little bit about the post-processing work that went into the film to make her appear like that?
AD: Thanks, this was a 10-minute shoot using a single practical lamp in my own apartment. It went viral and got some awards because I worked with an extremely talented model with great acting skills that I enhanced in post a bit.
I re-shaped her face and body in After Effects in order to make the whole scene a bit more surreal. But making sure that the changes were not too evident.
The effect is a combination of a bunch of stuff. But without good acting that wouldn't work.
JS: I can't help but notice the titles of some of your video work, e.g. "Physics #1. Time dilation" and "Physics #2. Quantum particles".
Besides being an incredibly talented photographer and videographer, you also have a Ph.D. in quantum physics. In what way do your background as a physicist influence your work as a photographer and videographer?
AD: I am working as a professor of physics at universities in Warsaw and Singapore, so I chose to relate these little videos to what I know about.
But in general, I keep these activities rather separated, so I don't think one has many effects on the other.
JS: Your photos are also of incredibly high quality, and you shot everyone from Mads Mikkelsen to David Lynch.
I love how you choose to show every little beautiful "fault" of the human face. Instead of trying to hide wrinkles with Photoshop, you seem to bring out the human characteristics – like wrinkles or scars – instead.
Wrinkles and aging are beautiful human traits, but they're also looked down upon – almost as if they need to be hidden and never talked about in a lot of the fashion industry. The same goes for the music and movie industry.
Would you care to elaborate on your artistic choices on that matter?
AD: I don't like to shoot stills anymore, I did that around 15 years ago. At that time everyone rushed to use photoshop to push "beauty-lizing" everything to the extreme.
I thought it was boring and decided it will be more interesting to do the opposite and look for beauty in all the body imperfections.
Human skin has such a variety of textures and digital photography offered a great new way to present them in full grace.
JS: Speaking of wrinkles and aging – though they can be beautiful in themselves – they are also connected to decay of the human body and mind – and ultimately death.
I see this mirrored in your videos (and photography) – especially in the locations and settings of each scene. For example, you choose to work with old and decadent types of wallpaper, barren walls with cracks in them and so on.
What is that attracts you to these kinds of settings?
AD: I think it is still a remnant of my still photography style, where I was searching for rich textures and showed them in all detail.
I like imperfections, I find them fascinating in all incarnations. They tell stories.
JS: You are in many ways a modern renaissance man. How have you managed to both excel as a physicist, an award-winning composer, photographer, and videographer? What drives you?
AD: I would rather say, I am a reconnaissance man. I like to try new things, many of them.
Some time ago I got interested in video craft and since I had no collaborators around to work with on my projects, I had to study and learn most of the aspects of the film craft myself. At least the very basic minimum.
JS: Could you shine a bit of light (wave or particle – your choice) on what we can expect to see from your hand in terms of video work in the near future?
AD: I just got back from a 3 months stay in Singapore, where after-hours I shot a lot of new footage for a new short and I am now beginning to edit it.
I have also started shooting for another short project featuring some amazing professional athletes and dancers and their struggle for perfection.
I plan to shoot and edit all the material myself, so it will take several months for me to complete them, but I can already see, they will both top my previous projects hands down.
JS: Thank you for taking the time to answer some questions for the readers of FilmDaft.com.
AD: Cheers!
---
You can see more work by Andrzej Dragan on his website andrzejdragan.com.
His videography studio Weird also does work for clients. So give Andrzej a call before your next project.
---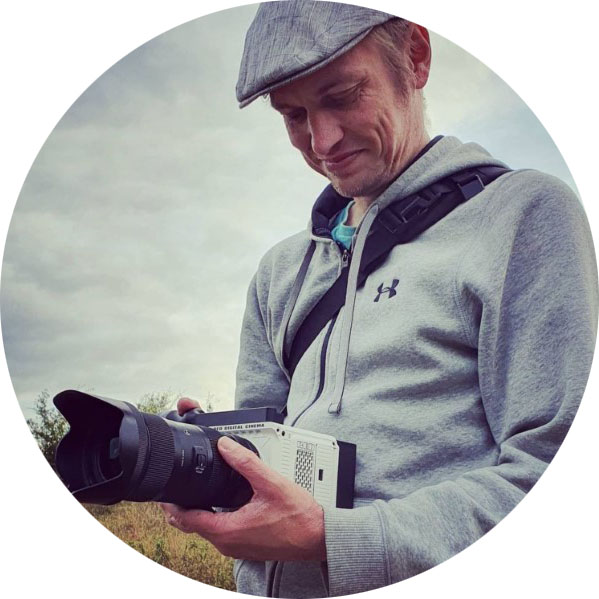 About the author:
Jan Sørup is a videographer and photographer from Denmark. He owns filmdaft.com and the Danish company Apertura, which produces video content for big companies in Denmark and Scandinavia. Jan has a background in music, has drawn webcomics, and is a former lecturer at the University of Copenhagen.