DISCLOSURE: AS AN AMAZON ASSOCIATE I EARN FROM QUALIFYING PURCHASES.
THIS POST MAY CONTAIN AFFILIATE LINKS, MEANING, AT NO ADDITIONAL COST TO YOU, I EARN FROM QUALIFYING PURCHASES. AFFILIATE LINKS ARE MARKED WITH #ad. "I" IN THIS CASE MEANS THE OWNER OF FILMDAFT.COM. PLEASE READ THE FULL DISCLOSURE FOR MORE INFO.
All over the world, the Coronavirus pandemic has hit every small business pretty hard.
And our trade as video content creators is no different.
Personally, I've had all video shoots for clients canceled 'until further notice.' That sucks!
That doesn't mean that all hope is lost. It just means that we need to adapt. And we need to do it fast!
So here are five tips on how your video business can survive the pandemic. You might find they can act as an inspiration even after the CoVid-19 pandemic as well:
1. Start Doing Animated Explainer Videos
You can do animated videos from home. And you can discuss all the details over the phone, a video conference call, and/or email.
That way animated explainer videos are great for practicing social distancing.
When I saw all my video jobs getting cancelled, I needed to think fast!
Luckily, I've been doing a lot of animated explainer videos lately.
So I decided to create a short 1-minute video about how my small business was hit by the Coronavirus pandemic.
I then shared it on Facebook and LinkedIn. And so far the response has been overwhelming! I quickly landed some new contracts and got a lot of new connections.
You can see the video below. It's in Danish because my video production company is in Denmark, but I've added subtitles for your inspiration. Hey! You might even learn a bit of Danish. It's a win-win! 🙂
I created the video using Adobe Illustrator, After Effects, and Premiere Pro. I used Illustrator to draw the figures by hand, used After Effects for animation, and Premiere Pro for adding sound effects.
In Adobe After Effects, I used the free plug-in DUIK Bassel to rig the character. And I used the free plugin Animation Composer by MisterHorse to do the quick transitions. You can find links to both of the plug-ins (and more) by clicking here.
The background is a piece of cardboard a friend brought over (hey, calm down – it was before the pandemic!) that we placed on the floor and took a picture of using my GH5.
What if I can't animate?
Even if you aren't an animator, you can still do animated videos for clients. Getting started is pretty easy.
Customize preanimated templates for your clients
You can use animated templates like these from Biteable. They are very limited in their use because you can't tweak each animation. In essence, they're like a series of animated PowerPoint illustrations of 3-5 seconds each.
But if you are able to think creatively (and I guess if you weren't you wouldn't be here in the first place) you can build some very cool videos using some creative writing, some good music, and by picking the right pre-animated templates.
I still use Biteable when I need to publish a quick marketing video on social media for my Danish business, and I don't have the time to animate it all by hand.
And I've used it for clients as well, who wanted a quick video done. I might need to tweak a couple of things in After Effects – like removing a Dollarsign and putting Danish Kroner instead. Small stuff like that.
It's just another tool in the box.
Use an online beginners animation program
Another option is to use an online beginner animation program like Animaker, Animatron, Moovly or Powtoon.
These types of software sit somewhere between using pre-animated templates like Biteable and hand-drawn animated videos like the one I shared above.
When you sign up, you get access to a lot of graphics from characters, backgrounds, different categories of assets like furniture, clothing, office supplies, and more.
The characters are already rigged and ready to animate, and you also get access to a lot of pre-animated moves and transitions.
Another thing you can consider is to make whiteboard animation videos. That's another thing you can easily do with a program like VideoScribe.
Use Animation Video Toolkits
If you're used a program like After Effects but don't want to draw everything yourself, you can use pre-created assets as a short cut.
This how most explainer videos are made today.
You simply license a package with a bunch of assets, rigged characters, pre-animated transitions and more.
You still need to do most of the animation yourself, but you can cut some corners and speed up the workflow. Plus, you don't need to draw and rig your own characters.
You can find a bunch of these toolkits on marketplaces like Videohive. I've had luck with using a pack like this one from AinTrailers in the past.
2. Create commercials from Stock Video
If you're good at editing, you can create commercials and video campaigns to run on social media, websites or broadcast television for clients by using stock footage.
There are a ton of sites on the internet that offer high-quality stock footage that you can use for creating high-quality videos for clients.
Don't frown upon using stock footage post-pandemic either. It's an invaluable tool for cutting down costs when you need specific shots, you don't have the possibility to film yourself.
Don't forget: stock footage is widely used within television and Hollywood movies as well. And with good reason!
The downside is that stockfootage can get pretty expensive fast. So make sure you factor that in when you make the client an offer they can't resist.
3. Repurpose prior B-roll from a client to create a new video for the same client
If you're like me, you're keeping every bit of b-roll you've ever captured, in case you might need it in the future.
And that B-roll might come in handy now. If you've got some good footage from a client, you might be able to repurpose that footage into an entirely new video for the same client.
I always make sure to get a lot of b-roll, which means I might end up having an hour worth of material even though I only need footage for a one minute video.
Chances are that there a lot of high-quality footage that didn't fit the bill for the first video, but might just come in handy now.
So reach out to your clients and pitch this idea. They can get a brand new video from the same material. And they only need to pay for editing, since you've already captured all you needed the first time.
In fact, I know of a lot of videographers who are having succes with this right now.
This is a strategy you can also use after the crisis.
4. Act as a Consultant on Videoconferences and for Companies whose Employers are working from home
A lot of people are working from home at the moment and use services such as Zoom and Skype.
But companies and government officials also use video products such as e-learning, video conference calls with groups involved and live-streaming.
This means companies need to rely on the know-how of videographers who can quickly help setup solid live-streaming broadcast connections for video with high picture and audio quality.
If it's safe and you've got the equipment for it, you can focus on selling live-streaming services for critical persons who needs to get the message out.
I know a few who are helping radio stations broadcast live shows and musicians creating online concerts at the moment since all festivals and concerts are shut down at the moment.
As a lot of people are struggling to get good quality audio and video on their laptops and smartphones at the moment, you might also charge as a consultant and help people with getting a live video to work properly within an organization.
5. Sell your services as a video editor of videos the clients have shot themselves using their smartphones
People still need to get their message out – even if you can't meet in person.
Ask them to record their video themselves and then sell your services as a video editor and color grader who can make their recordings look professional.
You can even charge as a consultant and teach people how to set up lighting and record audio, to create a good quality video with their smartphone or DSLR, mirrorless camera or camcorder.
Heck, you might even find a couple of useful articles on this website, you can refer them to *nudge nudge*
And you can teach them how to capture some good b-roll footage with their smartphone as well.
I've gotten clients like this before the pandemic, and it seems even more relevant now.
In conclusion
I hope these tips has been helpful to you in some way. I know it's a tough time for all of us.
If you got any good tips feel free to share them in the comment section below.
Be safe.
---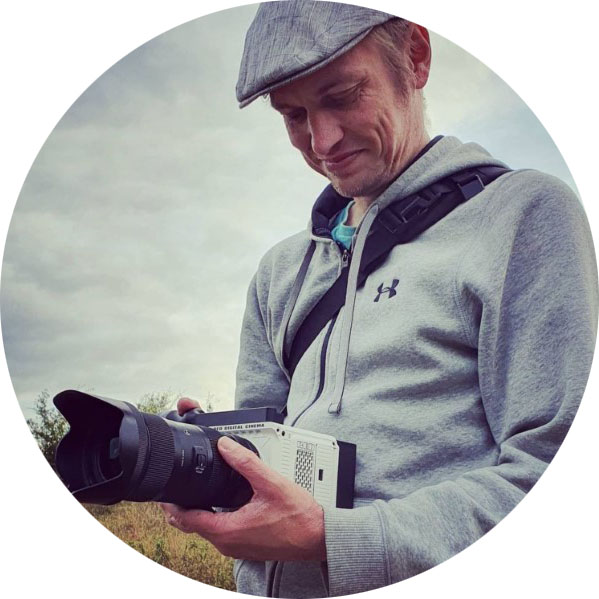 About the author:
Jan Sørup is a videographer and photographer from Denmark. He owns filmdaft.com and the Danish company Apertura, which produces video content for big companies in Denmark and Scandinavia. Jan has a background in music, has drawn webcomics, and is a former lecturer at the University of Copenhagen.