DISCLOSURE: AS AN AMAZON ASSOCIATE I EARN FROM QUALIFYING PURCHASES.
THIS POST MAY CONTAIN AFFILIATE LINKS, MEANING, AT NO ADDITIONAL COST TO YOU, I EARN FROM QUALIFYING PURCHASES. AFFILIATE LINKS ARE MARKED WITH #ad. "I" IN THIS CASE MEANS THE OWNER OF FILMDAFT.COM. PLEASE READ THE FULL DISCLOSURE FOR MORE INFO.
After a decade dominated by micro-four-thirds, APC-S, and Super 35mm sensor sizes in hybrid mirrorless cameras and cinema cameras, the trend now seems to have shifted.
In the last couple of years, manufacturers such as Sony, Panasonic, Canon, Sigma, RED, and even ARRI have all released new full-frame cameras.
But full frame sensors usually also mean bigger camera bodies and bigger lenses. And a lot of videographers and photographers have grown accustomed to using a lighter and more compact camera body with a smaller interchangeable lens.
So naturally, camera manufacturers have started a race towards creating the smallest full-frame camera on the market.
So let's take a look at and compare the smallest full-frame cameras on the market today.
For easy comparison I've created this table:
So let's go into more detail about these cameras below.
As a videographer and photographer, I normally only use cameras where I can change the lens. But I've included the Sony Cyber-Shot RX1R II and the Leica Q2, which are great pocketable fixed-lens full-frame cameras with stunning image quality and professional features.
1. SIGMA fp
The Sigma fp is the world's smallest and lightest full-frame mirrorless camera with an interchangeable lens. It has a 24.6 MP sensor and shoots video in 4K UHD (3840 x 2160) at up to 29.97 fps. When shooting in FullHD, you can record in 120fps.
It's a hybrid camera that takes photos and records video, but it's clearly built with the video shooter in mind.
If you own an external recorder like the Atomos Ninja 5, you can even shoot in RAW 12-Bit CinemaDNG! Look out for deals, because sometimes you can get a good deal on the Sigma fp that includes the Ninja 5.
The aluminum body is both robust, dust- and splash-proof, and on the back, you find a 3.15″ 2.1m-Dot Touchscreen LCD. It has dual base ISO (at 100 and 3200) and the ISO range goes all the way up to 25600. It also has Face/Eye detection auto-focus and supports HDR-shooting.
Another cool feature is the "Director's Viewfinder" function. This allows you to simulate different angles of view and see how the image will look in a cinema camera such as the ARRI Alexa LF and RED MONSTRO 8K and others. You can even check how the image will look with certain anamorphic lenses.
The camera uses Electronic Image Stabilization but unfortunately doesn't come with 5-axis in-body image stabilization (IBIS). So in order to get the best stabilization, you can either use a stabilized lens or a gimbal or glidecam.
The Sigma fp comes with a L-Mount, which means you can take advantage of the L-mount lenses produced by Leica, Panasonic, as well as Sigma.
The Sigma fp is built with rigging and customization in mind and is essentially a tiny modular camera.
This means that you can use it stripped down with no accessories, or attach everything from rods to matte boxes and cages to it.
Now, this doesn't sound different from other small cameras, such as the Panasonic GH5 or the BMPCC4K. But still, there are some new innovations to be found.
For example, the Sigma fp is fitted with 1/4″-20 threads on either side of the body, that can be used both for mounting the camera in portrait position on a tripod, or be used for the strap.
I think this a clever way to keep the size and weight down. But this is also where the biggest critique of this camera should be directed: because the Sigma fp is so small, it becomes much more ergonomic with a cage with a grip attached to it, like this one from SmallRig:
But this adds to both the size and weight of the camera.
On the upside though, it also adds a lot of extra holes for accessories, and if you would need a similar cage for the other cameras on this list as well, which will make them even bigger.
Pros
Cons
Worlds smallest & lightest full-frame camera
Dust and splash-proof aluminum body
UHD 4K up to 30p
Supports 12-bit Cinema DNG RAW over HDMI
HDMI out
Microphone input
Face/Eye Detection AF
Director's viewfinder function
Modular
Not very ergonomic without a cage
No IBIS
No Wi-Fi
No flip-out screen
Autofocus is Contrast Based
Only on SD-card slot
Check out the current price for the Sigma FP on Adorama.
2. Sony Alpha A7C
Sony announced the Sony A7C as the world's smallest and lightest full-frame camera, which it isn't. That price goes to the Sigma fp.
However, Sony A7C is the world's smallest and lightest full-frame camera with interchangeable lenses, 5-axis in-body image stabilization, and a grip, which arguably makes it a more complete camera out of the box.
The Sony A7C has a 24MP sensor, and is capable of shooting up to 4K in 30 fps.
As an entry-level alternative to the famous Sony A7 III series, the A7C comes with a lot of the features, that we've come to expect from the bigger siblings, fx excellent low-light performance with a an ISO range of 50-204,800.
It also supports HDR/HLG, has S-Log and S-Gamut profiles for capturing more detail and having more options in color grading, and up to 120 fps slow-motion in FullHD.
The Sony A7C also has Wi-Fi and Bluetooth connection and supports USB Type-C.
It's clear that Sony has designed this camera with the vlogger and youtuber in mind, because it comes with both microphone input, headphone jack, and a flip-out screen that lets you see yourself while recording.
And in recent years, Sony cameras – along with Canon – have become known for having the best continuous autofocus technology for video in the industry.
But from what I've seen, the continuous autofocus on the Sony A7C doesn't live up to what we've come to expect from the Sony Alpha 7S III.
Also, Sony has always been critized for their bad menu design. They somewhat fixed this with a revamped design in the Sony A7S III, but have chosen not to include the better design in the A7C.
We'll have to wait and see, what future software upgrades bring. Maybe they'll implement the better menu in the A7C as well.
The last two things worth mentioning is that it only has a single SD-card slot (so no dual recording for backup), and the EVF range finder sits on the top left corner instead of the middle of the body.
Both of these design choices are probably a compromise to keep the size and weight down. So in the end it's up to you if you can live with these compromises in order to get the smaller body.
Pros
Cons
Tiny and lightweight full-frame camera ready to go out of the box
Articulating flip-screen
S-Log/S-Gamut profile
IBIS
Good in low-light
Microphone input
Headphone output
Wi-Fi + Bluetooth

One card slot
Rangefinder on the top left corner
Autofocus not up to par with the Sony A7S III
Messy menu system
No secondary dial for adjusting aperture/shutter
Check out the current price on Adorama.
3. Canon EOS RP
The Canon EOS RP is a pocketable budget-friendly entry-level full-frame camera. Like the Sony above, it has a solid grip, and is ready to go out of the box.
It features a 26.2 MP full-frame sensor, that lets you shoot UHD 4K up to 24 fps, and 1080p at 60 fps.
In-camera recording supports 4K video in 4:2:0 8-bit color depth, but you can record in 4:2:2 8-bit output to an external recorder.
However, when you shoot in 4K the sensor crops in. And it also suffers from rolling shutter when you do quick pans.
The camera also doesn't have in-body image stabilization, so you need to rely on stabilized lenses.
The Canon EOS RP has excellent continuous Dual Pixel autofocus with pupil detection, so you can nail those eye shots.
However, the good autofocus doesn't work in 4K! I have no idea why this is, but it might have to do with not having enough processing power for the AF to work in 4K. Still, I think this is an odd design choice.
It also comes with a fully articulating flip-out touchscreen, built-in EVF, a headphone jack, and a microphone input.
You also get focus peaking for nailing focus but no zebras for checking clipping in the highlights when setting exposure.
It's clear that there's been made some sacrifices and compromises with camera, but if you're a new vlogger, this is still a great camera to get you started if you want that full-frame sensor.
Pros
Cons
Compact full-frame camera with good ergonomics
Articulating flip screen
Good EVF
Good for photos
Excellent continous autofocus in 1080p
FullHD up to 60 fps
Built-in microphone and headphone jacks


4K video crops in
Only up to 25fps in 4K
No dual-pixel continuous autofocus in 4K
Rolling shutter is bad
No IBIS
Battery life isn't great
No dual card slots (but you can automatically create full res backups of photos to a mobile device via Wi-Fi).
Check the current price on Adorama. Also check for deals, because I often see good deals for this camera with lenses and lots of accessories included at a bargain price.
4. Sony Cyber-Shot RX1R II (fixed lens)
The Sony Cyber-Shot RX1R II is a compact and pocketable fixed lens full-frame camera.
In that sense, the Sony RX1R II is essentially a point-and-shoot camera. But make no mistake, this is a powerful camera with fully professional features and, unfortunately, the price point reflects that as it is up there with the a7S III.
The camera has a 42MP full-frame sensor and shoots video in 1080p and 60 fps. But no 4K recording in this one! And it also doesn't come with IBIS.
The fixed lens is a super sharp ZEISS Sonnar T* 35mm F2 lens.
As with other Sony cameras in recent years, the RX1R II also performs good in low-light situations, and has an extended ISO range between 50-102400.
It uses hybrid autofocus system with face detection works well for continuously autofocusing when shooting video.
It has a micro-HDMI out, so you can attach it to an on-camera monitor, a microphone input minijack.
The LCD screen tilts down, but unfortunately doesn't fully articulate and swivel. So this is not the best camera for vlogging. Also, it isn't a touch screen.
It also has an excellent retractable OLED range-finder that helps keep the overall size down.
Pros
Cons
Compact point-and-shoot full-frame camera with excellent image quality
42 MP sensor
Rugged build
Sharp lens with an aperture of f2
Excellent autofocus for stills
Excellent continuous autofocus with face detection for video
Mic input
Wi-Fi with NFC
Micro HDMI

No 4K video recording
No headphone output
No touchscreen
Only a tilt screen
No weather sealing
Bad battery life
No IBIS
No dual card slots
Check the current price on Adorama.
5. Nikon Z5
The Nikon Z5 is a compact entry-level full-frame camera with a 24 MP sensor, that let's you record (cropped) 4K video up to 30fps and FullHD up to 60 fps.
It comes with dual UHS-II SD card recording slots for back-up, that lets you separate file types lik RAW and JPEG or stills and videos.
The camera has good autofocus for stills and also good continuous autofocus for video with subject face and eye tracking. It does however struggle a bit in low-light unless you use a fast lens.
It comes with 5-axis image sensor shift in-body image stabilization, which is awesome for shooting video.
The touchscreen is great, but unfortunately it only tilts, so you can't see yourself while recording. So if you're vlogger, you'd need an external monitor as well.
It comes with both a microphone input and a headphone output minijack, so that's great to see in a camera like this, which is clearly built with the photographer in mind more so than the videographer.
Pros
Cons
Dual SD card slots
Good autofocus for stills and video
5-axis IBIS
Touch screen
Headphone and microphone minijack inputs

4K video is cropped
The touchscreen only tilts
Check the current price on Adorama.
6. Panasonic S5
The Panasonic S5 is a powerful and small 24 MP full-frame camera built with the videographer in mind.
It's still smaller than my Panasonic GH5, which only has a micro-four-thirds sensor, while sharing most of the powerful video features at the same time, which is no small feat.
And the bigger body (compared to the Sigma fp) allows you a good ergonomic experience right from the box.
It comes with an L-mount, which means you can use to all the Leica lenses, the Sigma lenses, and S-PRO lenses available to the S1, S1R, and S1H cameras.
The Panasonic S5 lets you shoot 4:2:0 10-bit video internally at 4K 60p. If you use an external recorder like the Atomos Ninja V you can shoot 4.2.2. at 60 fps, and 5.9k raw at 30fps.
4:2:2 10 bit HDMI Output is supported along with simultaneous external drive/SD recording. This is awesome for recording proxies and high-quality video at the same time, as well as for back-ups.
On the top dial you can quickly switch between normal frame rates and high frame rates without diving into the menus. – Great for run-and-gun scenarios.
The S5 has the great articulating flip-out screen we've all come to love from the GH-series and S-series from Panasonic.
Unfortunately the autofocus is still contrast based, which doesn't perform as good as some of the one found on the high-end cameras from Sony or Canon. But it is on par with the other cameras on this list.
You also get excellent Dual I.S. stabilization, anamorphic desqueeze, all the tools you need for setting exposure, nailing focus, and white balance.
Pros
Cons
4K 60p, 4:2:2 10-bit recording
FHD up to 180 fps
Weather-sealed
Headphone output
Microphone input
HDMI out
5-axis dual I.S.
Articulating touchscreen
Wi-Fi, Bluetooth
V-log and V-gamut from Varicam installed
Exposure tools
Focus tools
Dual card slots
Level Gauge

Contrast-based autofocus
Check the current price on Adorama.
7. Leica Q2 (fixed lens)
The Leica Q2 is a compact hybrid full-frame camera with a 47.3 MP sensor and a fixed Leica Summilux 28mm f/1.7 lens.
And let me get this out of the way first: this being a Leica, it doesn't come cheap! Expect to pay up to $5000 for it!
The Leica Q2 allows you to shoot in both 4K UHD and C4K, though with a slight crop on the sensor. In C4K the sensor the crop is 1.04, and in UHD the crop is 1.09.
The body is fully weather sealed and ruggedly built. But you should expect that at this price point.
And while the autofocus for photos is great, the continuous autofocus for video isn't the best.
Also, the Leica Q2 doesn't have an input for using an external microphone nor headphones.
Nor does it have a flip-out screen. It doesn't even tilt.
This is a photography-first camera with added video features. If you've got money to burn, and want to look extra business hipster cool while stepping out of your new Tesla, this is the camera for you.
Pros
Cons
Excellent photo quality
Rugged build and weather sealed
Fast lens
Image stabilization in the lens
Decent autofocus for photos
4K UHD/C4K with a slight crop
Excellent EVF

Price!
No headphone output
No mic input
No flip-out screen
No dual SD-card slots
Continuous autofocus is lacking
Check the current price on Adorama.
8. Sony A7 III
The Sony A7 III is the biggest camera on this list, but it's still a compact and light-weight full-frame body. It's packed with a lot of the same powerful features, you'd expect to find on Sony's higher-end (and much more expensive) cameras such as the A7R Mk III and the A9.
The Sony A7 III has a 24 MP sensor that performs amazingly in low-light. And like the other cameras in the A7-series, this camera also has a crazy ISO-range.
When shooting photos you can shoot between ISO 50-204800, and when shooting video, you can use ISO 100-102400. Now, I'm not saying the results are usable at the extreme high end of the ISO settings, but it doesn't take from the fact, that this is a low-light beast of a camera.
You can shoot video up to 4K UHD at 30p, and up to 120 fps in FullHD in Sonys excellent XAVS S codec. And you can shoot in LOG-format for better color grading options of course.
Like fx the EVA1 from Panasonic, the Sony A7 III oversamples the 4K 24p footage from 6K, which gives incredibly sharp image quality. When shooting in 4K 30p, the footage is oversampled from 5K video capture with a 1.2x crop.
Due to the fast sensor readout and processing the rolling shutter on this camera is some of the best, I've seen on a full-frame camera except for the newer Sony A7S iii. But that camera is also more expensive by a fairly big margin.
The Sony A7 iii has 5-axis in-body image stabilization for excellent performance when shooting handheld.
It has dual SD-memory card slots (though only one of the slots supports the fast UHS-II format), touchscreen, and AF-joystick for easy navigating.
It has all the connections you need in a hybrid camera for video including mic input minijack, headphone output, HDMI micro out, USB 3.1, Wi-Fi, and NFC.
The continuous autofocus for video is decent, but not as good as on the Sony A7S iii, which has phase detection autofocus.
Pros
Cons
Excellent low-light capabilities
Excellent autofocus for photos
Tack sharp 4K oversampled video
Really good rolling shutter reduction
5-axis IBIS
Dual memory card slots
Touchscreen
AF-joystick for easy navigating
Mic input
Headphone output
USB 3.1 connection
Wi-Fi and NFC
4K uncompressed output via HDMI
Level gauge
Not the best autofocus for video
Older messy menu system
Only one SD-slot supports UHD-II

Check the current price on Adorama.
Conclusion
So these are the smallest and lightest full-frame cameras on the market today. As you can see, some sacrifices have to be made in order to keep the size and weight down.
And exactly what compromises you're willing to accept in order to get a pocketable full-frame camera, is totally up to you.
For example, do you want the smallest and lightest on the market, then the Sigma fp is the way to go. But you loose some ergonomics, IBIS, and you'd probably want to rig it out to get the full experience, which means, in essense, a bigger camera.
Or do you go for a more complete camera out of the box like the Sony A7 III or the Panasonic S5? Well, then it also means a bigger size.
You could of course go with a fixed lens option, but that would mean not being able to adapt it to situations that need a super telezoom or an extreme wide-angle lens.
The choice is totally up to you. But I think this list shows, that it is possible today to get both a full-frame sensor and fully professional features in a compact form factor camera today.
---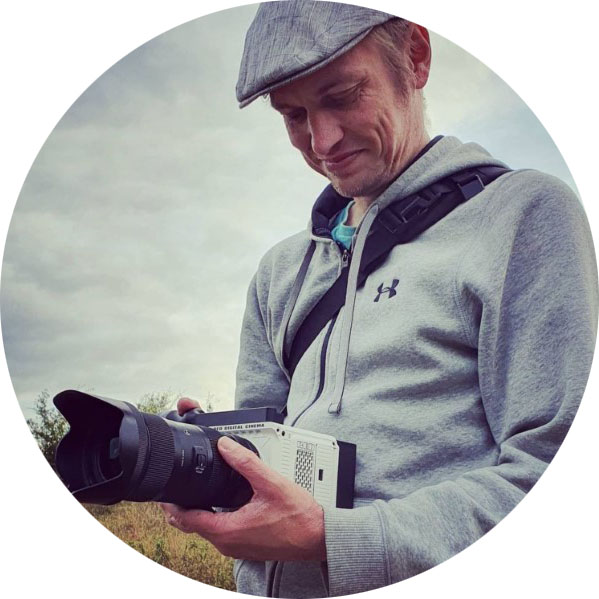 About the author:
Jan Sørup is a videographer and photographer from Denmark. He owns filmdaft.com and the Danish company Apertura, which produces video content for big companies in Denmark and Scandinavia. Jan has a background in music, has drawn webcomics, and is a former lecturer at the University of Copenhagen.