DISCLOSURE: AS AN AMAZON ASSOCIATE I EARN FROM QUALIFYING PURCHASES.
THIS POST MAY CONTAIN AFFILIATE LINKS, MEANING, AT NO ADDITIONAL COST TO YOU, I EARN FROM QUALIFYING PURCHASES. AFFILIATE LINKS ARE MARKED WITH #ad. "I" IN THIS CASE MEANS THE OWNER OF FILMDAFT.COM. PLEASE READ THE FULL DISCLOSURE FOR MORE INFO.
Wow! What a week. The market is overflowing with new cameras. But none has got me more excited than the official release of the RED Komodo 6K camera from RED Digital Cinema.
Okay, I know I'm probably biased here, because I've been a part of the RED Komodo Stormtrooper program for a while, and have tested the camera in its beta form.
While most of the Stormtrooper edition of the camera are white, the official release camera is black.
And I'm in love with this camera. Never before have I seen this kind of image quality and features in such a small form factor.
So what is the RED Komodo Camera?
In short, the RED Komodo is a small box-shaped camera with a 19.9 MP Super 35mm sensor that allows you to shoot in 6K at up to 40 fps and 4K up to 60 fps.
The RED Komodo has a global shutter, shoots in REDCODE RAW, and ProRes Raw, and supports the IPP2 color workflow.
It comes with the versatile RF mount that lets you use adapters for EF, PL, and other lens systems.
It uses CFast 2.0 cards to capture the high bitrates.
RED Komodo uses Canon BP-975 or 955 batteries or compatible batteries from selected third-parties. It is also possible to use, e.g., a V-mount or Gold Mount battery plates from selected third-parties.
You can control the camera wirelessly via the RED Control App or a browser, or by SDI via selected monitors like the SmallHD Focus Pro 5″, the SmallHD 702 Touch, or the SmallHD Cine 7.
The RED Komodo was initially designed as a crash cam and is being tested as such on The Matrix 4.
What are the RED Komodo Specifications?
Below you can see a table of the specs for the RED Komodo. This is still subject to change, as new firmware versions are rolled out with updated functionality.
For example, I've heard that continuous autofocus will be updated, and there are also mentions that time-lapse modes will be implemented.
Feature
Spec
Sensor
KOMODO 19.9 MP Super 35mm Global Shutter CMOS
Sensor Size
27.03 x 14.26mm (Diagonal 30.56mm) which is a bit bigger than a normal S35 sensor
Dynamic Range
+16 stops
Mount
Canon RF-Style Mount (requires adaption to another lens mount)
Supports Canon EF with full electronic communication via compatible RF mount adapters.
Max Available REDCODE Settings
REDCODE HQ and MQ at 6K Full Format (6144 x 3240) up to 40 fps
REDCODE HQ and MQ at 4K Full Format (4096 x 2160) up to 60 fps
REDCODE RAW Formats
6K Full Format (6144 x 3240) 2:4:1 and 16:9 up to 40 fps
5K Full Format (5120 x 2700) up to 50 fps
4K Full Format (4096 x 2160) up to 60 fps
2K Full Format (2048 x 1080) up to 120 fps
ProRes Formats
4K (4096 x 2160) at ProRes 422 HQ and ProRes 422 up to 60 fps
2K (2048 x 1080) at ProRes 422 HQ and ProRes 422 up to 120 fps
Media
CFast 2.0 Cards
Color Science
Image Processing Pipeline (IPP2)
Supports 33x33x33 3D LUTs
Supports import of CDLs
Microphones
Integrated dual-channel digital stereo microphones
Integrated 3.5mm audio jack
Audio Formats
Uncompressed, 24-bit 48kHz
Integrated Monitor
2.9″ 1440 x 1440 touchscreen LCD with 720p preview and camera control
Monitor Outputs
12G-SDI up to 4096 x 2160 4:2:2 (60p)
6G-SDI up to 4096 x 2160 4:2:2 (30p)
3G-SDI up to 2048 x 1080 4:2:2 for 60p
1.5G-SDI up to 2048 x 1080 4:2:2 (30p, 24p)
SMPTE Timecode, HANC Metadata, 24-Bit 48kHz Audio
Camera Control
The camera can be controlled via external monitors and the RED Control Cable.
Battery Type and Slots
Two slots for Canon BP-955 and BP-975 series batteries
DC Power Input
+7 to +17V DC via the integrated 2-Pin DC-IN port
Weight and Dimensions
2.10 lbs (1kg) (aluminum body only without cap and CFast card)
Approx. 4″x4″ (10.16 cm x 10.16 cm)
Summary
This was just a brief announcement, and I'll write a more extended review when I've used the camera in more situations. There's still a lot of new stuff to learn, and I look forward to the upcoming firmware upgrades.
Check the current deals for the RED Komodo on Adorama.
---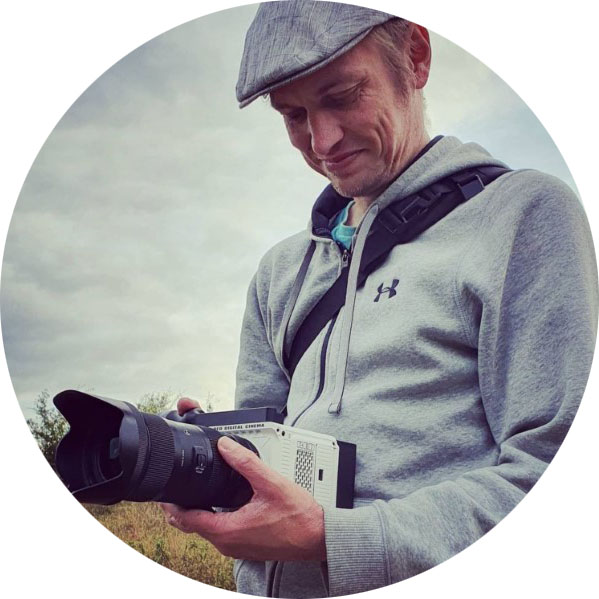 About the author:
Jan Sørup is a videographer and photographer from Denmark. He owns filmdaft.com and the Danish company Apertura, which produces video content for big companies in Denmark and Scandinavia. Jan has a background in music, has drawn webcomics, and is a former lecturer at the University of Copenhagen.