DISCLOSURE: AS AN AMAZON ASSOCIATE I EARN FROM QUALIFYING PURCHASES.
THIS POST MAY CONTAIN AFFILIATE LINKS, MEANING, AT NO ADDITIONAL COST TO YOU, I EARN FROM QUALIFYING PURCHASES. AFFILIATE LINKS ARE MARKED WITH #ad. "I" IN THIS CASE MEANS THE OWNER OF FILMDAFT.COM. PLEASE READ THE FULL DISCLOSURE FOR MORE INFO.
The GoPro is the most popular action camera, but is GoPro good for videography? GoPro cameras are often used for recording outdoor activities, such as skiing, surfing, and snowboarding.
The latest GoPro Hero 9 offers 5K video and advanced stabilization for creating high-quality videos.
Even though GoPros lack some of the features found on most DSLR and mirrorless cameras, a GoPro can still achieve a cinematic look. Keep reading to learn how.
What Can You Film with a GoPro?
GoPro cameras are mostly marketed for outdoor videography and photography. These cameras were originally marketed for recording yourself performing outdoor activities. You can strap a GoPro to your helmet and film yourself skiing or cycling.
The GoPro also comes with waterproof housing. It can survive depths up to 10 meters. The rugged design also allows it to survive drops that would destroy most DSLR cameras and smartphones.
Due to the features of the GoPro, it can be used for filming almost anything. You can create documentaries, interview people, start a vlog, or make independent films.
Is GoPro Better Than iPhone for Videography?
When comparing GoPro vs. iPhone for video for videography, I'd say it really depends on what you're going to use it for.
Both options can record 4K video at 60 frames per second. They also have 12 MP lenses with wide-angle fields of view.
The iPhone has a couple of advantages over the GoPro, including ease of use. The camera app is just a swipe away. The iPhone also performs better in low-light settings.
Filming indoors or in low light situations with a GoPro often results in grainy footage due to the smaller lens and the compression technology used to store video files.
The lens in the iPhone has a wider aperture, allowing more light to reach the camera.
The GoPro stands out for offering better electronic image stabilization (E.I.S.) in general. This makes sense since it was designed for recording action shots, allowing you to capture clearer video when recording a moving subject.
However, the flagship iPhones use sensor-shift image stabilization similar to that found in mirrorless cameras to minimize movement from a slightly shaky hand, which is generally superior to EIS.
Compared to the iPhone, GoPro cameras also provide access to a wide range of accessories. While smartphone grips and rigs and external lenses are available for the iPhone, there are more options for the GoPro.
You can find equipment for mounting the GoPro to almost any object, including helmets, bicycles, and cars. There are also hundreds of lights, handheld gimbals, and microphones that work with the GoPro.
Also, GoPros are built to last. All the electronics and lenses sit nicely in a rugged waterproof housing. I have no problem strapping my GoPro to a ski boot, to a skateboard, or take it with me when snorkeling.
I'd never dare to do that with an iPhone, which is way more prone to breaking because of the big screen.
Is GoPro Good for Vlogging?
When it comes to GoPro vs. DSLR/mirrorless camera for vlogging, DSLR cameras offer many more advantages.
Most notably, many DSLR and mirrorless cameras have a flip-out screen and a microphone input, which makes it easier to record yourself.
Also, DSLR and mirrorless cameras have interchangeable lenses – even zoom lenses – and often store footage to high-capacity memory cards designed specifically for digital cameras.
The image stabilization technologies found in DSLR and mirrorless cameras are also superior to that of any GoPro or iPhone.
A decent DSLR camera can record clearer footage indoors and allows you to zoom or pan the camera.
Despite a few limitations, the GoPro camera is still suitable for vlogging: GoPro HERO7, HERO8, and HERO9 even support live streaming, and HERO9 has a small front monitor that – though minuscule compared to bigger cameras – lets you see yourself.
As vlogging often involves close-ups and interviews, you may not need to zoom or pan the camera frequently.
And if you're on the move or a travel vlogger, a GoPro is a must.
Just keep in mind that it performs poorly in low light settings, requiring additional lighting.
What Is the Best GoPro for Filmmaking?
The best GoPro for cinematic shots is the latest GoPro. The GoPro HERO9 is the first GoPro to record video with up to 5K resolution.
The previous model offers 4K video, while older models only offer up to 1080p.
A higher resolution provides more versatility for filmmaking. You can scale larger images down and maintain more detail when zooming in.
The GoPro HERO9 also uses the latest HyperSmooth technology to provide better image stabilization.
However, the HERO7 and the HERO8 are still recommended for those who want a more affordable camera.
And since the HERO9 is slightly bigger than the HERO 7 and HERO8, you might find that not all of your old accessories will fit the latest model.
GoPro Cinematic Tips for Recording Better Video
With the right techniques, anyone can produce better-looking footage. You first need to address some of the limitations of the GoPro camera for filmmaking. Here are five tricks:
1. Get a lens adapter and attach extra lenses
The GoPro camera has a fixed lens. Unlike a DSLR camera, you cannot adjust the depth of field or use optical zoom.
The fixed lens limits the versatility of the camera when shooting films. Luckily, there is a way to address this problem.
Lens adapters allow you to change the range and field of view (FOV) of the camera. You can add a telephoto lens to capture distant subjects or a macro lens for close-up details.
These might not be available for the latest GoPros, so make sure you read up on compatibility.
2. Shoot to crop
Another way to get closer shots is to record 4K video and edit it in a 1080p timeline in your video editor.
A 4K image is twice the width and length of a 1080p image. You can scale the 4K video down to 1080p or crop it at full scale to achieve 2x zoom.
Working with 4K video also allows you to pan and scan or zoom in on subjects.
3. Get out of auto mode
Get out of auto mode and learn how to control your GoPro in manual mode.
A GoPro comes with all the professional tools needed to get it to perform the best including the possibility to change the frame rate, shutter speed, white balance, sharpness, and color profile.
You can read more on how to set the best camera settings for video in this article.
4. Use lights!
Lighting is everything when it comes to creating a cinematic looking image.
With good lighting you can make any camera look good. But this is often overlooked, especially with a GoPro, which are mostly used to shoot action shots in natural lighting.
You can read more on the basic lighting setups here.
5. Shoot in slow-motion
Shoot at a high frame rate to get cool slow-motion shots. Or shoot at 60 fps and drop it into a 24 fps timeline in your editing program of choice.
I know slow-motion is often overused, but you can't deny it looks fantastic with snow falling, a skater doing tricks, or the crashing of huge waves in slow-motion. Just don't over-do it!
Conclusion
GoPro has continued to release new cameras to keep up with the growing demand for mobile filmmaking gear. People often use these action cameras to record outdoor activities, but the GoPro can also be used for filmmaking.
As with smartphone cameras, the GoPro has limited features for videography. However, it is equipped with a quality lens that can capture sharp video and photos.
To make the most of the GoPro, remember to use extra lights for indoor shots and record at 4K resolution.
---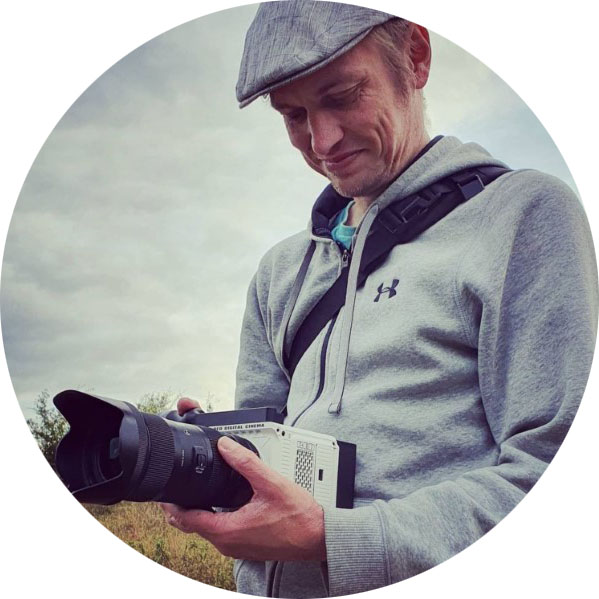 About the author:
Jan Sørup is a videographer and photographer from Denmark. He owns filmdaft.com and the Danish company Apertura, which produces video content for big companies in Denmark and Scandinavia. Jan has a background in music, has drawn webcomics, and is a former lecturer at the University of Copenhagen.