DISCLOSURE: AS AN AMAZON ASSOCIATE I EARN FROM QUALIFYING PURCHASES.
THIS POST MAY CONTAIN AFFILIATE LINKS, MEANING, AT NO ADDITIONAL COST TO YOU, I EARN FROM QUALIFYING PURCHASES. AFFILIATE LINKS ARE MARKED WITH #ad. "I" IN THIS CASE MEANS THE OWNER OF FILMDAFT.COM. PLEASE READ THE FULL DISCLOSURE FOR MORE INFO.
I've always been a fan of the Blackmagic Ursa Mini cameras. I think it's a beast of a camera with the most solid codecs, color science, and features in its price range – by far.
Yes, it's a bit bulky, but not compared to other cinema cameras like Arri Alexa or Sony Venice. And compared to those beasts, it's a lightweight champion at the fraction of the price.
So when I saw Blackmagic released a new Ursa Mini 12k I was excited. Or, to be more precise, I was like… WHAT?
Out of the blue, and just a few days after the messy release of the Canon EOS R5 8K with all the overheating problems, Blackmagic decided to bring the sprint for how high a frame rate you can put into a video camera to a whole new level.
That's another 4K above the Canon EOS R5 as well as 4K above the RED Monstro 8K. Well played Blackmagic.
So let's take a closer look at this new beast of a 12k video camera.
Ursa Mini Pro 12k Sensor
The Ursa Mini Pro 12k features a new Super 35 image sensor. That's a resolution of 12,288 x 6,480 for those of you counting!
The camera still has 14 stops of dynamic range, but I usually deduct a full stop from manufacturer claims. The base ISO is set to 800, so you won't get the benefit of dual ISO like in the Varicams or Red Gemini.
You can shoot up to 60 frames per second in 12K, 110 fps in 8K, and up to 220 fps in 4K Super 16.
That will create some massive files with 80 megapixels per frame! So you might want to consider getting a bigger hard drive! Or ten! And a new computer with a faster CPU and GPU now we're at it.
Why would you need a 12k digital video camera?
But why would you ever need a 12K video camera?
Well, first of all, you can use those 12 for downsampling to crisp and clear 8K and 4K images in great detail and sharpness.
You can also use it for cropping or punching in and reframing your footage for delivery in 4K or FullHD. It's like having several cameras in one.
The high-resolution makes objects crystal sharp, and that is ideal if you're working with green screen visual effects (VFX), e.g. for compositing live-action and CGI in Adobe After Effects or Blackmagic Fusion.
It's also great to have an extra resolution if you're going to do a lot of stabilization in post-production.
Build
Blackmagic has chosen to stick to the tried and tested body type we know from earlier iterations of the Ursa Mini.
It might seem a bit bulky, but you get everything you need directly on the camera – from a flip-out screen, easily accessible buttons on the side, built-in ND-filters (2, 4, and 6 stops), SDI in and out, 48-volt phantom power XLR audio, time code, reference in, and more.
The URSA Mini Pro 12K also features an interchangeable PL mount. The PL mount comes included, but EF and F mounts available which makes it possible to use everything from Canon and Nikon lenses to vintage glass.
You also get dual CFast and UHS-II SD card recorders, a SuperSpeed USB-C expansion port and more. I'll get back to that USB-C expansion port a little later.
So if you're like me, and you've grown tired of building rigs with cages, external monitors, rods, battery plates etc. then you'll love this camera!
And if you need it, there's an optional shoulder mount kit that lets you transition from tripod to shoulder and back in seconds.
Shooting and Recording in RAW at lighting fast speeds
Blackmagic has really brought RAW (and BRAW) to the masses with the BMPCC4K and 6K cameras.
And, of course, the Ursa Mini Pro 12 also lets you record RAW.
You also get a SuperSpeed USB-C for recording to external fast SATA and NVMe drives at speeds at up to 900MB/s – and you're going to need it if you're going to push this camera to the limits.
Optional external recorder
In fact, Blackmagic has released a new URSA Mini Recorder that lets you record in 12-bit Blackmagic RAW files onto fast 2.5-inch SSDs, including the latest U.2 NVMe Enterprise SSDs.
Unfortunately the recorder isn't included as standard, and needs to be purchased separately.
With an SSDs such as the 7mm U.2 NVMe disk, you can record full-resolution 12K 12-bit Blackmagic RAW files in the highest quality Q0 encoding.
The Blackmagic URSA Mini Recorder attaches directly to the back of their URSA Mini Pro between the camera and the battery and it is controlled via the USB-C.
When you're done recording, you can simply move the external disk to your computer and start editing directly from the same disk (like you would with an external recorder from Blackmagic or Atomos).
This eliminates the need for file copying, and is great especially if you're editing while traveling.
Blackmagic RAW is optimized to accelerate 12K for post-production. This makes it easier for you your CPU and GPU. It also works across multiple CPU cores and is GPU accelerated to work with Apple Metal, CUDA, and OpenCL.
So unless you have a relic of a computer, you can work with RAW files without the need to make proxies.
Full Version of DaVinci Resolve Studio included
It shoud go without saying that you also get the full-version of Blackmagics amazing DaVinci Resolve Studio when you buy the Ursa Mini 12k.
In recent years, DaVinci Resolve Studio has evolved from being a fantastic color-editing suite to a full-blown editing suite that can hold its own against it competitors like Adobe Premiere Pro.
And, of course, DaVinci Resolve Studio is perfect to get the most from those insane 12k RAW files, and take advantage of the new Blackmagic Generation 5 Color Science.
The Generation 5 Color Science features a new film curve that is designed to make full use of the color data from the new URSA Mini Pro 12K sensor.
Final Thoughts
Blackmagic has stepped up the game once again and has produced a camera no one has ever seen before – and probably not will for quite some time. Especially not in this price range.
I know the rage is all about full-frame sensors at the moment, but a lot of film makers actually prefer the Super 35mm sensor look. So I think Blackmagic has made the right choice here.
The Super 35mm sensor combined with the interchangeable lens mount makes this camera much more versatile and open it up to a whole world of new and vintage glass, that wouldn't have been possible if Blackmagic had decided to go with a full-frame sensor.
This makes this camera much more competitive as a modern cinema camera for the indie filmmakers out there.
The URSA Mini Pro 12K is available for preorder right now for $9,995.00 on Adorama. That's a bargain in my book.
Read more at Blackmagics website.
---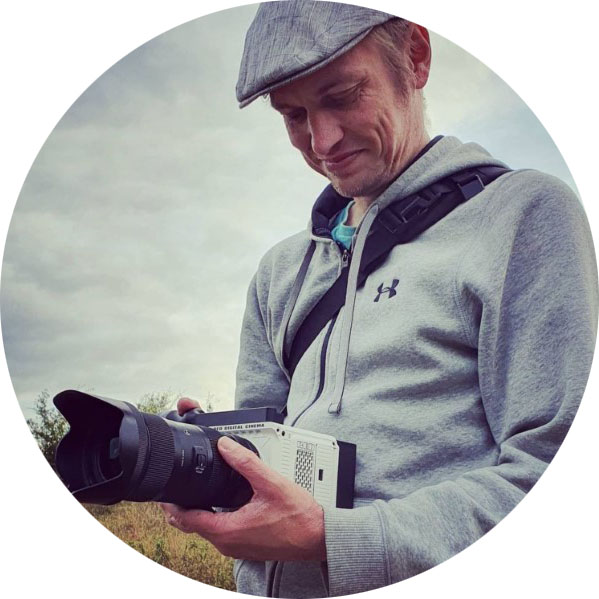 About the author:
Jan Sørup is a videographer and photographer from Denmark. He owns filmdaft.com and the Danish company Apertura, which produces video content for big companies in Denmark and Scandinavia. Jan has a background in music, has drawn webcomics, and is a former lecturer at the University of Copenhagen.