DISCLOSURE: AS AN AMAZON ASSOCIATE I EARN FROM QUALIFYING PURCHASES.
THIS POST MAY CONTAIN AFFILIATE LINKS, MEANING, AT NO ADDITIONAL COST TO YOU, I EARN FROM QUALIFYING PURCHASES. AFFILIATE LINKS ARE MARKED WITH #ad. "I" IN THIS CASE MEANS THE OWNER OF FILMDAFT.COM. PLEASE READ THE FULL DISCLOSURE FOR MORE INFO.
With a drone, you can capture a view of your house from above or get sweeping shots of a nearby park. However, the quality of the footage depends on the drone.
If you want to record 4K video at 60 frames per second with advanced image stabilization, you may need to spend a significant amount of money.
I've loved flying my DJI Mavic Pro since the day I got it. Getting to see a familiar place from above brings an exciting new perspective on things. And I still think DJI makes the best drones on the market.
However, bigger DJI drones, like the DJI Mavic Pro 2 or the DJI Inspire 2, though awesome drones, are also quite expensive.
For those wanting the best inexpensive drone for filming on a budget, try one of the following options.
1. DJI Mavic Air 2 Fly More Combo
Mavic Air 2 is a high-end drone from one of the most reputable manufacturers. DJI produces durable drones that provide stable flight and amazing photos or videos.
With the Mavic Air 2, you can record 4K video at 60 frames per second. The drone is equipped with a 12MP camera sensor for exceptionally clear images in most environments and weather conditions.
The camera also features an adjustable aperture and HDR technology. The drone can remain in the air for up to 34 minutes. It is a nimble drone that is easy to fly using the DJI Fly App.
The omnidirectional obstacle sensing system and active track 2.0 help maintain safe flight, even when flying in residential areas. You can also use an intelligent tracking system to lock on to subjects.
Overall, this is one of the top drones for filming. However, it is also one of the more expensive options.
Pros
Produces exceptionally clear video and photos
Records 4K video
Has the ability to lock-on to subjects
Cons
One of the more expensive options
Check the current price on Amazon
2. DJI Spark Drone Quadcopter
The DJI Spark Drone Quadcopter is a more affordable option from DJI. As with the Mavic Air 2, the Spark Drone Quadcopter includes a remote control with a smartphone holder and allows you to remotely record aerial footage.
However, instead of 4K video, the camera only records 1080p video at 30 frames per second.
The flight time is also limited to about 16 minutes. The Spark is a step down from the Mavic Air 2 but is also more budget-friendly. While you cannot record 4K video, you still receive a reliable drone that any beginner can fly.
To increase the value of this budget drone, DJI includes various accessories. You get a lens cleaning kit, carrying bags, a microSD card, and high-visibility landing pads.
Pros
Easy to fly
More affordable DJI drone
Comes with a variety of accessories
Cons
Check the current price on Amazon
3. PowerVision PowerEgg X All-Weather Drone
The PowerEgg is a sophisticated video drone designed for flying in inclement weather. The unique egg-shaped design and waterproof housing allow the drone to fly in all types of conditions, including heavy rain.
The drone has a 4K UHD camera that records at 60 frames per second. It produces high-quality video with clear images. You can also take 12-megapixel still photos.
As with most camera drones, the PowerEgg comes with a remote controller. The remote control has a smartphone holder, allowing you to view live video from the drone, access the camera settings, take photos, and start or stop recording.
It even has AI face recognition to lock on subjects and follow them.
One of the unique features of the PowerEgg is the ability to synchronize sound. You can record audio from your smartphone or a wireless microphone and automatically sync it with the video captured from the drone.
With the included wrist-strap you can even use it as a handheld gimbal – great for fx national parks with no fly zones, where you still want to capture the beautiful vistas.
Pros
Captures 4K video at 60 fps
Syncs audio with the video
Includes AI face recognition technology
Cons
Relatively expensive option
Check the current price on Amazon
4. DRONE CLONE XPERTS Drone X Pro Limitless Quadcopter
The Drone X Pro Limitless drone provides stable flight, multiple control options, and 4K video. It is a quality midrange drone with a foldable design and remote control/smartphone holder.
The Drone X Pro Limitless drone comes with a variety of ways to control the flight path, including the Point of Interest (POI) mode. The POI mode automatically flies around a chosen subject, keeping the subject centered from a distance.
You can also use gesture controls or set the drone to Follow Me mode, letting it follow your position.
The camera shoots 4K video and has a flight time of 25 minutes. With the brushless motor and built-in image stabilization, the drone and camera can capture sharp video in most environments.
Pros
Records clear 4K video
Provides a variety of control methods
Includes the Return to Home (RTH) feature
Cons
Not the best build-quality
Long charging times (up to 8 hours)
Check the current price on Amazon
5. RUKO F11Pro Drone with Camera
The RUKO F11Pro is in the middle of the price range for budget camera drones. It is also one of the most affordable drones capable of recording 4K video. The video quality is on par with other 4K UHD cameras.
The F11Pro is also another easy-to-fly drone, thanks to a variety of useful flight features for beginners. The auto-return, tap fly, one-key take-off, and landing, and FPV settings allow anyone to pick up the controls and start flying this drone.
The flight time is limited to a little over 20 minutes. However, it does come with an extra battery so that you can double your flight time.
Pros
Records 4K video
Affordable UHD camera drone
Includes an extra battery
Cons
Only offers about 20 minutes of flight per charge
Check the current price on Amazon
6. Holy Stone HS720 Foldable GPS Drone
The Holy Stone HS720 Foldable GPS Drone is almost identical to the RUKO F11Pro in terms of features.
However, the camera in this drone is housed in a shock absorption holder to record video and take photos without camera vibration. The camera is also adjustable up to 90-degrees.
The flight time is about 25 minutes, which is slightly longer than the F11Pro, but the HS720 only includes one battery. You can control the drone remotely using the provided remote control with a smartphone holder.
While this camera shoots clear 4K video, it only supports microSD cards up to 32GB. This allows you to record about 20 minutes of footage. Each time that you recharge after a flight, you will need to transfer your video of the microSD card.
Pros
Records stable 4K video
The camera is inside a shock absorption holder
Affordable UHD camera drone
Cons
Only supports microSD cards up to 32GB
Check the current price on Amazon
7. SNAPTAIN S5C WIFI FPV Drone
The SNAPTAIN S5C WIFI FPV Drone is an inexpensive beginner's drone that records decent video from the sky.
Compared to the previous options, the video transmission range is shorter, the flight time is shorter, and the controls are less precise. It also only records 1080p video instead of 4K.
The S5C drone has standard flight controls and connects to your smartphone for controlling the camera. While it cannot record 4K video, the 1080p video is surprisingly clear.
Pros
The most affordable video drone
The 1080p video is sharp and vivid
Cons
Does not record 4K video
The drone is less responsive to flight controls
Check the current price on Amazon
How to Choose the Right Drone for Filming
As you start to compare camera drones, the variety of options and features may become overwhelming. To make your search a little easier, focus on the following details:
Budget
Video resolution
Flight time
Functions
Accessories
Setting a budget will help you narrow your options, as the price varies dramatically. Deciding on your price range allows you to focus on a smaller group of drones.
The least expensive drones can record 1080p video. If you want to record 4K videos, you will need to spend a little more. 4K video also requires more storage space.
With some drones, you can only use microSD cards up to 32GB, which only provides storage for about 20 minutes of 4K video.
If you plan to record more footage, you may need additional microSD cards or a drone supporting larger cards.
The flight time varies from about 15 minutes to 35 minutes, depending on the drone and battery.
The more expensive options tend to provide longer flight times. However, buying an extra battery can instantly double the flight time of any drone.
The next consideration is the available functions and controls. Most camera drones include a remote control that has a smartphone holder. You can operate the camera from the smartphone and the drone using the remote control.
However, you should ensure that the camera app is compatible with your phone. If you have an older phone, you may need to look at older drones.
Beginners may also want functions designed for easier flight, such as Follow Me, Return to Home, and automatic take-off and landing.
Another thing to consider is available accessories. There's a great chance you'll crash your drone a couple of times, or the rotor blades will break from catching a twig.
Consider getting extra batteries, rotor blades from the start like you get with the DJI Mavic Air 2 Fly More combo.
You can also consider things like a propeller guard. Keep in mind, though, that these will add slightly to the drone's weight and reduce the flight time a bit.
Conclusion
If you want the best inexpensive drone for filming a 4K video, consider getting the DJI Mavic Air 2 or the PowerEgg. Both options shoot high-quality 4K video in almost any weather condition. However, they cost a bit more compared to the other options.
The DRONE CLONE EXPERTS and Holy Stone drones are the most affordable 4K camera drones. If 4K video is not important to you, the SNAPTAIN S5C 1080p camera drone offers the best value for your money.
---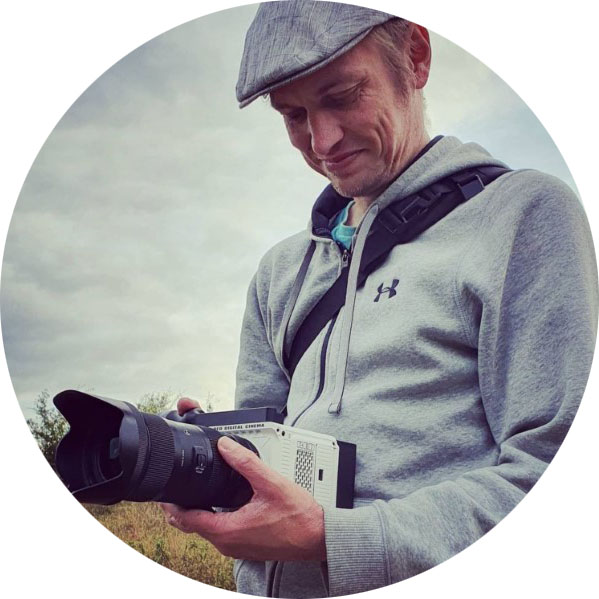 About the author:
Jan Sørup is a videographer and photographer from Denmark. He owns filmdaft.com and the Danish company Apertura, which produces video content for big companies in Denmark and Scandinavia. Jan has a background in music, has drawn webcomics, and is a former lecturer at the University of Copenhagen.