DISCLOSURE: AS AN AMAZON ASSOCIATE I EARN FROM QUALIFYING PURCHASES.
THIS POST MAY CONTAIN AFFILIATE LINKS, MEANING, AT NO ADDITIONAL COST TO YOU, I EARN FROM QUALIFYING PURCHASES. AFFILIATE LINKS ARE MARKED WITH #ad. "I" IN THIS CASE MEANS THE OWNER OF FILMDAFT.COM. PLEASE READ THE FULL DISCLOSURE FOR MORE INFO.
Flip screens are an essential feature for vlogging cameras, as they allow you to view yourself while filming. However, as with most electronics, there is an endless selection of cameras to choose from.
Finding the right option is even harder when you have a limited budget.
So, what is the best budget option? If you simply want the top recommendation now, go with the Sony ZV-1 Camera.
It has one of Sony's newest sensors and offers full 4K video recording at 30 frames per second for up to 100 minutes on a single battery charge.
Keep in mind that the Sony ZV-1 may not work for everyone. To compare your options, here are the top five best inexpensive cameras for vlogging with flip screens.
1. Sony ZV-1 Camera for Content Creators
The Sony ZV-1 was built specifically for vloggers. It includes one of the best camera sensors (20.1MP) found in a compact vlogging camera.
You can achieve crisp, clear video in almost any lighting conditions due to the ZEISS Vario-Sonnar T* 24-70mm lens with a fast aperture of f/1.8-2.8.
The camera is equipped with fast hybrid autofocus. It can focus on a subject in just 0.03 seconds and maintain focus by tracking moving subjects. However, the real highlight is the video recording modes.
With the Sony ZV-1, you can record 4K video at 30 fps. You can also record Full HD at up to 120 fps. And if you want, you can even shoot super slow-motion up to 960 fps (though at a decrease in image quality).
The ZV-1 has a standard flip screen. You can shoot from behind the camera or flip the screen out to view yourself. However, it is not a fully-articulated screen.
The onboard microphone is another advantage of the ZV-1. You can record clear audio, even when recording outdoors, thanks to the provided detachable windscreen. It also features a mic jack and shoe for connecting an external mic.
The one drawback is the price. There are less expensive options that still offer quality video and audio. However, the Sony ZV-1 remains one of the most impressive options when it comes to the clarity of the video in low-light settings.
Pros
FullHD at up to 120 fps
Record 4K video at 30 fps
Offers the fastest autofocus, focusing in just 0.03 seconds
The onboard microphone records surprisingly good audio
Cons
Not the least expensive vlogging camera
Check the current price on Amazon.
2. Sony Alpha A6400 Mirrorless Camera
The Sony Alpha A6400 Mirrorless Camera has a 24.2MP sensor and lets you shoot 4K video up to 30 fps, and 1080p at 60 fps. There are not many options in this price range that can compete.
If your vlogs include a lot of movement, you may prefer the autofocus abilities of this camera. The A6400 provides faster autofocus compared to the ZV-1.
It can focus on a fast-moving subject in as little as 0.02 seconds. Real-time autofocus tracking also ensures that your subject stays in focus.
The screen is a standard flip screen. You can tilt it out, rotating it up to 180-degrees to view yourself when filming.
Unlike most inexpensive vlogging cameras with flip screens, this is a mirrorless camera with interchangeable lenses.
Mirrorless cameras are lighter, more compact, and deliver superior video recording capabilities. This allows the A6400 to shoot 4K and 1080p video at higher frame rates.
If you already own lenses, you can purchase the base camera body only. However, there are several kit lenses available as well.
Fx, you can purchase the base camera with a telezoom lens like the 16 to 50 mm lens, an 18-105mm, or an 18-135mm lens. Or, if you prefer a prime lens, you can get it with a 35 mm or a 50mm lens.
Pros
Shoots amazing 4K video at 30 fps
Records FullHD up to 60 fps
Uses interchangeable lenses
The mirrorless design delivers greater video clarity
Cons
Accessories and lenses are expensive
Check the current price on Amazon.
3. Fujifilm X-T200
The Fujifilm X-T200 is another mirrorless vlogging camera with an interchangeable lens mount and a standard flip screen.
It costs significantly less compared to the Sony A6400, but with a reduction in video capabilities.
With the Fujifilm X-T200, you can record 4K video at 30 fps and 1080p at 60 fps. The camera uses an APS-C size sensor, as with the Sony A6400. The main difference is the overall quality of the video.
The A6400 offers slightly better clarity and sharpness in low-light settings compared to the X-T200. If you mostly record outdoors in broad daylight or a home studio with ample lighting, this may not be a major issue.
While this camera has image stabilization, the Sony vlogging cameras provide greater stability thanks to 4-axis or 5-axis stabilization.
The X-T200 also has a time limit when recording 4K video. You can only shoot for 15 minutes before the camera creates a new video file.
Pros
More affordable options compared to the Sony cameras
The camera has a lens mount for interchangeable lenses
Can record 4K video at 30 fps and 1080p at 60 fps
Cons
The image stabilization is not the most reliable
You may need additional lighting to produce the clearest video
Check the current price on Amazon.
4. GoPro HERO9 Black Waterproof Action Camera
The GoPro HERO9 is not designed specifically as a vlogging camera but includes many of the features you need. Instead of a standard flip screen, it has a front-facing screen and a rear LCD screen.
The HERO9 can also record 5K video and take 20MP photos. The sharpness and clarity are phenomenal for a camera in this price range. As this is primarily an action camera, it is also one of the most versatile options.
You can shoot while moving or film underwater. Unlike the other options, the HERO9 allows you to live stream. You can stream in full 1080p.
Choosing the HERO9 also provides more options when looking for accessories. A variety of third-party companies sell GoPro HERO compatible gear, including various mounts, tripods, microphones, and filters.
Pros
Reasonable price for a quality camera
Records impressive 1080p video
You can live stream 1080p video
A wide range of accessories are available
Cons
Does not use interchangeable lenses
The screens are fixed, but it includes a front-facing screen
Check the current price on Amazon.
5. AABELOY Digital YouTube Vlogging Camera
If the previous options are out of your price range, consider getting the AABELOY Digital Vlogging Camera. It is a budget vlogging camera with a flip screen, offering the bare minimum needed to record decent 1080p video.
The camcorder design is bulky compared to the previous cameras. However, the flip screen is fully articulated. You can flip directly toward you or rotate to accommodate different angles.
You also get two batteries, a remote control, and a large microphone. However, it cannot record 4K video. The batteries also only provide about 90 to 150 minutes of shooting on a full charge.
Overall, this is a great bundle for those with a limited budget who are less worried about capturing the clearest video.
Pros
The flip screen is fully articulated
Includes a wide range of shooting functions, including a self-timer
Comes with a remote control
The most affordable option
Cons
Cannot record 4K video
The video quality is inferior compared to the higher-priced options
Check the current price on Amazon.
---
How to Compare Vlogging Cameras with Flip Screens
The first detail to consider when comparing vlogging cameras is the type of flip screen. The most common option is the standard flip screen that rotates 180-degrees. You can leave the screen down to use it as a standard viewfinder from behind the camera or flip it up to view yourself.
There are also front-facing screens. These screens simply face forward. You can view yourself, but you cannot flip the screen down to use it from behind the camera, making it less versatile.
For the greatest freedom of movement, look for fully articulating flip screens. These screens move in all directions, which can be useful when sitting at an angle instead of directly in front of the camera.
If you find you need a bigger screen than what is built-in to your camera, you should look at 5″ or even 7″ external monitors or recorders.
The available video recording modes and resolutions should also impact your buying decision. The less expensive cameras typically record 1080p video at 60 frames per second (FPS) or 120 fps.
If you want 4K resolution, you can expect to spend a little more. Budget 4K cameras tend to use lower frame rates and offer less sharpness.
Other useful features to consider include interchangeable lenses, large sensors, and connectivity options. Interchangeable lenses provide more room to expand your vlogging equipment and the quality of your vlogs.
Large sensors help capture a better picture, especially in low light settings. For example, a 1.5-inch sensor will perform better compared to a 1-inch sensor in most situations.
You should also look at the connectivity options to ensure that the camera works with your setup. Most digital vlogging cameras store video on memory cards but include USB ports for connecting to your computer. For improved audio recording, you may also want a camera with a microphone input.
Conclusion
The five vlogging cameras listed provide the best combination of essential features at low prices. The Sony ZV-1 stands out as the clear winner. It is a versatile camera that offers the best overall value for its price range. However, the other options are still great choices for vlogging.
In the end, your decision may come down to how much you are willing to spend to get better video.
The least expensive option is the AABELOY Digital Camcorder. The quality of the video is noticeably lower compared to the options, but you can save money. The Sony A6400 costs significantly more and provides the greatest 4K video recording capabilities.
The Fujifilm X-T200 and GoPro Hero9 land in the middle of the pack. You can record 4K video while viewing yourself through the flip screen. However, the Sony cameras still deliver superior video, but with a higher price tag.
---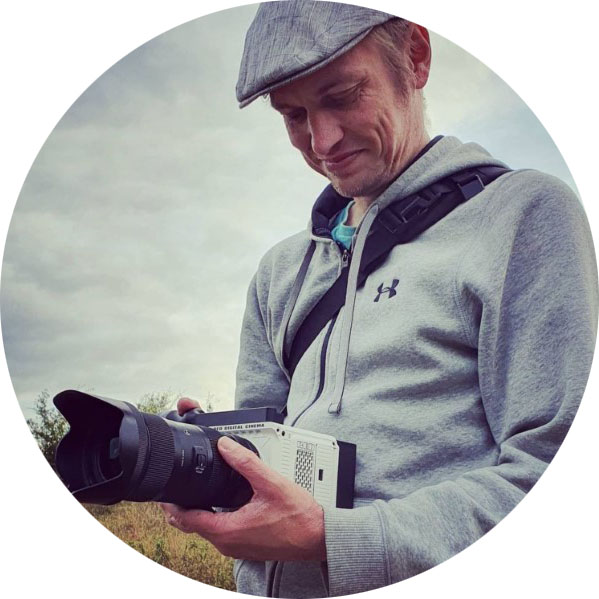 About the author:
Jan Sørup is a videographer and photographer from Denmark. He owns filmdaft.com and the Danish company Apertura, which produces video content for big companies in Denmark and Scandinavia. Jan has a background in music, has drawn webcomics, and is a former lecturer at the University of Copenhagen.