DISCLOSURE: AS AN AMAZON ASSOCIATE I EARN FROM QUALIFYING PURCHASES.
THIS POST MAY CONTAIN AFFILIATE LINKS, MEANING, AT NO ADDITIONAL COST TO YOU, I EARN FROM QUALIFYING PURCHASES. AFFILIATE LINKS ARE MARKED WITH #ad. "I" IN THIS CASE MEANS THE OWNER OF FILMDAFT.COM. PLEASE READ THE FULL DISCLOSURE FOR MORE INFO.
Green screens are no longer just for big movie studios. Green screen backdrops and chroma keying software have become cheap.
With a little bit of creativity, everyone can create special effects similar – to some extent at least – to those you see in the movies from the comfort of your living room.
You can also easily remove the messy background in your bedroom for your Twitch gamer streaming or YouTube videos, even if you're on a budget.
If you're new to green screens, I recommend you read these two articles first:
Below you'll find some of the best chroma key green screen backgrounds for different budgets and from DIY solutions to collapsible green screens.
If you're a beginner, rest assured, all of these will work with any camera.
1. Rosco Chroma Key Paint. Best Cheap DIY Green Screen.
If you got a wall that needs redecorating, you might as well give it a nice green color with this chroma key green screen paint from Rosco.
The paint has a matte finish, so you don't get any shiny highlights, which otherwise would make removing the backdrop in post-production more difficult.
You get coverage of approximately 300 square feet per gallon.
The one you see on the photo is 1 Quart, so it will give you a coverage of approximately 75 square feet.
The Rosco Chroma Key Paint is available in different sizes.
Check the current price on Adorama
Check the current price on Amazon
2. Neewer 6×9 feet/1.8×2.8 Meters Photo Studio 100 Percent Pure Muslin Collapsible Backdrop. Best Cheap Muslin Backdrop.
If you don't fancy painting a wall with chroma key paint, you can just hang up a green muslin backdrop like this one from Neewer instead.
This 6×9 feet background is simple, but it does the trick. In fact, I've used a bigger version of this several times myself.
If you've already got a curtain rod, a wire or something else to attach it to, you can have a green screen set up in no time.
If you don't, I recommend you buy a cheap set of stands or look at some of the other kits here, because trying to attach a green screen muslin to the wall with gaffers tape and clamps is a real pain (trust me!).
Check the current price on Amazon
3. Emart 10 x12 feet Muslin Chromakey Backdrop with Stands. Best Cheap Green Screen with Stands.
If you already got video lights and just need a cheap green backdrop with stands, this one from Emart will get the job done.
Included in the kit is:
1 cotton muslin green screen 10 x 12 feet backdrop
2 x support stands (adjustable height between 3 and 8.5 feet)
4 x crossbars (adjustable width between 5 and 10 feet)
2 x spring clamps for keeping the muslin tight and even
1 x carrying bag
This is a nice collapsible backdrop, which makes for quick setup at home. Plus the background is big enough to also cover the floor.
It would have been nice if the set had also come with some sandbags because, in my experience, light-weight stands such as these need to be pinned down in order not to topple over.
Also, you would be wise to get a set of extra clamps to get the fabric to stretch more evenly. In my experience, two simply isn't enough.
If you're a professional traveling photographer, I would go with stands of better quality, because these aren't really built for the road. But pro-grade stands cost way more money.
But for home use or places where you just need a cheap green screen available at all times, this will do the job.
Check the current price on Amazon
4. Belle Drape 60×72″ Reversible Chroma Blue & Green Background Kit. Best Cheap Collapsible Pop-Up Backdrop Kit.
If you're looking for a really travel-friendly green screen e.g. for quick corporate interviews, you should take a look at this one from Belle Drape.
Included in the kit is:
1 x reversible chroma blue and green screen "pop-up" backdrop that measures 60×72″ when unfolded
1 x lightweight Flashpoint Nano stand that extends up to 7 feet tall – with standard 1/4″ screw-on 5/8″ stud.
1 x Flashpoint adjustable length backdrop and reflector arm that can be used not just for this backdrop, but also for hanging reflectors, gobos and flags, as it extends in sizes between 24″ and 60″
This is a professional-grade kit at an affordable price, that can be used for video interviews, photography, streaming, and a lot more on the go.
The muslin backdrop is reversible with one side being green, and one side is blue (the latter is great for night time simulation shots).
It pop-up up in an instant, and folds neatly into a small round package.
If you haven't tried folding back one of these backdrops before, here's a quick guide:
If you're filming someone with big arm movements, you can hang the backdrop horizontally instead. That's what I usually do. Depending on the conditions, you might need something to lean it again (like a wall) at one end to keep it steady though.
The included light stand is made from aircraft-grade aluminum, has good knobs and variable tension for precise adjustments, and comes with rubber-tipped feet to reduce vibration and sliding and folds into a tiny package only 21 inches long.
Even though the legs of the stand spread out nicely, the stand is so lightweight, that you might want to bring a small sandbag – or just use your camera backpack or something similar to make sure it doesn't fall over.
The kit also includes a backdrop and reflector arm that has a nice and easy pinch design system, that you can use to hang other backdrops, reflectors, flags and gobos, which makes this kit more than a one-trick-pony.
Check the current price on Adorama
Check the current price on Amazon
5. Westcott 9 x 20 Feet Green Screen Backdrop. Best Affordable Wrinkle-Resistant Chroma Key Backdrop.
Note: This Westcott backdrop is also available as a smaller 9 x 10 feet version on Amazon.
If you just want a high-quality no-hassle chroma key green screen backdrop, you should take a look at this one from Westcott.
The back-drop is made from a heavy-duty fleece material that doesn't reflect the light and is wrinkle resistant.
When you pull it out of your bag, just hang it up on a stand (there are grommets in the corners as well as a rod pocket), stretch it out with a couple of clamps/clips, and you're good to go. No need to iron anything!
The lack of wrinkles and reflections makes keying out the backdrop a breeze.
Cheaper backdrops often need a bit of tweaking with masking, matte chokers and more in post-production to completely remove the background – even if you have good lighting.
I would recommend a good and sturdy set of stands and crossbar like this Photoflex FirstStudio BackDrop Support Kit here on Amazon for this backdrop.
With this backdrop, you still need good lighting, of course, but then you can save a lot of time in post.
Check the current price on Amazon
6. Elgato Green Screen Panel. Best Backdrop for Gamers and YouTubers.
If you need a green screen for streaming and YouTube, that is quick to set up, easily collapsible and can be stoved away under your bed, then chroma key panel from Elgato is the way to go!
The Elgato collapsible panel is the perfect green screen backdrop for creating streaming videos from home. But, of course, you can use it for other things as well.
The panel is actually available in two versions: a collapsible version, where the green screen collapses into the base, and a mountable wall/ceiling version, that rolls down like a shade or blind.
The screen is made from 100% polyester.
The collapsible version of the screen measures 58.27 x 70.87 inches. And when it is retracted into the base, it measures 64.76 x 4.13 x 4.53 inches.
The screen of the mountable version 74.8 x 78.74 inches and 83.46 x 3.15 x 3.15 inches when retracted into the frame.
You can see a video of how to install it here:
Check the current price for both versions on Amazon
7. Lastolite LL 13 feet Panoramic Green Screen Background. Best for the Small Production Studio and Large Groups.
Lastolite is known for making high-quality backdrops and reflectors. And this chroma key green screen is no different.
If you need to photograph or record video of a larger group of people, this is an affordable way to go.
The chroma key 13' Panoramic green screen has a crease-free textile surface that makes it easy to get a good key – even after traveling and setting it up on location.
The 3-panel aluminum frame is easily collapsible and snaps together with the elastic band that runs within the framework's tubing. When unfolded the frame acts as a self-supporting structure for the backdrop.
When the frame is unfolded you simply clip on the green screen backdrop.
You also get a zippered case for the frame for easy portability.
Check the current price on Adorama
Check the current price on Amazon
8. LimoStudio Photography Green Chromakey Body Suit. Best for having fun as The Invisible Man.
Okay, I couldn't resist. I've always wanted to try one of these myself, so I decided to put it here for future reference.
If you've ever dreamt of making videos of things magically soring into the air, or if you just don't bother to rotoscope yourself or your crew members out of a VFX scene, you should buy a green screen bodysuit.
I haven't had a client yet, that required one of these, but I'm going to buy one of these just for having some creative fun at some point soon.
The chroma key bodysuit from LimoStudio is stretchable and one-size.
Check the current price on Amazon
Unleash your Creativity with a Green Screen
I think it is so cool that green screens and the chroma keying software have become so cheap that anyone can get started.
As an independent filmmaker and a big fan of special FX and CGI, I love being able to be able to create my own visual effects from my living room.
And as the owner of a small video production business, I love being able to quickly pop-up a chroma key background when needed for a job for a client.
The possibilities with a green screen are endless.
---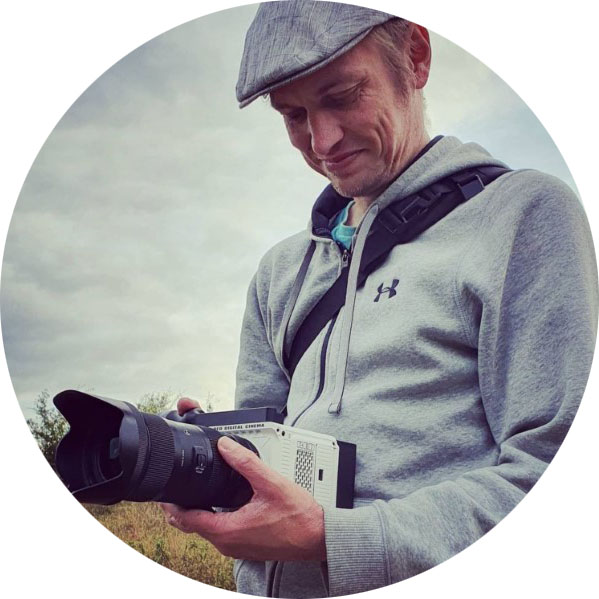 About the author:
Jan Sørup is a videographer and photographer from Denmark. He owns filmdaft.com and the Danish company Apertura, which produces video content for big companies in Denmark and Scandinavia. Jan has a background in music, has drawn webcomics, and is a former lecturer at the University of Copenhagen.