DISCLOSURE: AS AN AMAZON ASSOCIATE I EARN FROM QUALIFYING PURCHASES.
THIS POST MAY CONTAIN AFFILIATE LINKS, MEANING, AT NO ADDITIONAL COST TO YOU, I EARN FROM QUALIFYING PURCHASES. AFFILIATE LINKS ARE MARKED WITH #ad. "I" IN THIS CASE MEANS THE OWNER OF FILMDAFT.COM. PLEASE READ THE FULL DISCLOSURE FOR MORE INFO.
Mirrorless cameras are light, compact, and great for shooting video. However, it always helps to have a quality tripod for keeping the camera steady.
Tripods also make it easier to position the camera at the best angle, switch lenses, and perform other tasks without the risk of dropping a delicate camera.
In this article, I'm going to present various tripods for very different purposes – from light-weight and travel-friendly options that fit in a small bag to bigger tripods that will hold your mirrorless camera with a cage, a big lens, a big battery, and other accessories.
And the best thing is, that none of these cost a fortune, but still provide a lot of bang for the buck in terms of quality and versatility.
If you want to take better photos or videos, try using one of the following best budget tripods for mirrorless cameras.
If you're looking for more specific video tripod options for DSLR, mirrorless camera, and small camcorders, have a look at 10 Best DSLR Video Tripods for beginners, travel, and pros.
1. Manfrotto Befree Advanced Tripod
The Manfrotto Befree Advanced Tripod is a durable tripod and convenient option for those who want increased portability. The tripod takes up minimal space when folded and stores easily in the provided carrying bag. It also weighs just 4.1 pounds.
The tripod has twist-locking legs. To adjust the height, you loosen or tighten the legs. Whether you prefer twist locks or click locks is a matter of taste.
However, you can be sure that the locks are secure, as Manfrotto is known for thoroughly testing every product that hits the market.
The maximum weight capacity is 17.64 pounds. You have more than enough support for a camera with lighting and a microphone.
A potential drawback is the included ball-head design for video. With a ball head, you do not have arms or levers for adjusting the camera angle.
You need to loosen the ball head and manually adjust the camera. If you want to film tracking shots, you will need a different tripod.
However, the ball-head design is still convenient for fixed shots, and it helps keep the cost down compared to a fluid head with a lever for panning and tilting.
Pros
Weighs just 4.1 pounds and stores in a carrying bag
Provides stability on almost any surface
The aluminum legs are durable and stable
Cons
Awkward to adjust after setting up
The ball-head design makes tracking difficult
Check the current price on Amazon.
2. Vanguard VEO 2 235AP Aluminum Travel Tripod
If you want more tracking, the Vanguard VEO 2 comes highly recommended. Instead of a ball head, this tripod is equipped with a fluid head.
The arm of the head allows for two-way panning on the horizontal plane while the vertical and tilt are controlled with independent knobs.
The tripod is height adjustable up to 56.75 inches and folds to a compact 15.75 inches. It is easy to store, transport, and setup.
However, it is not the tallest tripod available, with a maximum height of just five feet.
The legs use a twist-lock system, which is not always easy to use after setting up the tripod. But again, it's a matter of taste.
The weight capacity is relatively light. With a weight limit of 7.7 pounds, you may need to avoid using heavy lighting or mics with your mirrorless camera.
Despite a few drawbacks, the VEO 2 is stable and suitable for use in almost any environment. It has adjustable leg angles for adapting to uneven terrain. You can angle the legs to 20, 45, or 80 degrees.
Pros
Lightweight and compact for easy storage
Includes a panning head that easily locks
The adjustable legs work well on uneven surfaces
Cons
The weight limit is just 7.7 pounds
The twist-lock system is not always easy to adjust
Check the current price on Amazon.
3. ANDOER Video Tripod with Quick Release Plate
The ANDOER Video Tripod is for those who want a fluid head instead of a ball head, and a sturdy pair of legs to hold a bigger lens and accessories.
It also has a quick release plate, allowing you to easily remove the camera when switching out lenses or replacing the memory card.
The legs are made with durable aluminum alloy and are adjustable up to 71 inches. This is one of the taller tripods that still provides stability needed for a mirrorless camera.
Unlike the previous options, this tripod uses twist knobs for securing the telescoping legs.
Compared to twisting legs or flip locks, the twist knobs are less likely to wear with repeated use. They are also easier to adjust. You need to twist the knob a quarter turn in either direction to loosen or tighten the locks.
The tripod is also useful for filming outdoors, thanks to its large nonslip feet. It also has a weight limit of 17.6 pounds, which should be more than enough to support your camera.
Pros
The fluid head makes it easier to pan the camera
Height adjustable up to 71 inches (just under 6 feet)
Uses twist knobs for easier height adjustment
Cons
Weighs 13 pounds, making it one of the heavier options
Check the current price on Amazon.
4. AOKA 15.7-Inch Lightweight Tripod
If you need to shoot from a lower angle or a desktop, consider using the AOKA 15.7-Inch Compact Tripod.
It is a travel tripod that folds to a height of just 9.65 inches. It also weighs just under one pound, making it one of the lightest and most compact tripods for mirrorless cameras.
The AOKA tripod has thicker legs and a larger base plate and ball head than other desktop tripods. The ball head and plate are closer in scale to a standard tripod but placed on shorter legs for desktop usage. This gives you the most stable solution for filming from a desk, table, or low angle.
Most of the components are also made from carbon fiber, which is more durable than the aluminum alloy found in most budget tripods.
Pros
One of the most stable desktop tripods available
Weighs just under one pound
Should hold up to repeated use
Cons
The maximum height of 15.7 inches may not suit everyone
Panning when filming is difficult using a ball head
Check the current price on Amazon.
5. Ravelli APGL3 Professional 66-Inch Three-Axis Tripod
The Ravelli APGL3 offers the greatest flexibility for positioning your camera or panning and tilting. Instead of a ball head or a panning head, this tripod is equipped with a three-axis head.
A three-axis head includes three separate arms. One arm adjusts the camera vertically, and another adjusts the horizontal position. The third arm allows you to tilt the camera's angle.
With three separate arms, you can lock in the angle and vertical position settings and effortlessly track subjects. You gain greater stability compared to the fluidity provided by panning heads and ball heads.
The legs are also height adjustable up to 66 inches, making this one of the taller tripods for mirrorless cameras. Instead of twist locks, this tripod uses flip locks, which are a little more convenient to adjust after setting up the tripod.
The total weight is about 10 pounds. It is a little heavy if you need to carry it a great distance, but it is also one of the most stable tripods for a mirrorless camera.
Pros
A stable design with convenient flip locks
Includes a three-axis head for smoother panning
Height adjustable up to 66 inches
Cons
Relatively heavy compared to other tripods
Check the current price on Amazon.
Conclusion – What Is the Best Tripod for Mirrorless Cameras?
When you compare tripods, start with the height of the tripod. If you mostly film at home, you may only need a desktop tripod.
However, a taller tripod provides more versatility, allowing you to shoot from higher angles, and is great for doing interviews.
Tripods also come with different types of locks, including flip locks, twist-lock legs, and twist knobs.
Flip locks are found on more affordable tripods. They are easy to use but also prone to wear. Twist knobs are long-lasting and typically found on some of the more expensive tripods.
The ball head is the type of head found on most photography tripods. However, it requires you to physically hold and adjust the camera angle instead of using an arm or lever for repositioning.
If you mostly use your mirrorless camera to shoot video, you may want a tripod with a head that allows you to pan or tilt or both at the same time.
A great option for video is the fluid head. A fluid head allows smooth pans and decreases resistance when adjusting the camera angle.
The three-way "pan-tilt" head is also a common recommendation, as it provides three separate arms for horizontal-tilt, vertical-tilt, and 360-degree panning.
Paying attention to these features should help you find the best tripod based on your needs.
You can learn more about tripods in Six Things You Need to Know Before Buying a Tripod for Video, a general guide to tripods.
---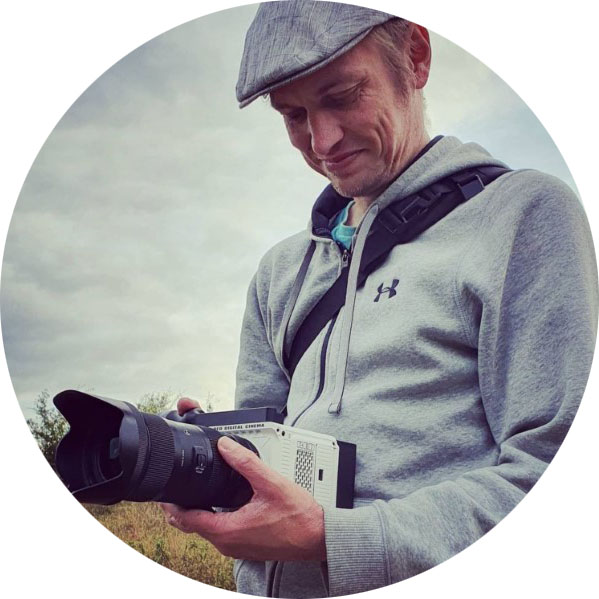 About the author:
Jan Sørup is a videographer and photographer from Denmark. He owns filmdaft.com and the Danish company Apertura, which produces video content for big companies in Denmark and Scandinavia. Jan has a background in music, has drawn webcomics, and is a former lecturer at the University of Copenhagen.