DISCLOSURE: AS AN AMAZON ASSOCIATE I EARN FROM QUALIFYING PURCHASES. READ THE FULL DISCLOSURE FOR MORE INFO. ALL AFFILIATE LINKS ARE MARKED #ad
Your YouTube video may look great and be perfectly edited, but it will tank if it doesn't have high-quality audio!
The built-in microphone on your smartphone or digital camera won't cut it if you are serious about video production.
So whether you need a microphone for filming interviews or getting that nice voice-over broadcast mojo for your vlog, you need a good mic.
A condenser microphone enhances audio capture due to its heightened sensitivity and broad frequency range, ensuring your message comes across with clear and impactful sound.
Here, I've curated a list of seven excellent choices for various scenarios you might encounter as a video content creator.
Table of Contents
1. Zoom IQ6 XY iOS Lightning Microphone. Good choice for field stereo recording.
The Zoom iQ6 Stereo X/Y Microphone provides iPhone and iPad users with a portable recording solution, using the acclaimed microphone technology from the H4n to capture high-quality audio for YouTube videos.
This adjustment allows for capturing a wide stereo field or a focused sound source, offering versatility in different recording environments.
The iQ6 ensures compatibility with iOS devices, even in cases, making it a practical choice for mobile videographers.
Its plug-and-play design runs on a corded electric source, eliminating the need for external power and simplifying the recording process.
The sound quality is excellent, even for acoustic instruments and high-sound-pressure environments.
If you make a lot of videos with your iPhone or iPad and you're on a budget, this microphone is an excellent choice.
It connects via your iOS device's lightning port and has an adjustable stereo field, allowing you to capture high-quality audio in various situations.
The iQ6's adjustable X/Y stereo microphone configuration ranges from 90 to 120 degrees, making it an excellent choice for capturing multiple persons (fx a discussion panel) and even room tone.
It is also handy for filming a speech, an interview, a product demonstration, or a musical performance. You can also use this mic for field recording if your video is a news documentary or a feature report.
It is compact and easy to store, so this microphone is ideal if space is premium.
Product Specs:
Item Weight: 4.8 ounces
Product Dimensions: 9.1 x 2.2 x 4.5 inches
Adjustable Microphone Angles: 90 to 120 degrees
Compatibility: iPhone/iPad
Power Source: Corded electric
Pros:
Portable and adaptable recording angles
High-quality audio capture
Plug-and-play convenience
Cons:
Design and software interface could be improved
Occasional noise issues unless in airplane mode
Potential challenges with phone case compatibility
2. Saramonic LavMicro U3A Ultracompact Lavalier Mic MFi For iOS Lightning. Affordable Lavalier Mic for iOS.
The Saramonic LavMicro U3A is a highly portable USB-C lavalier microphone solution that delivers broadcast-quality sound for YouTube content creators, compatible with a wide range of devices, including the iPhone 15, Android phones, and modern computing platforms.
The omnidirectional pickup pattern captures sound with equal gain from all directions, which is ideal for dynamic recording situations.
The microphone's ultra-compact design and plug-and-play USB-C connectivity offer vloggers and interviewers a versatile audio capture tool for use while on the move.
The LavMicro U3A comes with a right-angle USB-C adapter to fit into tight spaces, and its 6.6-foot cable provides plenty of reach for different recording scenarios.
The package includes an alligator-style mic clip, foam windscreen, and cable strap to tackle common recording challenges like clothing noise and wind interference.
A locking drawstring pouch is also provided for secure storage, making it a convenient choice for creators who value portability and ease of use.
Since this mic is omnidirectional, your voice will come out clear and balanced, regardless of the direction in which the microphone is pointed.
Due to its compact size and lightweight, this mic is portable and easy to store when not in use.
If you are filming yourself or another person, you may not want a microphone in the shot. Check out the FilmDaft guide to hiding Lavalier microphones.
In this case, this microphone style is one option you should consider.
Product Specs:
Connector Type: USB-C
Pickup Pattern: Omnidirectional
Cable Length: 6.6 feet
Dimensions: 78.74 x 0.33 x 0.33 inches
Weight: 0.8 ounces
Pros:
Broadcast-quality audio capture
Highly portable and easy to use
Compatible with multiple devices
Cons:
Limited to devices with USB-C ports
May require additional adapters for certain devices
Omnidirectional pattern may pick up unwanted ambient noise
3. Sennheiser MKE 600 Shotgun Condenser Microphone. Industry-standard shotgun microphone.
The Sennheiser Professional MKE 600 Shotgun Microphone excels with its high directivity and effective noise reduction, making it ideal for YouTube content creators needing clear audio for their videos.
This microphone captures sound from the direction it points and reduces background noise, a major advantage for outdoor recordings or settings with unwanted ambient sounds.
The microphone's switchable low-cut filter diminishes wind noise, ensuring the recorded audio remains clear and understandable.
Offering versatility, the MKE 600 works with phantom power or a single AA battery, accommodating various recording situations.
Sennheiser includes a foam windshield and shock mount with the microphone, delivering a comprehensive solution for immediate, high-quality sound recording.
Due to this microphone's small size, you can mount it on a boom, or you can mount it directly on your camera.
If you are following someone or something with your camera, this microphone will allow you to track sound and visual footage. This can be very useful if you don't have a dedicated boom mic operator.
Product Specs:
Weight: 7.1 ounces
Dimensions: 10.08 x 0.79 x 4.02 inches
Model Number: MKE600
Battery: 1 AA (Alkaline)
Connector: 3.5 mm Jack
Material: Aluminum
Pros:
High directivity
Effective noise attenuation
Versatile power options
Cons:
4. Blue Yeti X multi-pattern USB condenser microphone. Excellent entry-level choice for voice-over and podcast work.
The Blue Yeti X ranks as a leading USB condenser microphone for YouTube creators, combining professional sound quality with user-friendly features.
This microphone features a four-capsule array that captures rich and detailed audio, meeting the complex needs of contemporary content creation.
Users can easily adjust mic gain, mute the microphone, and control headphone volume thanks to customizable LED lighting and a multi-function smart knob.
Using Logitech's G HUB software, creators can access the Blue Voice broadcast vocal effects to tweak their audio to broadcast standards.
It is user-friendly, making it a sound choice for someone without much audio experience.
This mic works with Windows and Mac, so whichever platform you're working on, you can easily integrate it into your setup.
It's a no-hassle microphone is great for voice-over for YouTube tutorials and podcasts.
Product Specs:
Professional Condenser USB Microphone
Customizable LED lighting
Smart knob controls
Four-capsule array
Blue Voice effects via G HUB software
Pros:
Exceptional audio quality
User-friendly controls
Professional sound customization options
Solid build quality
Cons:
Software setup complexity
5. AKG Lyra Large-Diaphragm USB Microphone. Excellent choice for a vintage look on-camera.
If you want a versatile microphone that can record different source materials, choose the AKG Lyra Large-Diaphragm USB Microphone (link to Amazon).
This microphone is convenient, thanks to its ability to work with your Mac or Windows computer. It can also work with your IOS or Android device.
This mic is easy to use with onboard controls for capture mode selection, input gain, output volume, and microphone mute.
The four capture modes are front, front plus back, tight stereo, and wide stereo.
By selecting one of the four available capture modes, you can tailor the sound to fit what you are filming: an interview, a voiceover, a reaction video, or a musical performance.
This microphone also has a built-in desktop stand. You can mount it to a traditional boom stand instead if you wish.
Product Specs:
Ultra-HD audio: 24-bit/192kHz converters
Four-capsule array with multi-capture modes
USB-C connectivity
Zero-latency headphone output
Volume, mic gain, and mute controls
Versatile mounting options
Pros:
Exceptional sound quality
Intuitive user interface
Compatibility with a wide range of devices
Cons:
It needs a carrying case for better portability
6. Neumann TLM 102 Large-diaphragm Condenser Microphone. Industry-standard mic for voice-over work and singing.
Neuman has been an industry leader in the studio microphone game for decades, and I owned several vintage models when I had my recording studio.
The Neumann TLM 102 Large-diaphragm Condenser Microphone, renowned for its high-fidelity sound reproduction, is a premium choice for YouTube creators who prioritize exceptional video quality.
The microphone features a newly developed large-diaphragm capsule with a cardioid pattern that captures sound precisely while eliminating unwanted ambient noise.
Capable of handling high sound pressure levels up to 144 dB, the TLM 102 is versatile enough to record everything from delicate vocals to robust percussion.
With a linear frequency response up to 6 kHz, the microphone provides a natural and uncolored output. A slight presence boost above this frequency adds subtle clarity to the recordings, improving speech intelligibility and vocal presence.
The TLM 102's compact design and its elastic suspension system reduce structure-borne noise, and its built-in pop screen effectively diminishes plosive sounds during vocal recordings.
These features make the TLM 102 suitable for professional-grade YouTube video production.
Since this microphone can handle an SPL of up to 144db, it is well suited for voiceover artists and singers.
It picks up the natural sound of any instrument with crisp clarity, and you get a taste of that vintage Neumann mojo.
Product Specs:
Cardioid directional characteristic
Pressure-gradient transducer
Maximum SPL: 144 dB
Frequency response: Linear up to 6 kHz
Weight: 1.21 pounds
Power Source: Corded Electric
Pros:
High-fidelity sound reproduction
Handles high SPL with ease
Integrated pop screen for plosive suppression
Cons:
Premium price point
Requires additional accessories for optimal use, such as a boom arm and pop filter.
Presence boost may not suit all recording preferences (but can be tweaked in post with EQ).
7. Sennheiser MKH 416 Shotgun Condenser Microphone bundle. Industry standard for film, TV, and Radio.
The Sennheiser MKH 416 shotgun condenser microphone is a top choice for YouTube creators who demand high-quality audio capture with exceptional directivity and robustness.
Appreciated for its superior sound quality, the microphone showcases a super-cardioid/lobar pick-up pattern, effectively isolating the sound source and reducing off-axis noise.
This feature proves especially beneficial during outdoor broadcasts and on-location shoots where background sounds can disrupt recordings.
The compact design of the microphone belies its sturdiness, designed to endure adverse weather conditions while maintaining audio clarity.
The MKH 416's high consonant articulation and feedback rejection enhance the precision of dialogue and voiceovers.
The matte black all-metal body contributes to its durability and ensures it remains inconspicuous during video production.
This shotgun condenser microphone is an industry standard for film, television, and radio. It has an in-built tube that gives it an incredible sound.
It is also humidity-resistant, making it well-suited for outdoor work.
You can capture exceptionally detailed audio with this microphone, so although it costs more than the others on this list, it is an excellent choice for top-notch audio in your videos.
Product Specs:
Pick-up pattern: Super-cardioid/lobar
Sensitivity: 25 mV/Pa ± 1 dB
Impedance: Nominal 25 Ohm, Min. terminating 800 Ohm
Equivalent noise level: 13 dB (A-weighted)
Power: Phantom 48 ± 12 V
Dimensions: d 19 x 250 mm
Weight: 165 g
Pros:
Exceptional directivity and sound isolation
Rugged construction suitable for challenging environments
High consonant articulation for clear voice capture
Cons:
Higher price point compared to other shotgun mics
Requires 48V phantom power, which may not be available on all cameras
Heavier and larger than some alternative microphones, potentially requiring more robust mounting solutions
---
Buyer's Guide to Condenser Microphones for Video Production.
So, what is a condenser microphone?
A condenser microphone is a type of microphone that uses a capacitor to convert acoustic energy into electrical energy.
The core component of a condenser microphone is a thin diaphragm (making it very sensitive) positioned close to a metal backplate, forming a capacitor.
When sound waves hit the diaphragm, it vibrate, causing the distance between the diaphragm and the backplate to change.
This alters the system's capacitance, which is then converted into an electrical signal by an external power source, commonly provided by either a battery or phantom power (more on this in a moment) supplied through the microphone cable.
Condenser microphones are known for their sensitivity and ability to capture a wide range of frequencies with high fidelity, making them a popular choice for studio recording, particularly for vocals and acoustic instruments.
Condenser Microphones vs Dynamic Microphones
So, what is the difference between condenser microphones and dynamic microphones? Here's a quick rundown:
1. Construction
Condenser Microphones use a capacitor (diaphragm and backplate) to generate the audio signal and require external power.
Dynamic Microphones use a coil of wire attached to a diaphragm located within a magnetic field to generate the audio signal and do not require external power.
2. Sound Quality
Condenser Microphones have a broader frequency response and better transient response, which means they can capture more detail and nuances of the sound, making them ideal for precision recording.
Dynamic Microphones have a more limited frequency and transient response but are often preferred for their warm and robust sound.
3. Sensitivity
Condenser Microphones are highly sensitive, which enables them to pick up quiet sounds and subtle nuances, but can also make them more susceptible to background noise.
Dynamic Microphones are less sensitive, which makes them better suited for loud sources and live applications where background noise and feedback can be an issue.
4. Durability
Condenser Microphones tend to be more fragile and sensitive to rough handling and extreme temperatures or humidity.
Dynamic Microphones are generally more rugged and can withstand rougher handling, making them workhorses for stage performances and touring.
5. Applications
Condenser Microphones are commonly used in controlled studio environments and for applications where detail and accuracy are paramount.
Dynamic Microphones are often used for live performances, broadcasting, and recording louder sound sources like guitar amplifiers and drums.
6. Price
Condenser Microphones can be more expensive due to their complexity and the quality of components used.
Dynamic Microphones are typically more affordable and offer great value for various general-purpose uses.
Studio settings often prefer condenser microphones for their high sensitivity and fidelity, whereas dynamic microphones, being more robust, suit live sound applications and the recording of louder audio sources better.
Audio engineers or musicians select between these two based on the specific requirements of the recording situation and their personal preferences.
A Quick Note On Phantom Power
Condenser microphones (as opposed to dynamic microphones) need 48V phantom power to work. You get a microphone that can pick up the finest nuances in your voice.
There's a good reason why professional microphones for recording singers in recording studios are often large membrane condenser microphones.
If your microphone connects via USB, has an in-built battery like some on-camera microphones, or if your camera can output phantom power, you're all set.
However, suppose the microphone has an XLR jack, and you want to use it with your computer.
In that case, the microphone will require phantom power from an audio interface, microphone preamp, or an external phantom power supply.
If you use your mic with a field recorder or mixer, for example, please ensure that the unit can provide 48v phantom power to your microphone.
You can read more about how to get the best audio quality for video here.
Final Thoughts: Condenser Microphones Equal Audio Quality
Don't let the audio quality in your videos suffer. No matter your filming setup or budget, a high-quality condenser microphone is available. Improve the audio quality, and you'll have a better overall video.
However, condenser microphones are also more susceptible to handling and background noises, so remember to use them in a controlled environment or place them very close to the source.
For more tips on upgrading your audio quality in your YouTube videos or getting constructive pointers on how to shoot a quality video in general, look at the guide to the most popular gear used by YouTubers.
---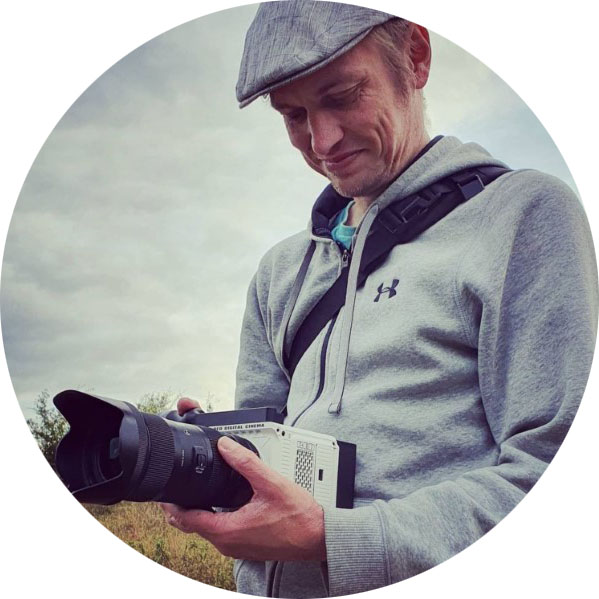 About the author:
Jan Sørup is a videographer and photographer from Denmark. He owns filmdaft.com and the Danish company Apertura, which produces video content for big companies in Denmark and Scandinavia. Jan has a background in music, has drawn webcomics, and is a former lecturer at the University of Copenhagen.