DISCLOSURE: AS AN AMAZON ASSOCIATE I EARN FROM QUALIFYING PURCHASES.
THIS POST MAY CONTAIN AFFILIATE LINKS, MEANING, AT NO ADDITIONAL COST TO YOU, I EARN FROM QUALIFYING PURCHASES. AFFILIATE LINKS ARE MARKED WITH #ad. "I" IN THIS CASE MEANS THE OWNER OF FILMDAFT.COM. PLEASE READ THE FULL DISCLOSURE FOR MORE INFO.
What is the recipe for a high quality YouTube Video?
Every video should have great content, quality footage, but also high-quality audio. Do you think about how the quality of your audio contributes to a stand-out YouTube video?
Whether you're shooting your videos via an iPhone or a high-end 4k digital camera, a condenser microphone can vastly improve the audio portion of your videos.
Your audio may seem all right without the use of condenser microphones, but the built-in microphone on your smartphone or digital camera just won't cut it if you are serious about video production.
A YouTube video may look great and be perfectly edited, but if the person speaking sounds like they are all the way across the room, this can be frustrating for your viewers.
The same applies if the audio is distorted, or if your built-in microphone picks up more room noise than your actual audio source.
So whether you need a microphone for filming interviews or getting that nice voice-over broadcast mojo for your vlog, you need a good mic.
If you truly want your audio to meet the standard of your YouTube video, consider investing in one of these condenser microphones.
A Note On Phantom Power
Condenser microphones (as opposed to dynamic microphones) need 48V phantom power in order to work. In turn, you get a microphone that is able to pick up the finest nuances in your voice.
There's a good reason why professional microphones for recording singers in recording studios are often large membrane condenser microphones.
If your microphone connects via USB, has an in-built battery like some on-camera microphones, or if your camera is able to output phantom power, you're all set.
However, if the microphone has an XLR jack and you want to use it with your computer, the microphone will require phantom power from an audio interface, microphone preamp, or from an external phantom power supply.
If you're going to use your mic with a field recorder or mixer, for example, please make sure that the unit can provide 48v phantom power to your microphone.
You can read more about how to get the best audio quality for video here.
So with that out the way, let's dive in.
1. Zoom IQ6 XY iOS Lightning Microphone
If you make a lot of videos with your iPhone or iPad, and you're on a budget, this microphone available here on Amazon is an excellent choice.
It connects via your iOS device's lightning port, and it has an adjustable stereo field which allows you to capture high-quality audio in various situations.
For instance, this microphone can be especially useful if you are filming a speech, an interview, a product demonstration, or a musical performance.
It is compact and easy to store, so if space is at a premium, this microphone is ideal. You can also use this mic for field recording if your video is a news documentary or a feature report.
2. Saramonic LavMicro U1A Ultracompact Lavalier Mic MFi For iOS Lightning
Here is another condenser mic specifically for use with an IOS device. This lavalier microphone is discrete and compact. It can clip onto any piece of clothing.
Since this mic is omnidirectional, your voice will come out clear and balanced, no matter what direction the microphone is pointed in.
Due to the compact size and light weight, this mic is very portable and very easy to store when not in use.
If you are filming yourself or filming another person, you may not want a microphone in the shot. In this case, this style of microphone is one option you should consider.
You can check the current price here on Amazon. And if you're interested you can read this article that is dedicated to lavalier microphones.
3. Sennheiser MKE 600 Shotgun Condenser Microphone
If you want to capture balanced and detailed audio on a budget, this condenser microphone is an excellent choice.
It offers versatile placement options that could come in handy.
Due to this microphone's small size, you can mount it on a boom, or you can mount it directly on your camera.
If you are following someone or something with your camera, this microphone would allow you to track sound as well as visual footage. This can be very useful if you don't have a dedicated boom mic operator.
Check the current price here on Amazon.
4. Blue Yeti X multi pattern USB condenser microphone
If you need a microphone that will allow you to record in different situations with various types of sources, this condenser mic is a stellar option.
It is user friendly, making it a sound choice for someone who doesn't have a lot of experience with audio.
This mic works with Windows and Mac, so whichever platform you're working on, you can easily integrate it into your setup.
Also, you can adjust your headphone volume right on the microphone and then switch through the available polar patterns until you find the one that suits your project.
It's an no-hassle microphone great for voice-over for YouTube-tutorials and podcasts. Check the current price here on Amazon.
5. AKG Lyra Large-Diaphragm USB Microphone
If you're interested in a versatile microphone that can record different kinds of source material, choose the AKG Lyra Large-Diaphragm USB Microphone (link to Amazon).
This microphone is convenient, thanks to its ability to work with your Mac or Windows computer. It can also work with your IOS or Android device.
This mic is easy to use with on board controls for capture mode selection, input gain, output volume, and microphone mute.
The four capture modes are front, front plus back, tight stereo, and wide stereo.
By selecting one of the four available capture modes, you can tailor the sound to fit what you are filming, whether it's an interview, a voiceover, a reaction video, or a musical performance.
This microphone also has a built-in desktop stand. That said, you can mount it to a traditional boom stand instead, if you wish.
6. Neumann TLM 102 Large-diaphragm Condenser Microphone
Neuman has been an industry leader in the studio microphone game for decades, and I've owned several vintage models when I had my recording studio.
IF you are serious about improving your audio quality when making videos, this microphone will do the job.
Since this microphone can handle an SPL of up to 144db, it is well suited for voiceover artists and singers.
It picks up the natural sound of any instrument with crisp clarity, and you get a taste of that vintage Neumann mojo.
Check the current price on Amazon.
7. Sennheiser MKH 416 Shotgun Condenser Microphone bundle
This shotgun condenser microphone is an industry-standard for film, television, and radio. It has an in-built tube that gives it an incredible sound.
It is also resistant to humidity, which makes it well suited for outdoor work.
You can capture exceptionally detailed audio with this microphone, so although it costs more than the others on this list, it is an excellent choice for top-notch audio in your videos.
I found this great deal on Amazon.
Condenser Microphones Equal Audio Quality
Don't let the audio quality in your videos suffer. There is a high quality condenser microphone available no matter your filming setup or your budget. Improve the audio quality and you'll end up with a better overall video.
Which of these condenser microphones is best-suited for you?
For more tips on how to upgrade your audio quality in your YouTube videos, or to get constructive pointers on how to shoot a quality video in general, have a look at the guide to the most popular gear used by YouTubers.
---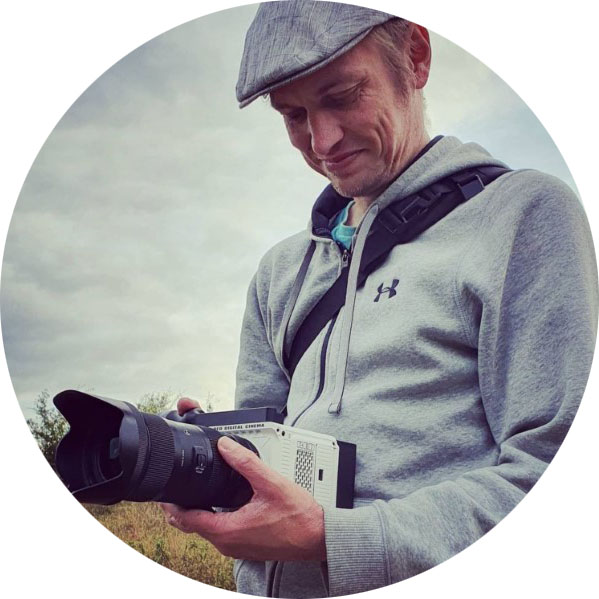 About the author:
Jan Sørup is a videographer and photographer from Denmark. He owns filmdaft.com and the Danish company Apertura, which produces video content for big companies in Denmark and Scandinavia. Jan has a background in music, has drawn webcomics, and is a former lecturer at the University of Copenhagen.